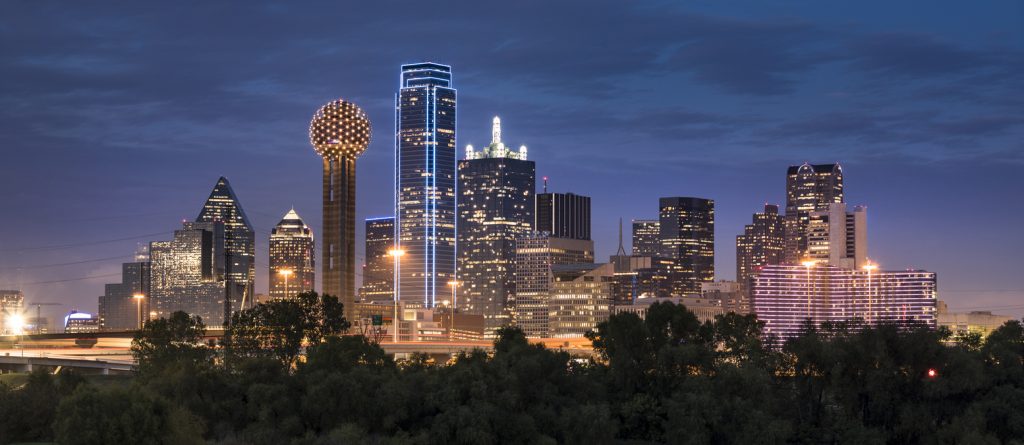 They say everything's bigger in Texas, and Dallas' music and cultural scene is no exception. You can grab an all-thrills-no-frills elote any day, or catch an impromptu authentic mariachi performance at any one the city's countless excellent Tex-Mex food outposts. Still, there's a lot to be said for getting a seat at one of Dallas' many top-notch performance venues and checking out the incredible restaurant scene that the locals love to extoll. 

Best Bars and Restaurants Near American Airlines Center
Victory Park is overflowing with options for eating within easy distance of the American Airlines Center. For new American cuisine that's artfully conceived but far from fussy, try Saint Ann Restaurant & Bar (2550 Harry Hines Blvd.). They cater to simple tastes with options like burgers, chicken sandwiches and BLTs, but if you want to step out a little bit, things like pan-roasted mahi mahi will satisfy.
Olivella's Neo Pizza Napoletana (2340 Victory Park Ln.) is billed as "the thinnest pizza in the country" and boasts one of the oldest recipes anywhere. Wood-burning ovens offer both northern (Neapolitan) and southern (Roman) styles of pizza. Even Rachael Ray loves it.
Just steps from Olivella's you can experience something from an entirely different part of the world with the Moroccan food and North African décor offered at Medina Oven & Bar (2304 Victory Park Ln.). The hummus sampler is a delicious app.
Best Bars and Restaurants Near Moody Coliseum
Just a short hop from Moody Coliseum you can find food to satisfy all types of tastes. If you're after a little Thai cuisine, there's Bangkok at Greenville (4503 Greenville Ave.), right off of SMU Blvd. Tough to go wrong with a staple like Thai fried rice, and who wouldn't want to try dishes dubbed Volcano Chicken and Shrimp Love Scallops?
The Front Room Tavern (6101 Hillcrest Ave.) offers unpretentious but irresistible American cuisine, like good ol' Texas chili, roasted chicken, pork chops and flank steak.
If you're in the mood for Mexican flavors, try Urban Taco Mockingbird Station (5321 E. Mockingbird Ln. #105); in addition to the expected options like tacos, empanadas and quesadillas, you'll have tasty options like yucca fries and red snapper ceviche. An all-day happy hour every Thursday doesn't hurt matters either.
Best Bars and Restaurants Near Music Hall at Fair Park
Before you hit the Music Hall at Fair Park, there are plenty of nearby spots to sate your hunger. At the Pizza Lounge (841 Exposition Ave.) you can get gourmet pizza with everything from smoked salmon to sauerkraut on top; salads, sandwiches and vegan pies are also available.
Mac's Bar-B-Que (3933 Main St.) offers good old-fashioned barbecue in a simple setting with no messing around.
Calling itself "a shrine to the spirits of Mexico," Las Almas Rotas (3615 Parry Ave.) is proud to provide the area with a premier mezcaleria, but the tacos, tortillas and chicharron will make your belly happy too.
Best Bars and Restaurants Near Dos Equis Pavilion
If you want to chow down before hitting the Dos Equis Pavilion, your taste buds are in luck. Expo Bar Dallas (3611 Parry Ave.) does bar food the way nature intended, with fish 'n' chips, Cajun pasta, sandwiches, salads and ample apps (including fried pickles and nachos).
Barbecue spot Two Podners Bar-B-Que & Seafood (1441 Robert B. Cullum Blvd.) is beloved for staples like fried catfish, ribs and chicken. If you're with a large group, try their family pack.
And if you're after some tasty Thai, try Sakhuu Thai & Lao Cuisine (4801 Bryan St.), where rice- and curry-based dishes abound and there are plenty of ways to satisfy a craving for salty-spicy-sweet flavors. 
Best Bars and Restaurants Near Pavilion at Toyota Music Factory
When you're searching for grub near the Music Factory, West Las Colinas is an excellent bet. The Thirsty Lion Gastropub & Grill (350 W. Las Colinas Blvd., Irving) offers comfort food with an artisanal touch: Think brick oven pizza, chicken and pork sandwiches or specialties such as pork tacos and kung pao chicken.
Just down the way from there is Boi Na Braza (310 W. Las Colinas Blvd., Irving), which specializes in steak done the Brazilian way, but you can also find chicken, lamb, pork and plenty of succulent side dishes there.
Also right along that path is Gloria's Latin Cuisine (320 W. Las Colinas Blvd., Irving), delivering Salvadorian fare including fajitas, fish, steaks and plenty of Tex-Mex treats to boot. 
Best Bars and Restaurants Near South Side Ballroom
Before you take in a show at the South Side Ballroom, you may have some chowing down to do. Melted (1715 S. Lamar St.) is an awesome option. True to the name, they serve a mean melt, be it tuna, ham, mushroom, chicken or any number of others — all even better when washed down with one of their signature drinks, such as a cranberry margarita or a glass of apple-cinnamon sangria.
The Lorenzo Kitchen (1011 S. Akard St.) is located in the Lorenzo Hotel, offering cocktails and classic Southern-style cooking, like grilled pimento cheese sandwiches, shrimp and grits or baby spinach and watermelon.
Texas Spice (555 Lamar St.), located in the Omni Dallas Hotel, is an attractive option too, with their farm-to-table approach, and a menu that hits all the Texas classics from chicken-fried steak to cheddar grits and Texas trash pie.
Best Bars and Restaurants Near Choctaw Grand Theater
Part of the beauty of catching a show at the Choctaw Grand Theater is the fact that you're already inside the Choctaw Casino, where mouth-watering dining options abound. Without even venturing beyond the confines of the casino, you can set yourself up at Butterfields Buffet, offering brick-oven pizza, Tex-Mex dishes and a wok station; the 1832 Steakhouse, where succulent steaks and a well-stocked wine bar make a great combination; or the Bamboo Noodle Bar, where Pad Thai, stir fry, and Kung Pao await you.
Best Bars and Restaurants Near House of Blues Dallas presented by Cricket Wireless
If you're seeing somebody play at the House of Blues you can always avail yourself of its in-house dining options (parking information can be found here). But if you'd care to venture elsewhere, the Spaghetti Warehouse (1815 N. Market St.) does an amazing job of serving up Italian staples. If you want to take things up a notch, challenge yourself with their 15-layer lasagna or take a tumble on their baked pepperoni spaghetti.
If you really want to experience steak you'll be telling friends about, you need to hop over to the Y.O. Ranch Steakhouse (702 Ross Ave.).
RJ Mexican Cuisine (1701 N. Market St.) is a no-brainer. Everybody loves their mix of Tex-Mex invention and old-school recipes, from the steak quesadilla and chicken enchilada to the beef tacos and chicken tinga.
Best Bars and Restaurants Near The Bomb Factory
Before you head to The Bomb Factory for some explosive sounds, take a stroll around Deep Ellum for some dynamite dinner options. The Angry Dog (2726 Commerce St.) has been around since 1990, so they must be doing something right with those quesadillas, cheese fries, wings and stuffed jalapeños.
If you're up for some sushi, you can get à la carte handrolls, the chef's sushi special, sashimi — or even Japanese fried chicken at Nori Handroll Bar (2814 Elm St.)
For something quick and informal but delicious, head over to Big Guy's Chicken & Rice (2614 Elm St.) for wraps of all kinds, rice platters and more. 
Best Bars and Restaurants Near Trees
On your way to a visit to Trees, you're in luck, as it's already one of the best live music bars in Dallas. And when it comes to food, Deep Ellum's got plenty of enticing eateries to pick from. Uncle Uber's Sammich Shop (2713 Commerce St.) is a fun little spot with an awesome array of sandwiches: Think slow-roasted pork, blackened fish, bacon and goat cheese and beyond.
Nearby, what started as a simple food truck has turned into a real-deal restaurant known as Easy Slider  (2701 Main St.), where a regal roll call of — you guessed it — sliders with special toppings is at the center of the action.
And right next door is the Pecan Lodge (2702 Main St.), where they know how to have a good time, but they take their barbecue very seriously, keeping things simple with classic fare — and taking the time to make it right.
You Might Like
Whether you're a long-time local or just in town for a quick trip, the entertainment experts at Ticketmaster have you covered!
Whether you're a die-hard basketball fan, enthusiastic concertgoer or simply looking for something extraordinary to do, the Vivint Arena in Salt Lake City, U...
The Mile-High City hosts thrilling sports, music and other entertainment events in its stadium.