The Best Pre-Show and Post-Show Spots in Charlotte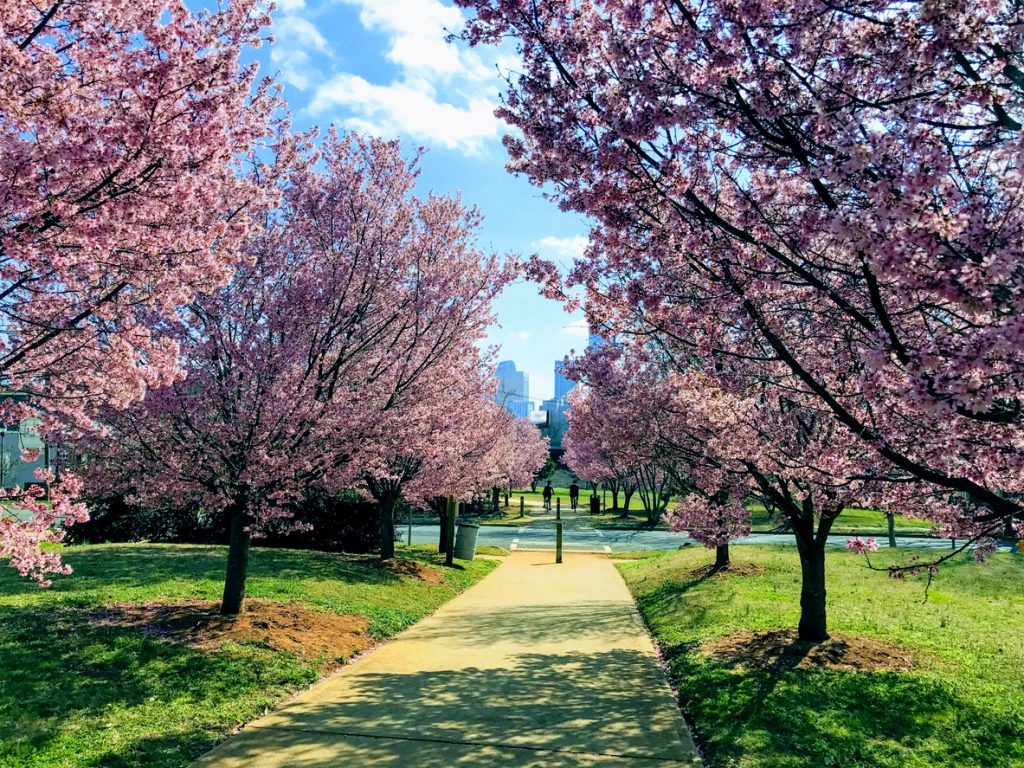 Charlotte may be a Southern city, but its food and beverage choices know no geographical bounds. Expect to have too many options to choose from when deciding where to eat before or after an event in the Crown City.
Best Bars & Restaurants Near Bank of America Stadium
If you need to fortify yourself before heading to Bank of America Stadium for some furious football action tailgates aside, there's plenty to choose from.
At

French Quarter (321 S. Church St.), the game is simple but strong, combining classic American fare with a touch of Louisiana, i.e. entrees like Cajun chicken pasta, London broil, and Cajun salmon, plus plenty of burgers, salads, and sandwiches.

If it's pizza or hoagies you're up for,

Mellow Mushroom (255 W. Martin Luther King Blvd.) is a good bet. They've got all the staples as far as pizza toppings, but they also go the extra mile, offering everything from steak to tofu and tempeh on top of your pizza. Same goes for their hoagies, ranging from standards like steak and cheese to tempeh, tofu, or avocado.

For selections that are artisanal and locally sourced, go for

Halcyon: Flavors from the Earth

 (500 S. Tryon St.), where such delectable, relatively upscale options as Spanish octopus, New Bedford scallops, and Dover sole Francaise await your discerning palate.
Best Bars & Restaurants Near Spectrum Center
If you're on your way to the Spectrum Center, be it for basketball or some other equally electrifying event, make sure you fuel up first.
Fitzgerald's (201 E. 5th St.) is a great way to go for a combination of American classics and Irish fare, whether you're after quintessential pub apps like wings and fried pickles or something a bit more belly-filling like their Blarney burger, Guinness beef stew, or loaded mac and cheese.

For something fancier, there's the classy cuisine of

Fleming's Prime Steakhouse & Wine Bar (210 E. Trade St.), where you can keep it simple with some succulent filet mignon or take it a step further with glazed Chilean sea bass or barbecued Scottish salmon filet.

Satisfy your craving for flavors from South of the border at the

Vida Mexican Kitchen y Cantina (210 E. Trade St. 104A), just steps away from Fleming's. You can chow down on everything from red chile chicken tacos to spinach and mushroom enchiladas.
Best Bars & Restaurants Near Bojangles' Coliseum
When you're catching a concert or a game at Bojangles' Coliseum, fill up with some tasty treats before you head to your event.
If mouthwatering Italian flavors are your thing,

Portofino's (3124 Eastway Dr., Ste 510) is a great idea. Started by two childhood friends from Naples who created this flagship location together, it offers impeccably fresh ingredients in its chicken marsala, pasta primavera, specialty pizzas, and beyond.

Even omnivores will be satiated at vegan outpost

Bean Vegan Cuisine (3001 E. Independence Blvd.). At the franchise's original location you can fill up on fried tofu fingers, jackfruit carnitas tacos, their signature bean bowl, or any number of non-meat burger options.

Go ahead and imagine you're a little closer to the equator at

Island Hub (3723 Monroe Rd.), where you'll find authentic Caribbean cuisine. Tilapia filets, jerk chicken, and fried or pan-seared red snapper are only a few of the island delights you'll encounter.
Best Bars & Restaurants Near Halton Arena
Before you head to UNC Charlotte for a game or a concert at the Halton Arena, here are a few options for a mighty meal in the area around the school.
Macado's (8650 University City Blvd.) is the ultimate spot for comfort food, whether you're up for classic apps like nachos, wings, and tacos, or their chicken mac and cheese.

You can also avail yourself of apps on another level at

Passage to India Cuisine (9510 University City Blvd. #101), where vegetable samosas and egg spring rolls are on offer, alongside entrees like chicken tikka masala and lamb vindaloo.

If you're in the mood for loads of flavor, try

Moon River Thai Bistro (9211-1 N. Tryon St.) for apps that include shrimp blankets and calamari, and entrees like ginger chicken and pepper steak call out to be consumed.
Best Bars & Restaurants Near Charlotte Motor Speedway
Soaking up all that fast, furious racing at the Charlotte Motor Speedway is bound to make you hungry, so you'd better fill up in advance.
You can't do better for convenience than

The Speedway Club (5555 Concord Pkwy. S), which is right on the grounds and offers deeply satisfying dishes like oysters Rockefeller, certified Angus beef steaks, and lemon-pepper chicken—but you'd better make a reservation first.

A little farther from the Speedway, the

Rocky River Grille (5400 John Q. Hammons Dr. NW) at the Embassy Suites is the spot to snack on crab cakes and bacon-wrapped jalapeños, or dig deep into some filet mignon or herb-crusted sea bass.

You could also take a detour to Italy on your way to the races, via

Basilico Italiano (10020 Edison Sq. Dr. NW), where veal parmigiana, eggplant rollatini, and classics like linguini and clams await you.
Best Bars & Restaurants Near PNC Music Pavilion
Before you please your ears with a concert at the PNC Music Pavilion, be sure to make your taste buds happy.
You could pop in to

Quidley's Delight (11915 N Tryon St. Ste. G) for a quick fix of Caribbean cuisine, be it oxtail, jerk chicken, curry shrimp, or brown stew tofu.
Boardwalk Billy's Raw Bar & Ribs (9005 J.M. Keynes Dr. #2) has a pathway to your heart too, serving up Texas-style brisket and Southern specialties like fried flounder and fried green tomatoes.
Captain Steve's Family Seafood Restaurant (5645 N.C. Highway 49 S) is a local favorite and a great place to load up on shrimp, snapper, or salmon, but they've got the turf side of things covered too with ribs, pork chops, and grilled chicken breast.
Best Bars & Restaurants Near Charlotte Metro Credit Union Amphitheatre
There are lots of spots to sate your appetite near the AvidxChange Music Factory and the Charlotte Metro Credit Union Amphitheatre.
A great one to keep in mind is

VGBG Beer Hall and Garden (920 Hamilton St.), a German-style pub/beer-hall combo where you can quaff lots of local beers and load up on brats, burgers, kabobs, and more.
Freshwaters (516 N Graham St.) is a classic Southern-style spot, where the New Orleans catfish, Cajun chicken breast, and shrimp Creole will give you that Crescent City vibe. And if you're feeling fishy, stop in at Sea Level NC (129 E. 5th St.) to scarf up some oysters or grilled swordfish.
Best Bars & Restaurants Near Ovens Auditorium
If you plan on taking in a show at the Ovens Auditorium, your odds for a awesome pre-show meal are looking good.
Lupie's Café (2718 Monroe Rd.) is a great spot for classic Southern-style comfort food, like a big bowl of chili, a barbecue sandwich, or a blackened chicken sandwich.
The Tipsy Burro Saloon & Cantina (2711 Monroe Rd.) is a deceptively low-key spot for some amazing tacos, burritos, nachos, or chimichangas.

You won't find better Vietnamese noodle soup than what's on offer at

Pho Hoa (3000 Central Ave. Ste. 1), where you can dig into tasty vermicelli bowls and rice plates too.
Best Bars & Restaurants Near The Fillmore Charlotte 
Making your way to the Music Factory complex for a concert at the Fillmore Charlotte presented by Cricket Wireless puts you in the path of all sorts of enticing eateries.
Alexander Michael's (401 W. 9th St.) doesn't put on any airs, but it doesn't mess around when it comes to classic American cuisine either, whether you're digging into their spicy crab soup, honey chicken pasta, or luscious London broil.
The Cedar Street Tavern (120 N. Cedar St. Ste. 755) is a comfy spot serving up thin-crust pizzas (try the pulled-pork topping), burgers, wraps, and tacos.
The King's Kitchen (129 W. Trade St.) knows how to do a Southern-style supper right, proven by their shrimp and grits, pan-seared scallop, or braised pot roast.
Best Bars & Restaurants Near The Underground
You're bound to use up a lot of energy rocking out at The Underground, so make sure you fill up on some top-notch eats first.
In business since 1997,

Ri Ra Irish Pub (208 N. Tryon St.) brings an Irish touch to classic pub food, with their shepherd's pie, corned beef and cabbage, and Guinness barbecue, and they've got lots of local craft brews too.

Speaking of brews, the

Rock Bottom Brewery (401 N. Tryon St.) has an awesome array, but they've got a food menu to match, with wings, honey chipotle barbecue, grilled chicken dishes, crispy wrapped tacos, and more.

And if you're up for a spot that takes its own unique approach to Southern-style cuisine, try

The Asbury (235 N. Tryon St.), where pork cheeks, duck confit, seafood stew, and a mac-and-cheese dish with grilled peppers and crispy country ham are all on the bill of fare.
You Might Like
Visiting New York City is a bucket-list destination for any decorated traveler. The vast array of different avenues of culture you can explore is endless: fo...
One more place to catch excellent entertainment on the strip.
The Home of the Blues celebrates music, sports and entertainment of all kinds.