The Best Pre-Show and Post-Show Spots in Boston – Concerts + Arts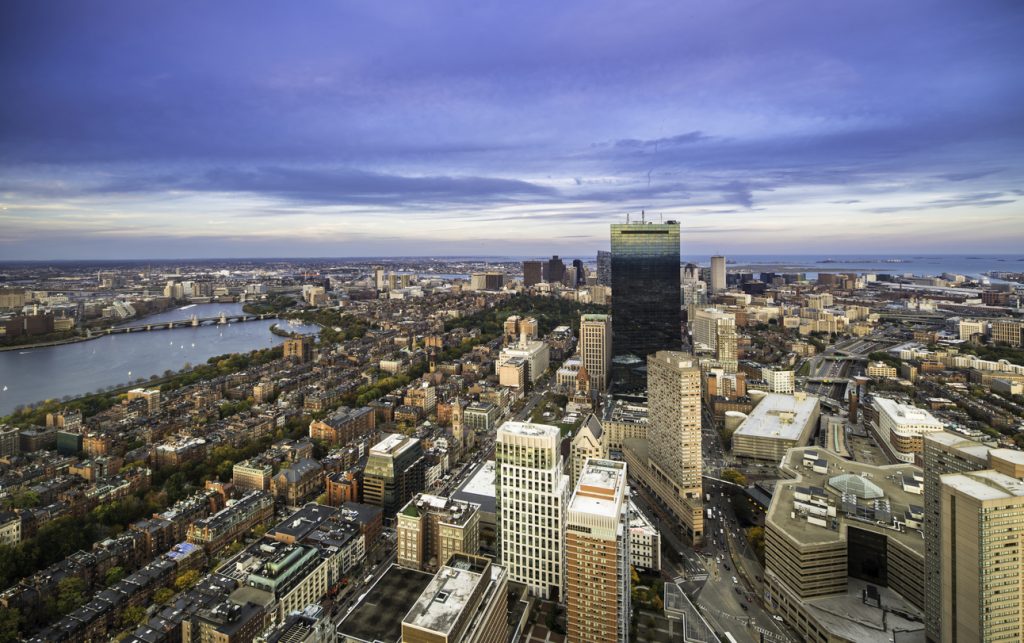 Maybe it's just you and your significant other having a night out, or maybe there's a whole crew of you taking the town by storm — either way there's a good chance you'll have an appetite to satisfy before or after the game or show you've planned. And also possibly a thirst. Some venues have options in-house, but whether they do or not Boston is packed with options to satisfy any craving.
Best Bars & Restaurants Near Xfinity Center
If you're looking to fuel up before a show at Xfinity Center, you have plenty of options.
Alberto's Pub & Pizza (241 Mansfield Ave.), located just across the street from the Xfinity Center, puts an Italian spin on the traditional American pub menu, offering pizza and pasta alongside wings and burgers.

Farther south along Mansfield,

Emma's Pub & Pizza (130 Mansfield Ave.) takes a similar approach to its menu—and if you want more of those crispy bar pies, you can find frozen versions for sale at Market Basket and other local supermarkets.

North of Xfinity Center, there's

MOOYAH Burgers, Fries & Shakes (321 School St.), where the name says it all.
Across the street from MOOYAH, in the Mansfield Crossing shopping center (280 School St.), there's a variety of fast-casual options including Bertucci's Italian Restaurant

and the local healthy fast-food chain

b.good.
Best Bars & Restaurants Near Rockland Trust Bank Pavilion
With its harborside location, Rockland Trust Bank Pavilion is near lots of outstanding purveyors of seafood, but that's not all you can find.
Right next to the Pavilion is

Yankee Lobster (300 Northern Ave.), where you can pick up lobster rolls made with a fresh catch and enjoy harborside views.

A short walk south is

Harpoon Brewery & Beer Hall (306 Northern Ave.), the home base of the beloved Boston beer brand, which serves up its current roster of beers alongside giant pretzels.
Chickadee (21 Drydock Avenue), located in the Boston Design Center, marries New England's just-caught seafood with Mediterranean preparations for a menu where there are no bad choices.
Legal Harborside (270 Northern Ave.) is the huge flagship of Boston's home-grown seafood chain, and its rooftop lounge is open year-round.
Best Bars & Restaurants Near House of Blues Boston
Palates both down-home and refined will find plenty to enjoy before a show at House of Blues Boston by Cricket Wireless.
Hojoko (1271 Boylston St.), located inside the brightly chic Verb Hotel, combines the cuisine of a Japanese izakaya with the raucous atmosphere of an American gastropub.

The Fenway outpost of the local burger chain

Tasty Burger (1301 Boylston Street) has burgers, beer, shakes, and pool.

At

Citizen Public House & Oyster Bar

, you'll find a massive selection of whiskey from around the world and a raw bar, as well as a cozy vibe.

Top Chef alum Tiffani Faison's stretch of Boylston Street — populated with the smoked and smothered Sweet Cheeks Q (1381 Boylston St.),

the Asian fusion hotspot

Tiger Mama (1363 Boylston St.), and the "adult snack bar" Fool's Errand (1377 Boylston St.)—covers a lot of culinary ground with impeccable style.  
Best Bars & Restaurants Near Royale Boston / The Wilbur / Boch Center Wang Theatre
The block of Tremont Street that contains the Royale Boston, The Wilbur, and Boch Center Wang Theatre is located a short walk from the edge of Chinatown, which is packed with restaurants open late.
Shojo (9 Tyler St.) puts its own spin on Asian cuisine with dishes like the Shojonator (a burger with what they call "kimcheese," served on a steamed bun) and a huge assortment of Japanese spirits.
Hot Pot Buffet (70 Beach St.) is exactly what its name says, letting guests pick the meat and veggies for their meals.
Phó Pasteur (682 Washington St.) isn't fancy, but its steaming bowls of Vietnamese noodle soup are fabulous.

And

Gaga Seafood (25 Tyler St.) has a huge menu of traditional Chinese favorites.

For those looking for culinary inspiration a bit closer to New England, the Park Square outpost of

Legal Sea Foods (26 Park Plaza) serves up steamed lobster and its signature crab cakes.

If you're racing against the clock,

Abby Lane Food & Spirits (255 Tremont St.) offers upscale pub food and beautifully made cocktails right on the same block.
Best Bars & Restaurants Near Paradise Rock Club
For food and libations before a show, there is definitely no trouble near Paradise Rock Club.
Steps away from the Paradise's doors,

Brown Sugar Café (1033 Commonwealth Ave.) serves up Thai food for curry novices and spice mavens alike.
Raising Cane's Chicken Fingers (949 Commonwealth Ave.) is ideal for concert-goers who don't have a lot of time on their hands, with its quick servings of chicken fingers, crinkle-cut fries, and Texas toast.
Love Art Udon (1024 Commonwealth Ave.) has an endlessly customizable array of noodle bowls and iced teas to match.
Sunset Cantina (916 Commonwealth Ave.) will fill you up with Tex-Mex pub food that you can wash down with margaritas.

And

Life Alive (888 Commonwealth Ave.) offers vegetarian and vegan bowls, salads, and smoothies.
Best Bars & Restaurants Near Orpheum Theatre
Marliave (10 Bosworth St.) is a Boston treasure near the Orpheum Theatre, its oyster specials and extensive cocktail list rivaled by its homey bistro ambiance.
MAST (45 Province St.) specializes in wood-fired pizzas.
Yvonne's (2 Winter Pl.) throws back to the 20th century with its supper-club vibe and shareable feasts of steak, lobster, and pork chops.

The Downtown Crossing

Clover (27 School St.) was the Boston innovative-vegetarian chain's first brick-and-mortar outpost, and its food is still filling and quick (and meat-free).

And if you're feeling fancy,

No. 9 Park (9 Park St.) is the flagship restaurant of renowned Boston chef Barbara Lynch, serving up innovative, French-inspired cuisine and over-the-top desserts in a cozy setting.
Best Bars & Restaurants Near Brighton Music Hall
No one ever arrives at Brighton Music Hall hungry, thanks to the countless eateries a stone's throw away.
Right across the street,

Totto Ramen (169 Brighton Ave.) specializes in satisfyingly huge, steaming bowls of Japanese noodle soup.

Just steps away, the snug

Fish Market Sushi Bar (170 Brighton Ave.) is one of Boston's best sushi joints, with creative rolls and super-fresh fish.
BonChon Chicken (123 Brighton Ave.) will fill you up with Korean fried chicken alongside hot and cold Korean specialties.
Le's Vietnamese Cuisine (137 Brighton Ave.) is an Allston staple, offering phó, noodles, and other Vietnamese specialties.

Venture a bit deeper into Allston and you'll find

Deep Ellum (477 Cambridge St.), which redefines the gastropub ideal with poutine and other delights.

Go ahead and eat with your hands at

Lone Star Taco Bar (479 Cambridge St.), serving up high-quality Mexican food.
Whole Heart Provisions (487 Cambridge St.) puts together extremely filling bowls of vegetarian goodness.
Filling up your belly before, after, or during a show here is a no-brainer.
The Middle East (472 Massachusetts Ave.), the restaurant that started it all, still serves up Lebanese food to Cambridge residents and touring musicians.

The Central Square outpost of

Clover (496 Massachusetts Ave.) isn't just the only 24-hour restaurant in Cambridge—it's also a great place to munch on an Impossible Meatball sandwich while playing a game of pinball.
Veggie Galaxy (450 Massachusetts Ave.) will make a believer out of the most die-hard carnivore, serving up delicious, filling vegan-vegetarian varieties of diner classics and luscious desserts.

Indulge in lots of small dishes to share at

Little Donkey (505 Massachusetts Ave.), which puts a global spin on tapas.

Check out the food court at the Asian supermarket

Hmart (581 Massachusetts Ave.) for an array of stalls that serve curry, sushi, ramen, and other specialties from Asia.  
Best Bars & Restaurants Near The Sinclair
The on-site food at Sinclair is an excellent option, but there's plenty beyond, too.
The Sinclair Kitchen (52 Church St.) is the gastropub arm of The Sinclair, specializing in shareable small plates and stick-to-your-ribs main courses like roast chicken and braised short rib.
Cambridge, 1 (27 Church St.) has a neighborhood-bar vibe and a menu full of charcoal-grilled pizzas.
Felipe's Taqueria (21 Brattle St.) serves tacos, burritos, and margaritas until late, and it has outdoor-seating options for fair-weather days.

The subterranean

Alden & Harlow (40 Brattle St.) is famous for its limited-edition burger—which shifts conceptually depending on the kitchen's whims—but if it runs out, their creative small plates are full of treasures.

And

Charlie's Kitchen (10 Eliot St.) is a Cambridge institution, its no-nonsense menu of burgers, grilled cheeses, and seafood providing sustenance for generations of students and residents.