11 Pearl Jam Shows That Fans Will Never Forget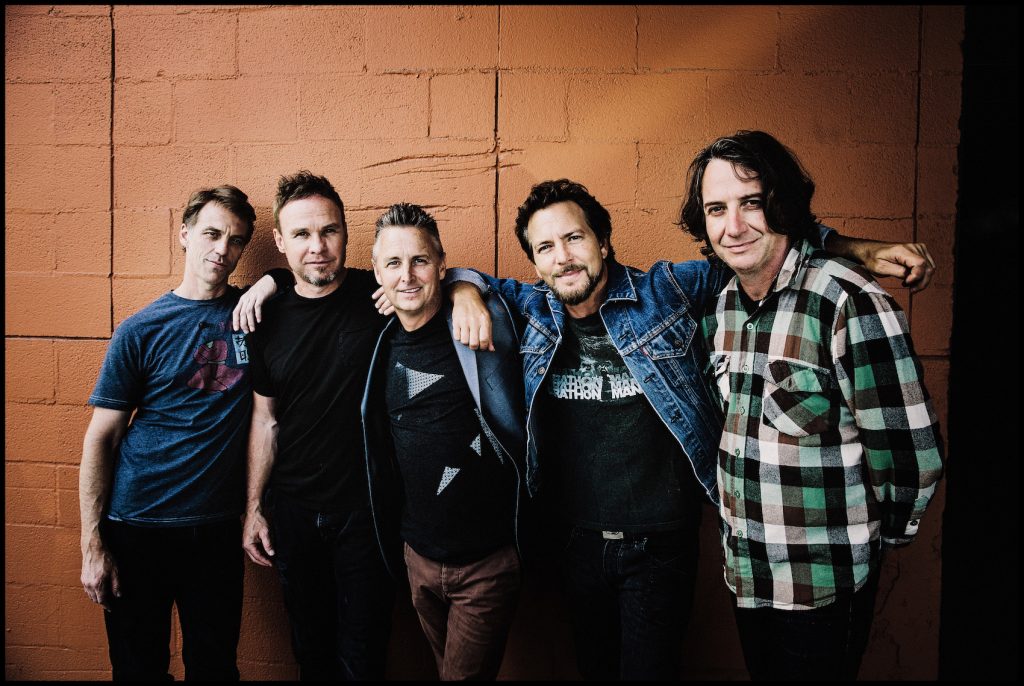 Even after nearly three decades of live performances, the intensity and energy of a Pearl Jam concert are tough to match. One of the music world's most faithful fanbases will get to experience that once again during the band's North American tour in support of Gigaton, their first album since 2013. The tour's first leg begins March 18 at Toronto's Scotiabank Arena and ends with back-to-back shows at the Oakland Arena on April 18 and 19. Given Pearl Jam's high standards, each one of those concerts could be the kind that fans talk about for years to come. Here are ten more shows they'll never forget.
Off Ramp Café, Seattle (October 22, 1991)
The tiny Tuesday-night crowd couldn't have known they were seeing the start of something unfathomably huge, especially since the unannounced act that night was playing under the name of Mookie Blaylock (an homage to the NBA player). Only a week before, Eddie Vedder had arrived from San Diego to come play with Jeff Ament and Stone Gossard, who were still reeling from the tragic end of Mother Love Bone (guitarist Mike McCready and drummer Dave Krusen completed the original lineup). However rough the band was, early versions of "Even Flow" and "Black" foreshadowed the greatness to come.
Kaufman Astoria Studios, New York (March 16, 1992)
This was a lucky night for the newly minted fans who caught wind of the taping for MTV Unplugged. At least this time, the performance would be preserved for posterity. The seven songs performed from Ten — plus a cover of Neil Young's "Rockin' in the Free World" — emphasize the band's more vulnerable side, something that wasn't easily discerned amid the fury of their early shows.
Jones Beach Amphitheater, Wantagh, N.Y. (August 9, 1992)
"Unbridled" is one apt word to describe the sets that Pearl Jam delivered throughout their first summer at Lollapalooza. So what if they were third-last on the bill? Whether performing searing versions of "Jeremy" and "Alive" or doing his signature climb up the scaffolding, Vedder made every second count, much to the delight of the 11,000 fans who turned out on Long Island.
Aladdin Theatre for the Performing Arts, Las Vegas (November 30, 1993)
Deep into the Vs. tour, Pearl Jam got a little nostalgic, devoting part of the show to a reunion of Green River, the grunge pioneers that had fired up the Seattle scene. Ament and Gossard joined Mudhoney's Mark Arm and Steve Turner for an encore of two songs. The debut of the future fan fave "Tremor Christ" was another special bonus.
Golden Gate Park, San Francisco (June 24, 1995)
Appearing together a few weeks before the release of Neil Young's Mirror Ball, Pearl Jam and Young made the best of some serious challenges in front of 50,000. Vedder was unwell, and though he did what he could to keep up the pace after the band opened with "Last Exit," he made it through only seven songs before having to excuse himself. Undaunted by the crowd's disappointment over Vedder's departure, Young — on hand only as a planned surprise guest at the show's end — and the rest of Pearl Jam set them right with savage renditions of "My My Hey Hey (Out of the Blue)" and "Cortez the Killer."
Madison Square Garden, New York (September 11, 1998)
The second of Pearl Jam's two-night stand at MSG became a contender for best-of-all-time among hardcore fans. The clincher was a very generous encore that included the band's first performance of "Breath" — a much-loved deep cut from the Singles soundtrack — since 1994.
Great Stage Park, Manchester, Tennessee (June 14, 2008)
A chorus of lusty screams and chants of "Eddie! Eddie!" greeted the band when they hit the stage for their first Bonnaroo. Opening with "Hard to Imagine," they capped off Day 3 with a set that ranged from covers of the English Beat and The Who to a mighty "Even Flow." The regulars at Bonnaroo would have to wait eight years for Pearl Jam to return, but they didn't disappoint in 2016, either.
Wrigley Field, Chicago (August 20 and 22, 2016)
Part of the credit for these shows' power has to go to the crowd at Wrigley Field, where Chicagoans spent the summer watching the Cubs head toward their first World Series triumph since 1908. A lifelong Cubs fan who wore his jersey both nights, Vedder was clearly pretty stoked, too.
Safeco Field, Seattle (August 8 and 10, 2018)
Pearl Jam have played some very meaningful hometown shows, but these may have had the biggest impact. They also attracted the biggest-ever crowd, with nearly 100,000 gathered — making this the biggest headlining concert event in Seattle since The Rolling Stones in 1981 — for an emotional two-night event that raised $10.8 million to fight homelessness.