Supporting Austin FC: Fan Clubs & Supporter Sections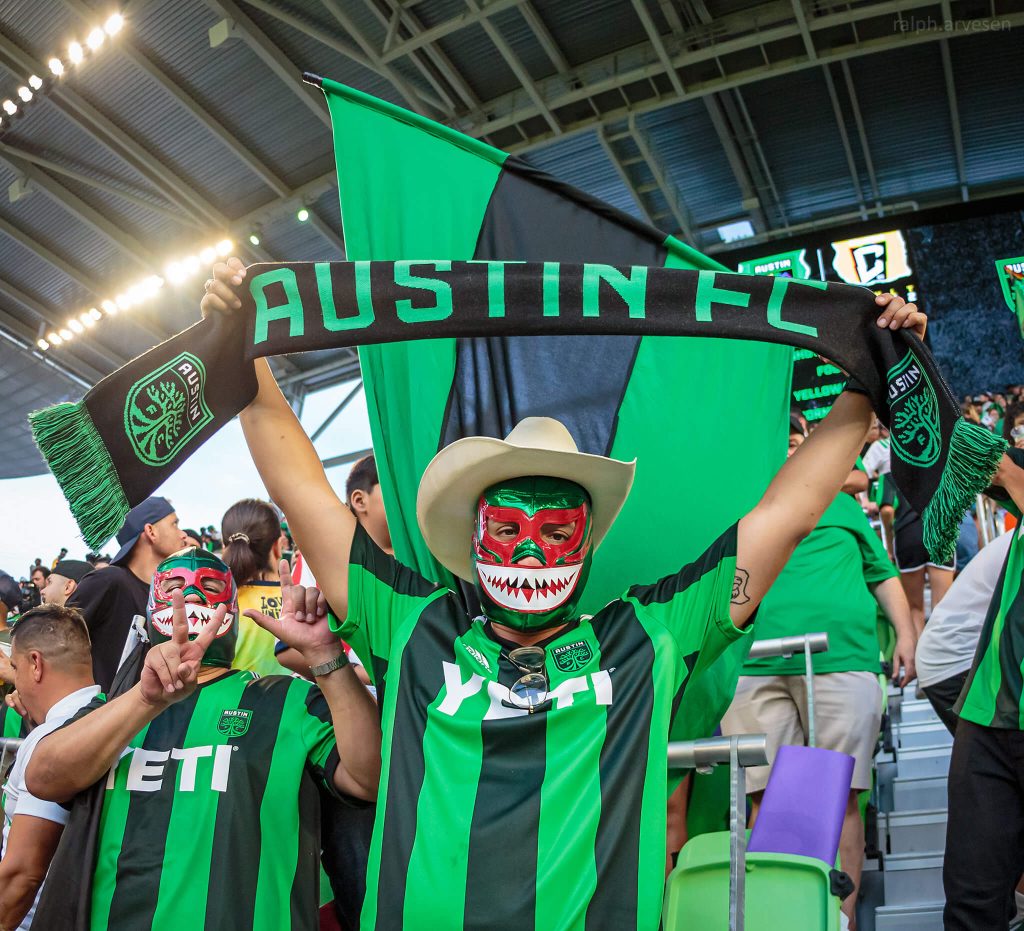 What are the Austin FC Supporters' Groups Called?
Austin FC has a number of popular supporters' groups: Austin Anthem, La Murga de Austin, Los Verdes, Burnt Orange Brigade, and Oak Army New Braunfels.
Austin Anthem
Who Are Austin Anthem?
Austin Anthem is an independent, volunteer-run soccer supporters group for Austin FC. Austin Anthem was founded in 2013 with the intention of bringing Major League Soccer to Austin.
Austin Anthem was originally founded on December 7, 2013, as a community movement to help promote Austin as a potential market for a Major League Soccer franchise. Its original goal was to generate support from soccer fans, city officials, an ownership group, and the MLS. Today, Austin Anthem has been rebranded as a supporter group with a goal of community engagement and philanthropy.
Where Does the Austin Anthem Sit?
Austin Anthem holds matchday get-togethers for Austin FC fans at Circle Brewing Co in Austin. Membership is not required, but is free for all if you'd like to join.
How Does the Austin Anthem Show Team Pride?
Austin Anthem has a variety of songs, chants and cheers to show their support. They named the club "Austin Anthem" to represent the city's connection to music. The club's official website says they are "collectively the 'Song Of Our City,'" adding, "It doesn't matter if you can't sing or never have played an instrument. If you're passionate, we'll help take care of the rest."
How Do I Join Austin Anthem?
Anyone can join Austin Anthem. Annual membership operates on four tiers: Legendary Membership costs $100/year, Bright Verde Membership costs $40/year, Verde Membership costs $20/year, and Listos Membership is free. Find out more about Austin Anthem membership at austinanthem.com.
La Murga de Austin
Who Is La Murga de Austin?
La Murga de Austin is an all-volunteer brass and drum band consisting of Austin FC fans and musicians of all skill levels. According to their official website, "Our goal is to help Austin FC win on the field with excitement and style through our songs and chants. We perform locally at parades, festivals, and other events to bring community pride and fútbol culture together."
La Murga translates into English as "a band of street musicians" and draws inspiration from a popular form of musical theater performed in Montevideo, Uruguay; Panama; Argentina; and Badajoz, Spain, during the Carnival season.
Where Does La Murga de Austin Sit?
La Murga de Austin assembles at the supporters section on Q2 Stadium's south end. Band members must have tickets to matches in order to participate.
How Does La Murga de Austin Show Team Pride?
La Murga de Austin mainly does covers of popular songs from all genres and decades, updating them to be Austin FC-themed.
How Do I Join La Murga de Austin?
La Murga de Austin is always looking to grow its band with performers who: play brass or drums, can lead chants, want to wave flats and hold banners during performances, or write and suggest songs and chants. For more information on how to join, you can email the group or follow them on Twitter, Facebook, or Instagram.
Los Verdes
Who Are Los Verdes?
Los Verdes is a member-driven non-profit group of Austin FC supporters.
In addition to supporting Austin FC and being a destination for Austin soccer fans, in 2022 Los Verdes raised more than $55,000 for the families of the victims of the Uvalde, Texas, elementary school shooting.
Where Do Los Verdes Sit?
Los Verdes typically meets before each game at a rotating list of local Austin breweries. For those who can't attend a match in person, Los Verdes hosts watch parties at Hopsquad Brewing Co. before and during each match (details are available on Los Verdes' website).
How Do Los Verdes Members Show Team Pride?
Los Verdes are big supporters of La Murga de Austin and frequently sing the band's songs and chants as a way of showing support. Songs and chants lyric sheets are available on Los Verdes' website.
How Do I Join Los Verdes?
Membership information is available on Los Verdes' website. Joining will get you some themed swag, access to the club's Slack channel, voting privileges, and discounts from local merchants. An annual membership costs $35 plus shipping.
Burnt Orange Brigade
Who Are the Burnt Orange Brigade?
The Burnt Orange Brigade is an independent club of Austin FC supporters for University of Texas at Austin students, faculty and staff.
Where Do the Burnt Orange Brigade Sit?
There is little public information about the Burnt Orange Brigade, but anyone can reach out via the club's Twitter and Instagram pages. UT Austin students, staff and faculty can also visit the club's sign-up page here.
How Do I Join The Burnt Orange Brigade?
UT Austin students, staff and faculty can sign up to join via the club's website.
Oak Army New Braunfels
Who Are the Oak Army New Braunfels?
The Oak Army New Braunfels is a small, independent Austin FC soccer fan club based in New Braunfels, Texas.
Where Do the Oak Army New Braunfels Sit?
The New Braunfels host a variety of watch parties around Austin. For more information, follow them on Twitter and Facebook, or email oakarmynewbraunfels@gmail.com.
How Do I Join The Oak Army New Braunfels?
If you're interested in joining the Oak Army New Braunfels, email oakarmynewbraunfels@gmail.com for more information.
Photo by Ralph Arvesen via Flickr
You Might Like
What are the Philadelphia Union Supporter clubs called? The most prominent Philadelphia Union Supporter Club is Sons Of Ben, which was founded in 2007. Other...
LA Galaxy has some of the most passionate fans in the MLS! Learn more about the top fan clubs and supporters of LA Galaxy on gameday.
What are the Real Salt Lake supporter clubs called? There are many supporters clubs for Real Salt Lake: Salt City United, Rogue Cavaliers Brigade, Section 26...