Celebrating 15 Years of the Hit Musical 'Wicked'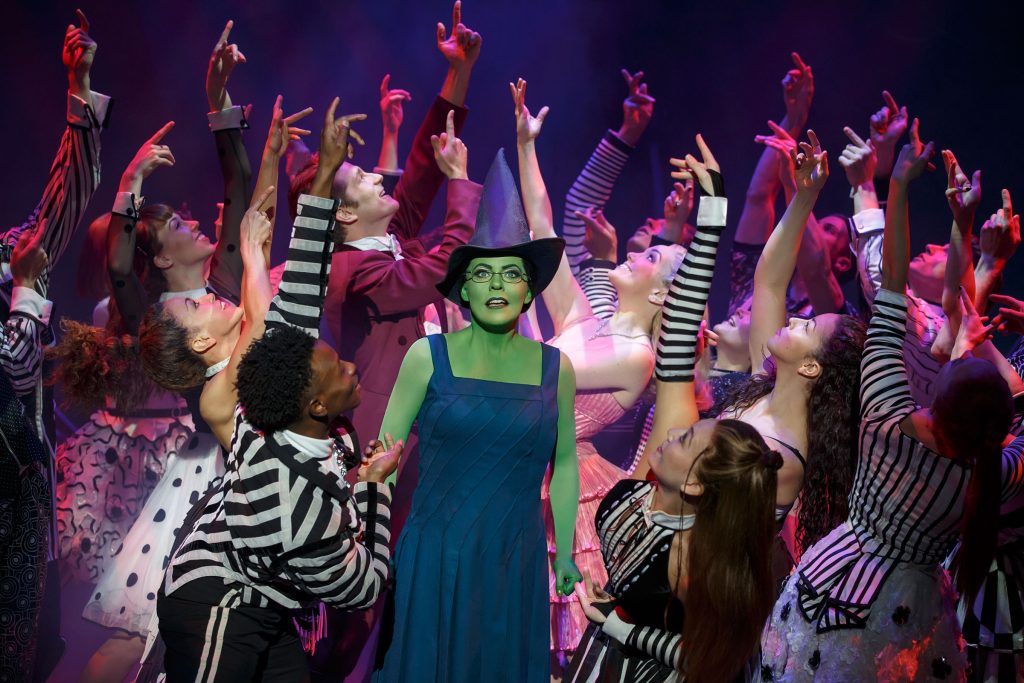 It's been 15 years since Elphaba and Glinda first greeted audiences, and Wicked has left its spectators spellbound ever since. From its earliest literary origins, to its status as an internationally-renowned and indispensable piece of the greater Broadway musical canon, Ticketmaster dug into The Grimmerie to chronicle the show's milestones of magic, creativity, and continued growth that has led to this anniversary.
1. Published to general acclaim on May 17, 1900, L. Frank Baum's children's novel The Wonderful Wizard of Oz sold more than 3 million copies and introduced the Wicked Witch of the East and the Good Witch of the North to the world.
2. The Wizard of Oz, the classic film adaptation of L. Frank Baum's novel, premieres at Grauman's Chinese Theatre in Hollywood on August 15, 1939. It features the deliciously evil Margaret Hamilton as the Wicked Witch of the West and goes on to win Academy Awards for Best Original Song and Best Original Score.
3. Novelist Gregory Maguire radically revises the story of green-tinted Elphaba and best frenemy Glinda in Wicked: The Life and Times of the Wicked Witch of the West, published in 1995. "Was it possible for someone to change his moral stripe?" Maguire asked himself while writing the novel. "To be born blameless and become evil?"
4. Wicked the musical has its first reading, a two-hour version of its first act, at Los Angeles' Coronet Theatre in spring 2000.
5. San Francisco's Curran Theatre hosts Wicked's first preview for a paying audience on May 28, 2003. The house – some of whom arrive in witch hats – comes down when Idina Menzel's Elphaba sings "The Wizard and I."
6. Wicked begins previews at Broadway's Gershwin Theatre on October 8, 2003, with original stars Idina Menzel (Elphaba), Kristin Chenoweth (Glinda), Joel Grey (the Wizard), Norbert Leo Butz (Fiyero), Michelle Federer (Nessarose), Carole Shelley (Madame Morrible), William Youmans (Doctor Dillamond), and Christopher Fitzgerald (Boq).
7. In a single show, Wicked's cast sports a total of 269 costumes through 238 changes.
8. Every wig worn onstage in Wicked – 1,352 of them thus far – is constructed by hand care of Tom Watson & Co.
9. In 15 years on Broadway, the production has gone through 618 containers of green makeup by MAC and 24,960 glow sticks.
10. The monkeys have also flown an estimated 37,500 times, tearing through 1,605 pairs of gloves worn by the stagehands that steady their journey through the theater.
11. In 15 years of production, the Broadway company of Wicked has done 37,440 loads of laundry, using 11,670 gallons of eco-friendly detergent to keep every costume luminous and fresh.
12. Interestingly enough, the Broadway production features the only analog sound console operating in any show, using four miles of cables to amplify 88 microphones across the cast and orchestra.
13. The Wicked wardrobe is detailed and ornate: Elphaba's Wicked Witch dress includes 15 – 20 fabrics on its bodice, and 37 bias-cut fabrics totaling 290 yards for the skirt; and Glinda's Bubble dress features approximately 68,200 sequins!
14. Wicked tops $1 billion in total Broadway revenue in March 2016, putting it in the elite company of The Phantom of the Opera and The Lion King. A year later, Wicked surpasses Phantom to become Broadway's second-highest-grossing show behind The Lion King.
15. On July 12, 2018, with its 6,138th performance, Wicked passes A Chorus Line to become Broadway's sixth-longest-running show.
Experience 15 years worth of magic as Wicked continues to run on Broadway, or comes to a city near you on tour! Tickets available in the widget below.
Enjoy even more memories from the show's original iconic lead actresses (Idina Menzel and Kristen Chenoweth) as they celebrated together on NBC's TODAY Show.