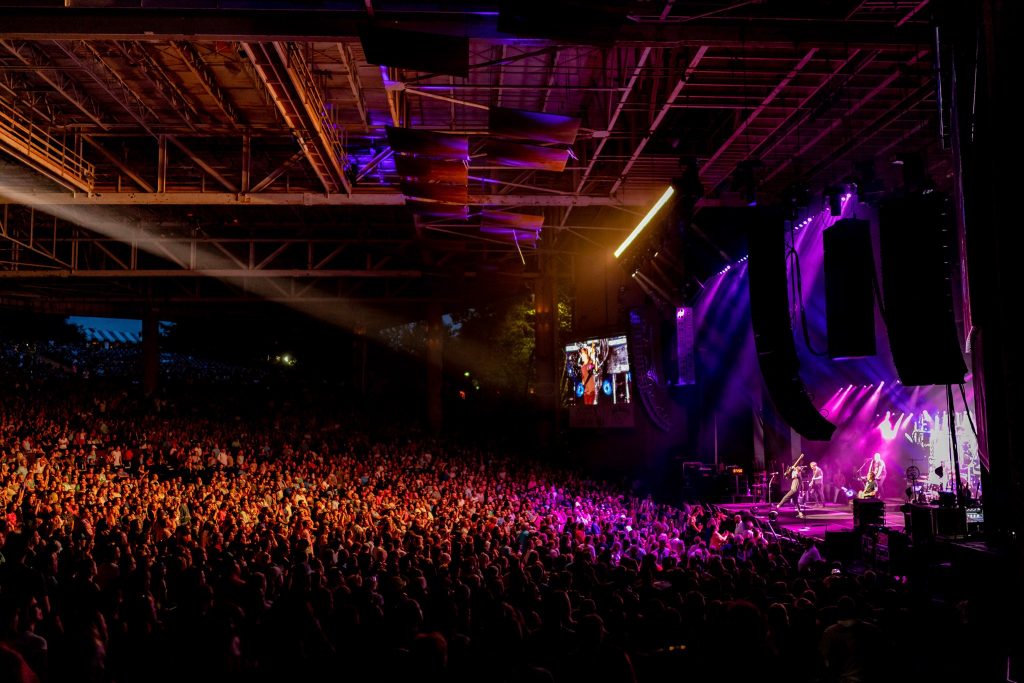 Xfinity Center History
Since 1986, Xfinity Center has been Massachusetts' premier venue for outdoor concerts in a tree-lined setting. Originally known as Great Woods, the amphitheater is in Mansfield, equally distant from Boston, Worcester, Providence and Cape Cod. Attracting fans from all over southeastern New England, its location next to the Great Woods Conservation Center makes each event an opportunity to appreciate nature as well as music.
Xfinity Center Performers
The first concert (at what was then the Great Woods Center for the Performing Arts) took place in the summer of 1986, when cellist Yo-Yo Ma and the Pittsburgh Symphony Orchestra performed. Since then, the Bay State's own Aerosmith has played Xfinity Center multiple times, Nickelback set part of their video for "Rockstar" at the venue and The Smiths released a recording of a 1986 show here. The venue's multi-stage setup also makes it ideal for multi-artist shows like Warped Tour.
Planning Your Visit to Xfinity Center
A short walk from Xfinity Center's entrance on Mansfield Avenue, Alberto's Pub & Pizza (241 Mansfield Ave.) serves up bar pies and other Italian-American pub specialties. Quick bites and coffee are available around the clock at the nearby outpost of Cumberland Farms (246 Mansfield Ave.). Mansfield Center, a short drive from Xfinity Center, has multiple food and drink options, including Trattoria Della Nonna (160 N. Main St.), offering small plates and hearty entrees, and Flynn's Irish Pub (219 N. Main St.), serving burgers as well as appetizers like Reuben spring rolls and Buffalo chicken quesa.
Xfinity Center Frequently Asked Questions
What are the Xfinity Center parking options?
Parking at Xfinity Center is free, and options for upgrading to a lot with easier entrance and exit options are available with the purchase of a ticket. (Parking must be purchased separately from tickets.) For accessible parking, show your placard to a staff member and you will be directed to the appropriate lot. There is also a pick-up and drop-off lot for fans arriving by rideshare or taxi.
Does Xfinity Center serve food?
Yes. Xfinity Center's food stands offer Trejo's Tacos, Questlove's Cheesesteaks and other fan-friendly options.
What are the seating options at Xfinity Center?
Usually the front area is seated and the lawn area is general-admission, although some shows have general-admission areas closer to the stage. For accessible seating, purchase your tickets through Live Nation — be advised that limited day-of-show seating is available, so purchasing in advance is recommended.
What are the Xfinity Center safety & security guidelines?
Guests must walk through metal detectors before entering the venue. Xfinity Center allows clear plastic, vinyl or PVC tote bags no larger than 12″ x 6″ x 12″ and/or small clutch bags (4.5″x 6.5″). No other bags of any type will be allowed. Other prohibited items include professional cameras, coolers, iPads or other tablets, lawn chairs and umbrellas. For more information, see the Xfinity Center's information page.
You Might Like
The essential spots to take in music entertainment throughout the Valley of the Sun.
Fill your visit with unforgettable entertainment on anything from a Bulls basketball game to a top-tier arena-filling concert blowout.
Pier Six Pavilion History Since 1981, the Pier Six Pavilion has been one of Baltimore's most instantly identifiable landmarks, with a white big-top tent ceil...