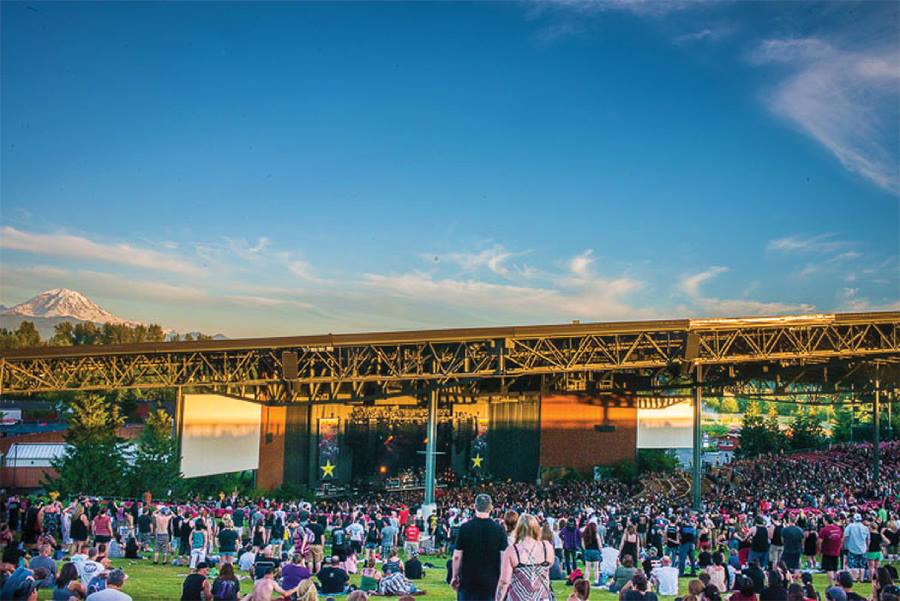 White River Amphitheatre History
In 2003, the White River Amphitheatre opened its sprawling 98-acre space. Built by the Muckleshoot Indian Tribe, it's located on the Muckleshoot Indian Reservation in Auburn, Washington, and gives its seated attendees and lawn dwellers a breathtaking view of Mount Rainier. Adorned with an acoustically treated metal roof covering 8,500 fixed seats, it is the first covered amphitheater in the area. Thanks to the theater's two 30-by-40-foot screens that border the stage, concertgoers won't have trouble seeing the spate of performers who hit the stage.
White River Amphitheatre Performers
Local rock band Heart christened the White River Amphitheatre on June 14, 2003. Since, the stage has been no stranger to legendary acts like Sting, Jimmy Buffett, Iron Maiden, Motley Crue, and Ozzy Osbourne, whose Ozzfest was hosted at the state-of-the-art venue.
Planning Your Visit to White River Amphitheatre
Windmill Bistro (16009 60th St. E, Sumner) provides classic American cuisine with a quaint atmosphere and vegetarian options. IL Siciliano Ristorante Italiano (1118 Myrtle Ave., Enumclaw) brings the essence of Italy to Washington with rich, traditional Italian dishes from wood-fired pizza to handmade pasta. Sweet Necessities (1215 Griffin Ave., Enumclaw), best-known for its salted caramels, offers decadent treats including chocolate, fudge, bulk candy and ice cream.
White River Amphitheatre Frequently Asked Questions
What are White River Amphitheatre's parking options?
Parking is available at the venue. Set your GPS for 40601 Auburn Enumclaw Rd SE, Auburn, WA 98092. Parking fees are included in the ticket price. Accessible parking is available, and large vehicles can use the parking areas at no extra cost.
Does White River Amphitheatre serve food?
Yes. The venue has food stands and trucks that sell drinks, adult beverages, burgers, fries and other concert fare.
What are the seating options at White River Amphitheatre?
Accessible seating is available, in addition to hearing and sight-impaired seating. Lawn chairs are permitted but must be no more than nine inches off the ground. Rental lawn chairs are available.
What are White River Amphitheatre's safety & security guidelines?
Fans are permitted to bring "average-sized" bags and backpacks and non-professional cameras, as well as food contained in a clear one-gallon container and water (up to 1 gallon). Prohibited items include weapons of any kind, illegal drugs, alcohol, glass containers, cans, large coolers, large bags/backpacks, laser pointers, animals (except for service animals) and fireworks. For more information, visit Live Nation's Venue Guidelines page.
""