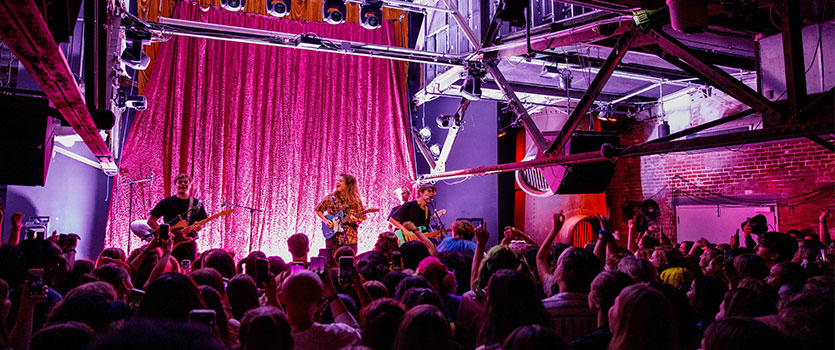 The Foundry History
The Foundry is a precious little treasure tucked inside a larger venue with a glorious legacy. In the late '60s and early '70s, the East and West iterations of The Fillmore were at the core of rock's countercultural boom. Today we have a national Fillmore franchise, and The Fillmore Philadelphia has been doing business in the Fishtown district of Philadelphia since 2015. Nestled into the second floor of that venue is the smaller but equally vital Foundry, with its own separate stage, bar and crowd, where the cutting edge of the cutting edge comes to play.
The Foundry Performers
When The Foundry isn't filling its stage with the hottest bands of the moment, it's hosting the ones that are about to explode. At various times, the roof has been raised by British neo-psych rockers Temples, modern funk warriors The Budos Band, Irish singer/songwriter Gavin James and countless others, as well as alt rock legends like The Lemonheads and Tommy Stinson.
Planning Your Visit to The Foundry
With the partnership of Wolfgang Puck Catering, The Fillmore Philly's in-house menu offers side dishes and appetizers like onion petals, Buffalo wings and mac 'n' cheese bombs. On the bigger side, there are burgers, falafel gyros and, of course, classic Philly cheesesteaks. If you want to eat elsewhere, the traditional brewpub offerings of Goose Island Brewhouse, the organic, locally sourced cuisine of Elwood, and the upscale bistro offerings of Mad Rex Restaurant are all right nearby.
The Foundry Frequently Asked Questions
What are The Foundry's parking options?
The Foundry has a pair of parking lots, one on North Front Street and another on Richmond Street. For more detailed parking info, go here.
Does The Foundry serve food?
In partnership with Wolfgang Puck Catering, the venue serves appetizers, main dishes and desserts.
What are the seating options at The Foundry?
The intimate Foundry, with its 450-person capacity, has a one-size-fits-all general admission policy. For tickets, go here.
What are The Foundry's safety guidelines?
The venue observes a clear bag policy, and its safety protocols include mandatory masks, reduced capacity, social distancing and contactless payment options. For more on their COVID-19 guidelines, go here.