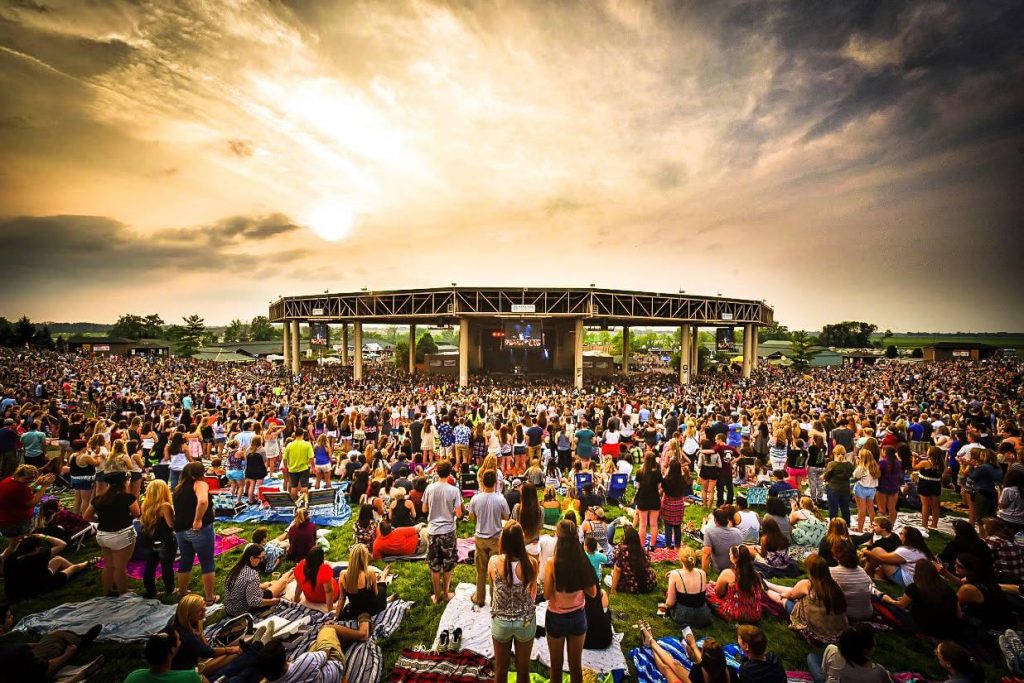 Ruoff Music Center History
Located in Noblesville, Indiana, the Ruoff Music Center is a large outdoor amphitheater that draws big names to the Indianapolis metro area. The 24,000-capacity venue, which has a covered pavilion and an expansive lawn, was originally known as the Deer Creek Music Center when it opened in 1989. It was later called the Verizon Wireless Music Center and the Klipsch Music Center.
Ruoff Music Center Performers
The amphitheater is the place to be during warmer months. Entertainers on that first schedule at Deer Creek in 1989 included Bob Dylan, Bon Jovi and Tom Petty. The venue is known for great concerts and hosts major touring festivals such as Ozzfest and the Vans Warped Tour, as well as Jam bands (Phish, Dave Matthews Band), classic rock (Doobie Brothers, Tom Petty & the Heartbreakers), pop (Maroon 5), metal (Megadeth) and country (Thomas Rhett, Brooks & Dunn).
Planning Your Visit to Ruoff Music Center
The Ruoff Music Center sits roughly 30 miles outside of Indianapolis, right off I-69 N. There are multiple parking lots available, as well as food and concessions.
Ruoff Music Center Frequently Asked Questions
What are the Ruoff Music Center parking options?
The venue has a main lot with free parking for cars and motorcycles, as well as paid Premier Parking lots with spots available to purchase in advance and their own exits post-concert. Accessible parking is in the west and east parking lots in front of the Premier Parking lot; patrons who need this option should let parking staff know upon arrival. Set your GPS for 12880 E. 146th St., Noblesville, IN 46060, and consult the Ruoff Music Center info site for details.
Does Ruoff Music Center serve food?
Yes, a wide variety of food and beverages are available on-site. Guests can also bring in their own food, provided it's in a clear, 1-gallon zip-top bag, and up to a 1-liter bottle of water if it's factory sealed or empty.
What are the seating options at Ruoff Music Center?
The Ruoff Music Center is an outdoor amphitheater with reserved ticketing in the pavilion and a general admission lawn. To upgrade to VIP seating — including a floor box, season seats or club access — call 317-249-2752. Patrons needing accessible seating can purchase these tickets online in advance; limited ticketing is available day of show. Interpreter services are also available upon request with two weeks' notice; please call 317-776-8181.
What are the Ruoff Music Center safety & security guidelines?
The Ruoff Music Center examines patron bags before entry into concerts, although guests without bags have the option to use a quicker, fast-pass line. The venue does have a list of allowed and prohibited items as well. Ruoff Music Center also upholds rigorous protocols to protect all attendees, performers and staff. For the latest, see the venue guidelines.