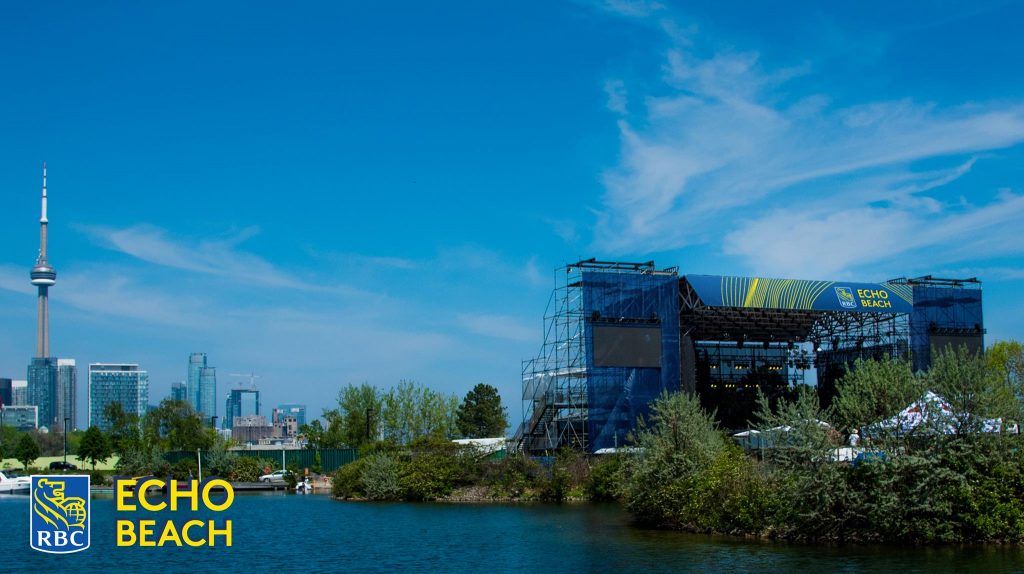 RBC Echo Beach History
Though it's located on the Ontario Place park grounds, on a sandy patch of Toronto's waterfront, RBC Echo Beach isn't technically a beach. Rather, this seasonal outdoor concert venue was named in honor of local new-wave icons Martha and the Muffins' classic 1980 single, "Echo Beach." Since 2011, RBC Echo Beach has provided a smaller-scale summertime alternative to its neighboring big-sister venue, the 16,000-seat Budweiser Stage amphitheatre. But while Echo Beach features a more limited general-admission capacity of 4,000, it offers a glorious summer-night ambiance — not to mention an opportunity to dance barefoot in the sand — that will make you feel like you're partying at a mega European festival.
RBC Echo Beach Performers
Echo Beach opened in grand style in 2011 with a performance from Swedish star Robyn, and ever since the venue has been the place to catch future pop, R&B and rap icons on the rise (Chance the Rapper, Daniel Caesar, Halsey) as well as the leading lights of alternative rock (Modest Mouse, Sigur Rós, Mac DeMarco). And naturally, the open-sand atmosphere has made it an ideal spot for EDM festivals, like the 2018 Bud Light Dreams lineup that brought Armin van Buuren, Paul van Dyk and Kaskade to the shores of Lake Ontario.
Planning Your Visit to RBC Echo Beach
Although RBC Echo Beach is on the south side of the extremely busy Lake Shore Boulevard thoroughfare and is somewhat disconnected from the retail promenades of downtown Toronto, its location has other benefits. It sits along the citywide Martin Goodman Trail, allowing for easy cycling access, and train/streetcar links are about a 10-minute walk away, on the Canadian National Exhibition (CNE) grounds, just over the Lake Shore pedestrian bridge. The venue is also about a 15-minute walk south from the Liberty Village neighborhood, which features many restaurant options for a pre-show bite. And in the last two weeks of summer, the CNE comes to life as Toronto's longest-running amusement-park attraction — there's no better way to cap an August evening than with a post-show late-night Ferris wheel ride overlooking the city.
RBC Echo Beach Frequently Asked Questions
What are the RBC Echo Beach parking options?
Find limited paid parking on the Ontario Place grounds. Other lots are on the north side of Lake Shore Boulevard at the CNE grounds, the Direct Energy Centre, the Fort York National Historic Site or the Liberty Village neighborhood.
Does RBC Echo Beach serve food?
In addition to standard concession stands, RBC Echo Beach also regularly hosts various local food trucks.
What are the seating options at RBC Echo Beach?
RBC Echo Beach is a general-admission, standing-room-only venue (though blankets are permitted for laying out on the sand). VIP tickets are also available, with access to raised viewing platforms.
What are RBC Echo Beach's safety & security guidelines?
Forbidden items include alcohol, narcotics, weapons of any kind, cans, metal water bottles, glass bottles, iPads, tablets, laptops, selfie sticks, hard-sided coolers, animals (service animals excepted), non-collapsible umbrellas, tall lawn chairs, and strollers. Visit the venue's website for more day-of-show information.
""
You Might Like
Everything you need to know about Miami's hub for sports and entertainment.
Xfinity Center History Since 1986, Xfinity Center has been Massachusetts' premier venue for outdoor concerts in a tree-lined setting. Originally known ...
Gainbridge Fieldhouse History In the heart of Indianapolis, Indiana, Gainbridge Fieldhouse has hosted a dizzying number of all-star athletes and world-class ...