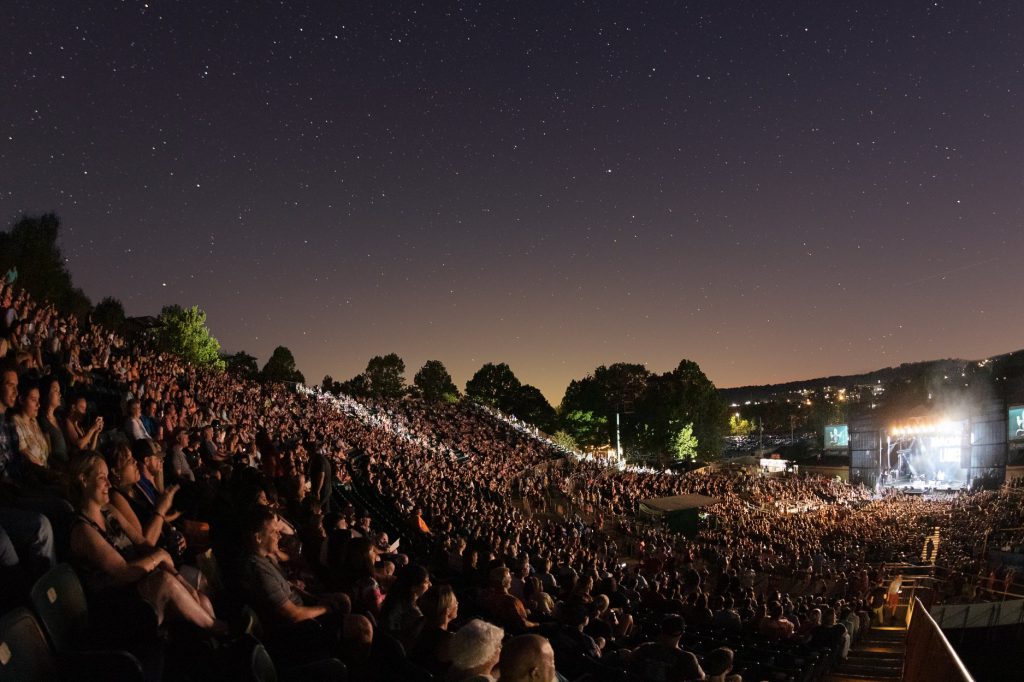 Oak Mountain Amphitheatre History
About 20 minutes south of Birmingham in the unassuming town of Pelham lies the biggest outdoor music venue in all of Alabama, the Oak Mountain Amphitheatre. It opened in 1986, and from 2004 to 2012 it was known as the Verizon Wireless Music Center. After that it reverted to the name people had already known it by for years. No matter what it's been called, though, it's the place where Alabamans have come to see some of the biggest acts around in rock, country, pop, hip-hop, R&B and more.
Oak Mountain Amphitheatre Performers
In the Amphitheatre's earliest years, music fans could catch the likes of R.E.M. or Bon Jovi when such bands were hitting their stride. And it's been that way ever since, whether fans are after the biggest in country (Willie Nelson, Luke Bryan), heavy rock (Alice in Chains), alternative (Counting Crows, Beck), pop (Hall & Oates) or anything else. It's no accident, for instance, that John Mayer decided to cut his concert album Any Given Thursday here in 2002.
Planning Your Visit to Oak Mountain Amphitheatre
Visitors can easily chow down at the Amphitheatre, with concessions like Trejo's Tacos and Questlove's Cheesesteak. But if you want to venture outside the venue for dining options, tasty choices are close by. Fans of Mexican fare will find savory possibilities like Two Pesos Mexican Café and Brito's Restaurant. For crab, shrimp and oysters, there's a Juicy Seafood location in the area, too.
Oak Mountain Amphitheatre Frequently Asked Questions
What are the Oak Mountain Amphitheatre parking options?
Visitors will find parking right across from the venue, with the fee included in the price of their ticket. Premier parking is also available. The parking lot usually opens two and a half hours before the show (doors open an hour after that).
Does the Oak Mountain Amphitheatre serve food?
Concessions selling hot food, snacks and drinks can be found at the Amphitheatre.
What are the seating options at Oak Mountain Amphitheatre?
The 10,500-capacity venue has three levels of reserved seating. There are also VIP boxes just behind the first tier. For tickets, go here.
What are the Oak Mountain Amphitheatre safety & security guidelines?
Prohibited items include umbrellas, weapons, portable seating and cushions, and outside food and alcohol. General venue guidelines are here. For more information about Oak Mountain safety protocols, contact the venue at 205-985-4900.