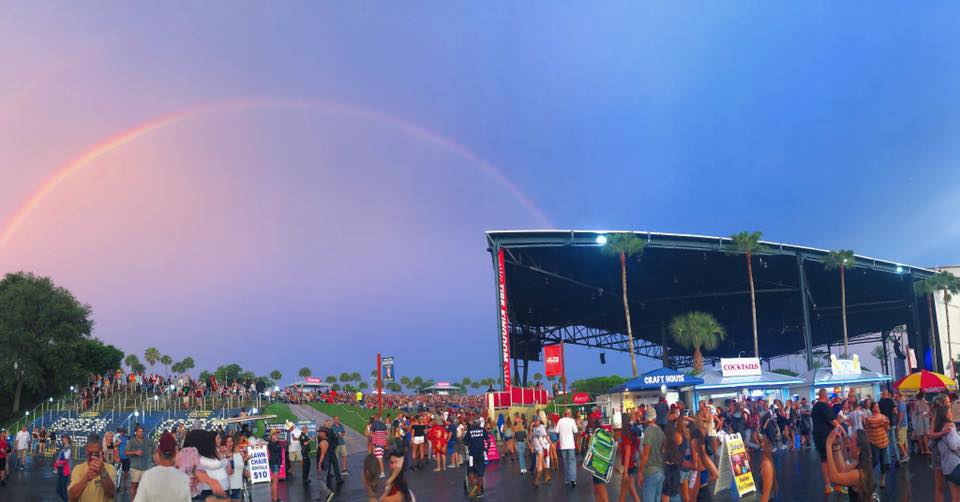 iTHINK Financial Amphitheatre History
A spectacular place for major concerts in West Palm Beach, the iTHINK Financial Amphitheatre is a 20,000-capacity, open-air venue on the South Florida Fairgrounds. First opened in 1996, the venue was formerly known as the Coral Sky Amphitheatre, the Cruzan Amphitheatre, Perfect Vodka Amphitheater, Mars Music Amphitheatre and Sound Advice Amphitheatre before iTHINK Financial came on board as sponsor in 2020.
iTHINK Financial Amphitheatre Performers
Throughout its long history serving fans in South Florida, the amphitheatre has hosted some of music's most iconic festivals, including Lilith Fair, the Vans Warped Tour, Ozzfest and Crüe Fest. A 1996 Phish concert here was filmed and later released as the Coral Sky DVD. Among the many other concerts to take place at the iTHINK Financial Amphitheatre were the first U.S. show on the Spice Girls' Spiceworld Tour in 1998 and the last concert on Tori Amos' Scarlet's Walk tour in 2003. Dave Matthews Band have a special relationship with the amphitheatre, playing here more than 30 times since 1996.
Planning Your Visit to iTHINK Financial Amphitheatre
The amphitheatre's location puts it close to the action in West Palm Beach. Local faves for casual eats include slices at Pizza Girls, ceviche and steak tacos at Cholo Soy, fresh sushi at Sushi Yama and brunch at Dune Deck Cafe. After the show, the night often continues at City Cellar Wine Bar and Grill, Blue Martini and — given the warm nights of South Florida — really anywhere with a patio and drinks with little umbrellas.
iTHINK Financial Amphitheatre Frequently Asked Questions
What are the parking options at iTHINK Financial Amphitheatre?
Several lots on the South Florida Fairgrounds are reserved for concert patrons. Fees vary with events, and parking lots open approximately three hours prior to the show.
Does iTHINK Financial serve Amphitheatre food?
Yes. The amphitheatre offers a variety of concession options throughout the venue.
What are the seating options at iTHINK Financial Amphitheatre?
The venue's roof covers the majority of the reserved seating sections. The lawn area is general admission. Different levels of seating options are available, including VIP seating packages for many events.
What are the iTHINK Financial Amphitheatre safety & security guidelines?
The iTHINK Financial Amphitheatre strives to provide a safe and secure experience for all visitors. Arrive early enough to allow time to move through the security check. All bags are subject to search — prohibited items include weapons, alcohol and drugs, and fireworks.