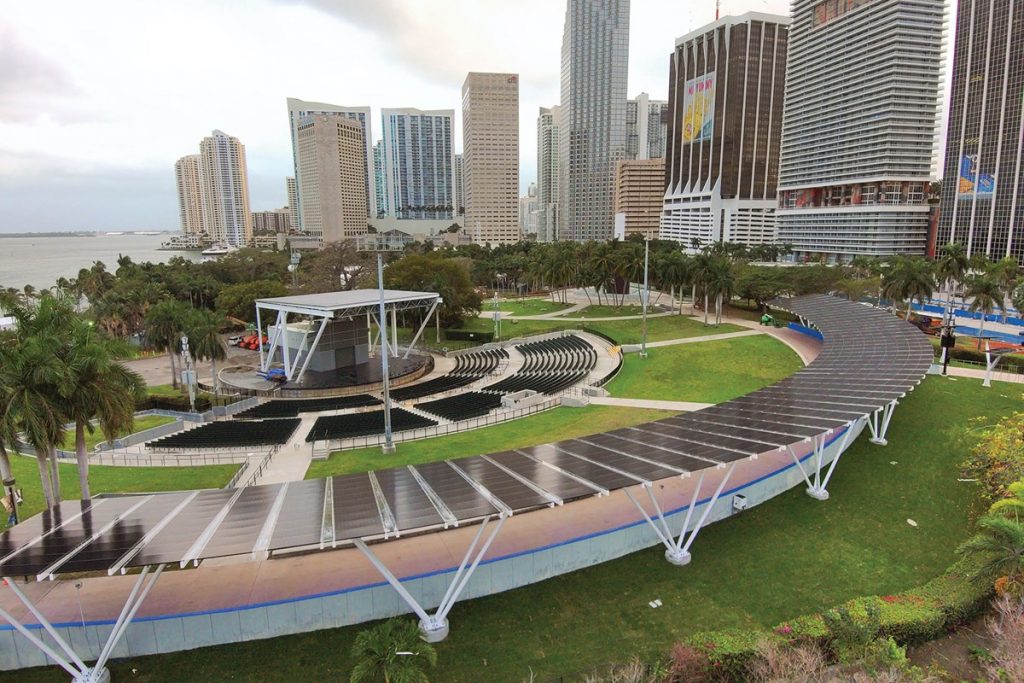 FPL Solar Amphitheater History
Miami's biggest downtown summer concert venue, the FPL Solar Amphitheater brings world-class shows and other events into the beautiful setting of a 32-acre waterside urban park. On Biscayne Bay in the city's downtown, the open-air venue hosts shows for up to 10,000 people. Formerly known as the Bayfront Park Amphitheater, the Klipsch Amphitheatre at Bayfront Park and the AT&T Amphitheater, the FPL Solar Amphitheater reopened in early 2020 after an eco-friendly renovation that included the installment of 500 solar panels.
FPL Solar Amphitheater Performers
Bayfront Park has seen great performances since its original bandshells first attracted audiences in the late 1920s. After the Amphitheater arrived as part of the area's extensive redevelopment in the 1980s, headliners included Nirvana, Megadeth, Lenny Kravitz and Phish. Later came Nicki Minaj, Third Eye Blind, Pitbull and Dua Lipa. The Amphitheater has also attracted enthusiastic crowds for the Ultra Music Festival, America's premier dance-music event. In 2001, Paul Oakenfold and Paul Van Dyk topped the bill for the first of Ultra's many mainstage shows here.
Planning Your Visit to FPL Solar Amphitheater
Visitors to FPL Solar Amphitheater have the opportunity to experience the best of Miami's downtown. Dining options right on Biscayne Bay include casual eats at the Hard Rock Cafe and Bavaria Haus, authentic Cuban cuisine at Old's Havana, and upscale standouts like Novikov Miami and The Knife, among many local faves in the neighboring Bayside Marketplace.
Frequently Asked Questions
What are the parking options at FPL Solar Amphitheater?
Parking is available in a variety of garages and lots surrounding the facility. There's also a parking garage at Bayside Marketplace.
Does FPL Solar Amphitheater serve food?
Yes. Visitors will find an array of choices from the many food vendors located inside the Amphitheater.
What are the seating options at FPL Solar Amphitheater?
Events typically include sections for assigned seating on fixed benches and general admission in the lawn area. Select events also include box seating in the three sections nearest the stage.
What are the FPL Solar Amphitheater safety & security guidelines?
FPL Solar Amphitheater strives to provide a clean and safe experience for all visitors. Please arrive early enough to allow time to move through security. All bags are subject to search upon entry — prohibited items include weapons, large coolers, alcohol and drugs, and fireworks. See here for complete guidelines.