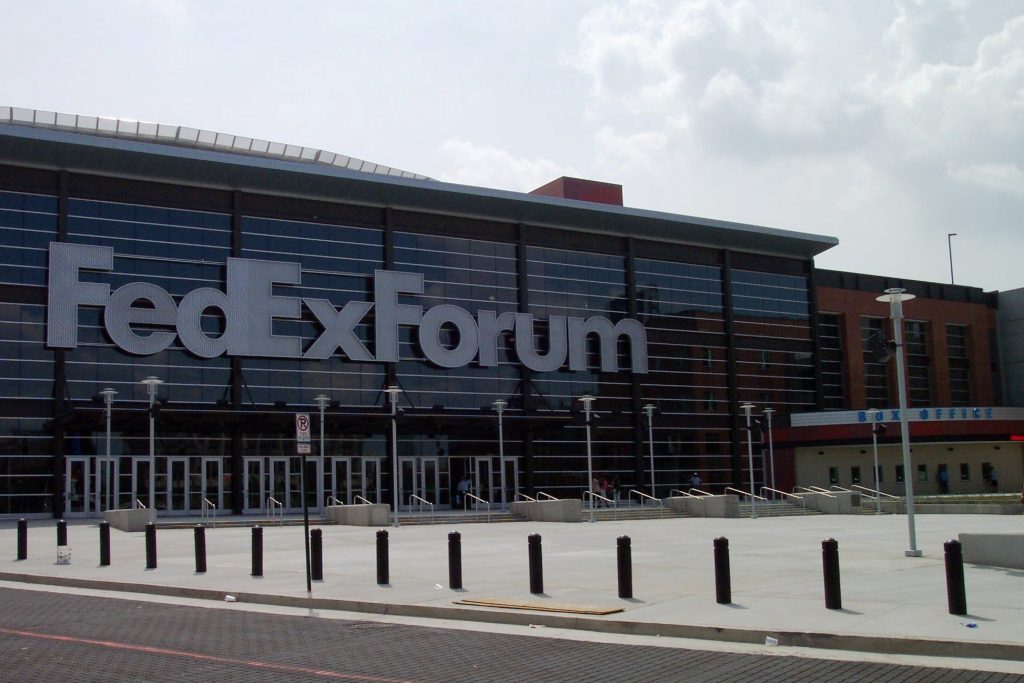 FedExForum History
Opened in 2004 in downtown Memphis, FedExForum is the city's biggest venue for basketball and entertainment. The arena is best known to NBA lovers as the home of the Memphis Grizzlies, but the NCAA's Memphis Tigers also have their HQ here. The Forum has hosted WWE events, rodeo, monster trucks, boxing and MMA.
FedExForum Performers
Tennessee is known for country music, and FedExForum is a magnet for musical legends, hosting giants like Carrie Underwood, Garth Brooks, Kenny Chesney and Blake Shelton. Rockers like AC/DC, Foo Fighters, Tom Petty & the Heartbreakers and Pearl Jam have also stormed the stage. Pop performers have included Bruno Mars, Justin Timberlake, Miley Cyrus, Usher and Janet Jackson.
Planning Your Visit to FedExForum
The Forum's location in the Beale Street Entertainment District puts music lovers near the Memphis Music Hall of Fame and B.B. King's Blues Club. The Forum itself is home to the Rock 'n' Soul Museum, tracing Memphis music history back to the beginning. And while the venue offers food, there's no lack of nearby eateries. The Bleu Restaurant & Lounge, across the street, serves up blackened catfish and baked wings. Dyer's Burgers is famous for a secret recipe dating back to 1912. And if you want to kick back with drinks and pub food, Wet Willie's is the spot.
FedExForum Frequently Asked Questions
What are the FedExForum parking options?
The Forum's parking lot has five levels and 1,500 spots. There are two entrances on Dr. M.L.K. Jr. Ave., and for everything but basketball games, it's first-come, first-served. There are also independently operated options a little further from the venue, including lots at Peabody Pl. and S. 2nd St.
Does FedExForum serve food?
Throughout the arena you'll find concessions including Memphis Burrito, Fowl Line, The Delta Grill and the Carvery. Specialty beers are within easy reach at Ghost River. For more info, see the Forum's dining offerings.
What are the seating options at FedExForum?
The Forum holds 19,000 fans for concerts and has a capacity of 18,119 for basketball. Concerts generally feature floor seating, and above that, three levels of tiered seating, including boxes. Visit FedExForum ticket sales. There are also premium seating and luxury suite options.
What are the FedExForum safety & security guidelines?
All bags are subject to screening, with a size limit of 14"x14"x6". The arena's COVID-19 policies include mandatory masking, social distancing, no in-seat food or beverage consumption, and prepackaged items available from concessions. Visit the venue website for policy updates.
You Might Like
Everything you need to know about Miami's hub for sports and entertainment.
Xfinity Center History Since 1986, Xfinity Center has been Massachusetts' premier venue for outdoor concerts in a tree-lined setting. Originally known ...
Gainbridge Fieldhouse History In the heart of Indianapolis, Indiana, Gainbridge Fieldhouse has hosted a dizzying number of all-star athletes and world-class ...