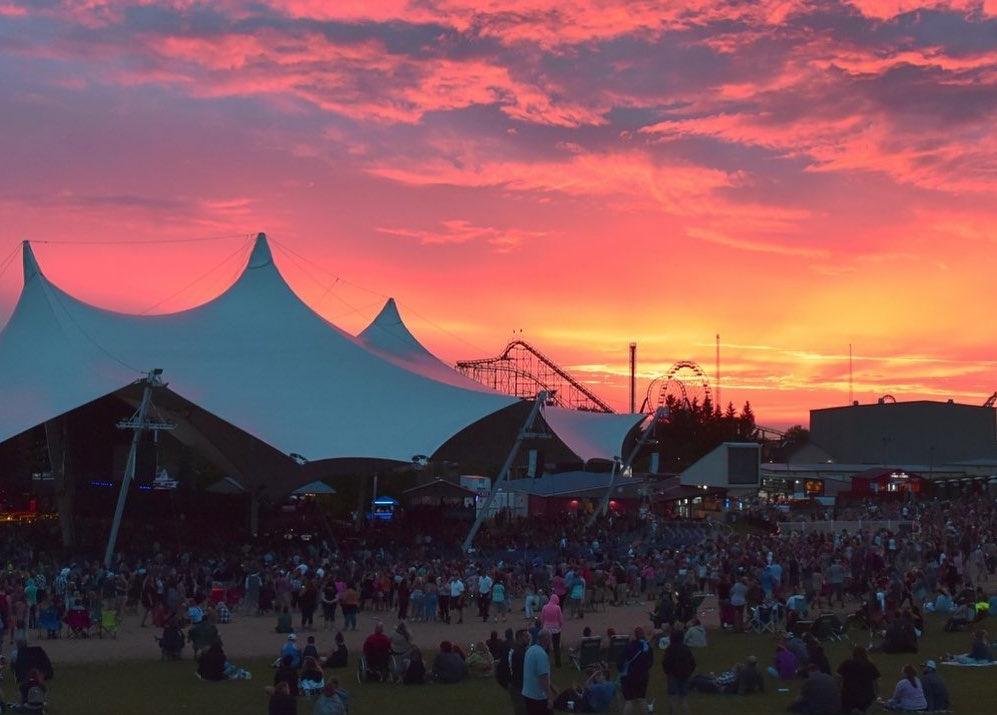 Darien Lake Amphitheater History
With its iconic white circus-tent-like canopy, the Darien Lake Amphitheater has been the go-to destination for large summertime concerts in the Buffalo area since it opened in 1993. Located at Six Flags Darien Lake, on the site of the former Lakeside Amphitheater, the venue has capacity for 21,600 (including 6,400 seats under the big top).
Darien Lake Amphitheater Performers
Since its early '90s inception, Darien Lake has been a popular stop on the jam-band circuit. A visit from the Allman Brothers Band became something of an annual tradition in the '90s and 2000s, while Phish and the Dave Matthews Band have made frequent appearances over the years. More recently, it's been the place to catch country stars like Toby Keith, Luke Bryan and Brad Paisley. And of course, this being a Buffalo-area venue, Darien Lake has hosted big homecoming shows for local-boys-done-good the Goo Goo Dolls.
Planning Your Visit to Darien Lake Amphitheater
Darien Lake is part of Six Flags Darien Lake, and when a concert occurs during the theme park's operating schedule, check to see if park admission is included with your concert ticket. If so, make a day of it and ride the coasters in the daytime before you rock out at night. The park also offers on-site lodging options for extended visits.
Darien Lake Amphitheater Frequently Asked Questions
What are the Darien Lake Amphitheater parking options?
Parking is available on-site on a first-come, first-served basis, and is included in the price of your concert ticket. Enter off Route 77 — show your concert ticket upon arrival, and you'll be given a placard to place on your rearview mirror to indicate your parking section.
Does Darien Lake Amphitheater serve food?
Yes, concession stands are on the north and south concourses, on the lawn and within the theater area. Options include typical snack-bar fare, as well as premium celebrity-branded food like Questlove's Cheesesteak and Danny Trejo's famous Los Angeles Tacos.
What are the seating options at Darien Lake Amphitheater?
Darien Lake has a standing-room-only pit directly in front of the stage, five tiers of reserved seating, and a large general-admission lawn section (though it does include a small reserved area in the center).
What are Darien Lake Amphitheater's safety & security guidelines?
The venue forbids weapons, alcohol and drugs, glass containers, cans, hard-sided coolers, large bags, animals, laser pointers and fireworks.