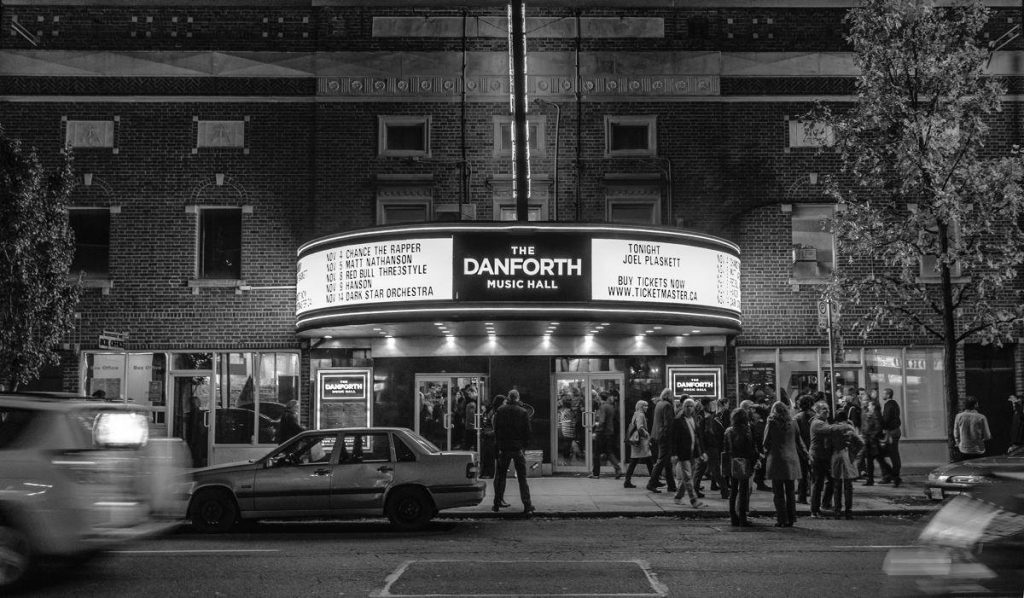 Danforth Music Hall History
Toronto's Danforth Music Hall opened as Allen's Danforth movie theater in 1919 before transitioning to feature live performances in the late 1970s. It was recognized as a historical property by the Ontario Heritage Act in 1985, and the then-neglected theater temporarily closed in 2004. New owners revived and renovated the space in 2006, which again faced closure in 2010, and Embrace Presents and Live Nation have been operating it successfully since 2011. Capacity maxes out at an intimate 1,500.
Danforth Music Hall Performers
The Danforth Music Hall's rich history is reflected in its impressive roster of performers. James Brown, The Clash, The Police and The Ramones came through town back in the day. In more recent history, pop icons such as Lorde and Rihanna have played shows. Notable Canadian acts include Justin Bieber, Daniel Caesar and Jessie Reyez. Many stand-up comedians and podcasts also choose Danforth to host them.
Planning Your Visit to Danforth Music Hall
The venue sits on Danforth Avenue in Toronto's Riverdale neighborhood. Pre-show meals can be had at any number of surrounding establishments, including Allen's Restaurant, Dora Keogh Irish Pub and Danforth Sidebar neighboring each side of the Music Hall.
Danforth Music Hall Frequently Asked Questions
What are the Danforth Music Hall parking options?
The Music Hall does not offer valet parking. There are paid public parking lots on Danforth Avenue. Across the street from the venue, there's also a Green P Parking Lot behind Shoppers Drug Mart.
Does Danforth Music Hall serve food?
The venue sells candy, popcorn and pizza baked in-house.
What are the seating options at Danforth Music Hall?
Seating varies depending on the event, but generally, the Danforth Music Hall is divided into three levels: balcony, mezzanine and general-admission floor. While the balcony and mezzanine feature assigned sections and seats, the main floor is general admission and standing only. The Danforth also offers ADA accessible seating.
What are the Danforth Music Hall safety & security guidelines?
The Music Hall's policies aim to protect every person's ability to freely enjoy shows. Fighting, standing atop seats, smoking indoors and disrespectful behavior that could pose a safety threat will not be tolerated. Guests aren't allowed to enter if intoxicated and will be asked to leave after becoming intoxicated once inside. To that end, the Danforth reserves the right to refuse service if it sees fit. Contact Danforth Music Hall with questions regarding code of conduct and safety protocol.
You Might Like
Step inside Crypto.com Arena, home of the Los Angeles Lakers & LA Clippers, and learn more about this SoCal staple for sports and entertainment.
The Depot History Since opening in 2006, The Depot has been one of Salt Lake City's leading indoor concert venues. Located downtown, at 13 North 400 West in ...
Alpine Valley Music Theatre History Set amid the greenery of East Troy, Wisconsin, Alpine Valley Music Theatre is one of the Midwest's most beloved music ven...