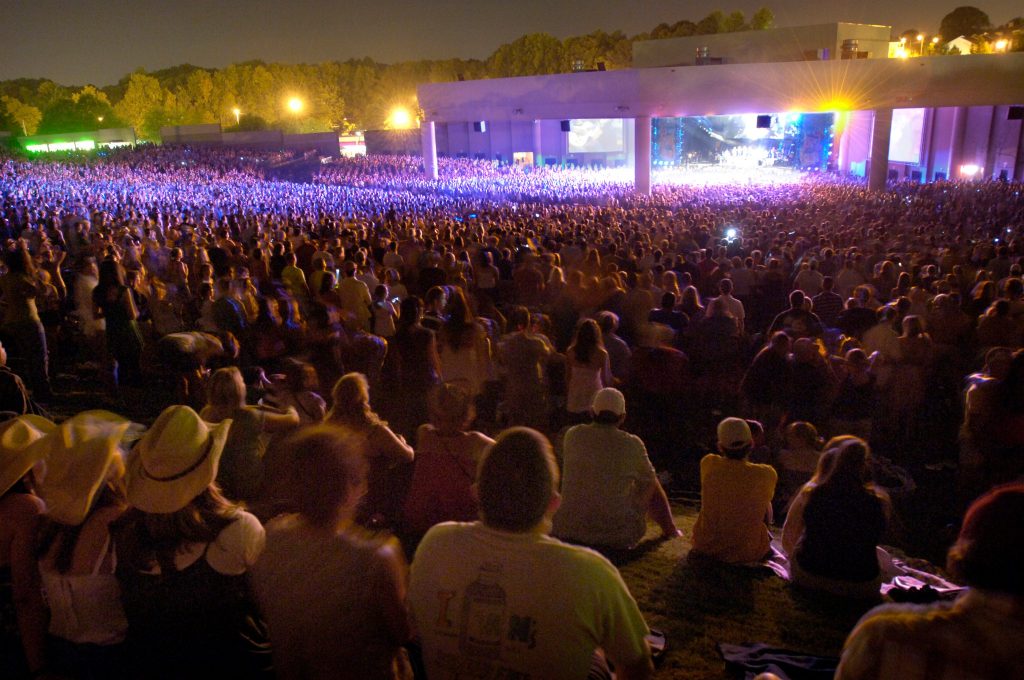 Cellairis Amphitheatre at Lakewood History
Opened in 1989, this Atlanta-area venue has undergone numerous name changes. It acquired the name Cellairis Amphitheatre at Lakewood in 2017. But no matter what it's called, this 75-acre site within the beloved former Lakewood Fairgrounds has consistently provided the premier outdoor-music experience in Atlanta from spring to fall.
Cellairis Amphitheatre at Lakewood Performers
Over the years, the Cellairis Amphitheatre at Lakewood has hosted legends from across the worlds of rock, pop, rap and country, including Tom Petty & the Heartbreakers, the Spice Girls, Nicki Minaj and Shania Twain. Jam-band veterans Phish have called it one of their favorite places to play, thanks to its excellent acoustics, while Linkin Park included tracks from their 2004 and 2007 performances at the venue on their fan-club releases, LPU 4 and LPU 7, respectively.
Planning Your Visit to Cellairis Amphitheatre at Lakewood
The Cellairis Amphitheatre at Lakewood is located four miles south of downtown Atlanta, on the east side of the I-85 interstate near the Langford Freeway East Exit. There aren't really any pre-show dining destinations within immediate walking distance, but there are fast-food options aplenty on the west side of the freeway along Metropolitan Parkway.
Cellairis Amphitheatre at Lakewood Frequently Asked Questions
What are Cellairis Amphitheatre at Lakewood's parking options?
The venue has an on-site parking lot that accommodates 6,000 vehicles. Premium Parking spots — located close to the entrance — can also be purchased in advance through Ticketmaster or at the Pryor Road entrance.
Does Cellairis Amphitheatre at Lakewood serve food?
Yes, there are traditional concession stands throughout the venue featuring staples like cheeseburgers, pizza, nachos and popcorn.
What are the seating options at Cellairis Amphitheatre at Lakewood?
Seating is divided into three sections: a covered area with seats for 4,000; an open-air area with seats for 3,000; and the massive general-admission lawn in the back, with space for 12,000.
What are Cellairis Amphitheatre at Lakewood's safety & security guidelines?
The maximum bag size permitted is 16″x16″x8″. Prohibited items include weapons, umbrellas, coolers, baskets and lawn chairs (though these may be available for rent at select events). Click here for a complete list of guidelines.
You Might Like
The essential spots to take in music entertainment throughout the Valley of the Sun.
Fill your visit with unforgettable entertainment on anything from a Bulls basketball game to a top-tier arena-filling concert blowout.
Pier Six Pavilion History Since 1981, the Pier Six Pavilion has been one of Baltimore's most instantly identifiable landmarks, with a white big-top tent ceil...