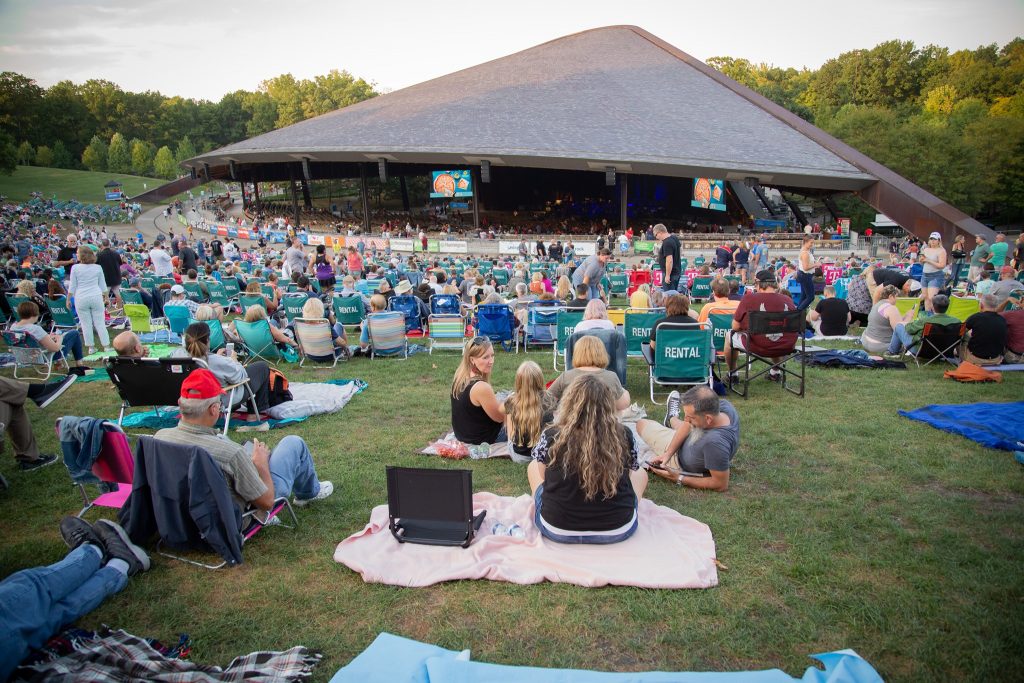 Blossom Music Center History
Blossom Music Center opened in 1968 in Cuyahoga Falls, Ohio, roughly 30 miles south of downtown Cleveland in a more rural area of the state. Built on acres of tranquil greenspace, the seasonal outdoor venue was built to be the summer home of the world-renowned Cleveland Orchestra. The amphitheater and a sloping lawn are set far back from the street, creating an environment that makes attendees feel like they're on a getaway while enjoying music.
Blossom Music Center Performers
Blossom Music Center books national musical acts across all genres, but is an especially popular destination for country, classic rock, metal and hip-hop acts. Hometown heroes The Michael Stanley Band played four sold-out shows here in 1982, and the venue is still the summer home of the Cleveland Orchestra.
Planning Your Visit to Blossom Music Center
Blossom Music Center has plenty of on-site drinking and dining options for fans, often with a local bent. The venue isn't close to public transportation or off-site restaurants, although there are multiple parking lots available.
Blossom Music Center Frequently Asked Questions
What are the Blossom Music Center parking options?
The venue offers free on-site parking in grass lots as well as closer, paved spots in paid lots. Set your GPS for 1145 W Steels Corners Rd., Cuyahoga Falls, OH, 44223, and consult the Blossom Music Center venue details on the Ticketmaster website.
Does Blossom Music Center serve food?
Yes, there are extensive food and drink options available during shows.
What are the seating options at Blossom Music Center?
The venue has a reserved pavilion and a lawn that's open for General Admission. Low lawn chairs, beach chairs and blankets are allowed. Patrons needing wheelchair seating or ADA seating are advised to call ahead or visit the website to purchase accessible tickets, although they can also speak with security the night of a show.
What are the Blossom Music Center safety & security guidelines?
Blossom Music Center searches patron bags before entry into concerts, and upholds rigorous safety protocols to protect all attendees, performers and staff.
""
You Might Like
Everything you need to know about Miami's hub for sports and entertainment.
Xfinity Center History Since 1986, Xfinity Center has been Massachusetts' premier venue for outdoor concerts in a tree-lined setting. Originally known ...
Gainbridge Fieldhouse History In the heart of Indianapolis, Indiana, Gainbridge Fieldhouse has hosted a dizzying number of all-star athletes and world-class ...