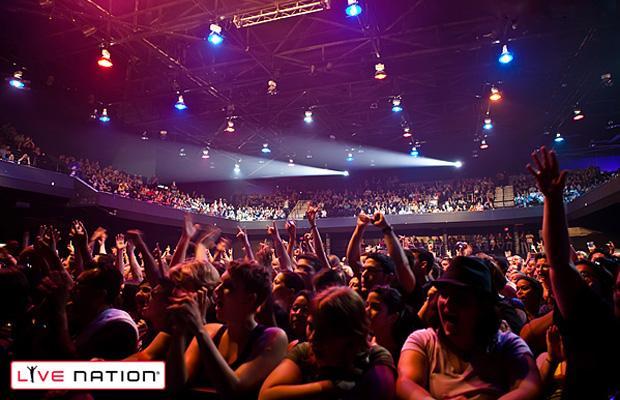 Bayou Music Center History
Houston's Bayou Music Center started out as the Aerial Theater in 1997, nestled in the bustling Bayou Place entertainment hub. At various points the venue has operated as the Verizon Wireless Theater and the Revention Music Center. But by any name, it's known as a spot for concerts by performing artists old and new, with state-of-the-art sound and a setup that ensures there's not a bad seat in the house.
Bayou Music Center Performers
Concertgoers have come to the Bayou Music Center to catch big names like Lizzo and Wilco. The style of music changes, but the artists are always top-tier, whether the stage is commanded by Britpop kings Coldplay or EDM icon Deadmau5, classic-rock legends Deep Purple or reggae crossover hero Shaggy. Artists of near-mythic status like Sting, Lauryn Hill and Bob Dylan have all helped cement the venue's lofty rep.
Planning Your Visit to Bayou Music Center
The Bayou Music Center location offers awesome options for food and drink right near the venue. Find classic Italian dishes at Little Napoli and an amazing selection of spirits at The Wine Cellar. Just a smidge further, settle into serious seafood at the Aquarium Restaurant, or pick from a stunning selection of beers and a menu of scrumptious pub food at Flying Saucer.
Bayou Music Center Frequently Asked Questions
What are the Bayou Music Center parking options?
You've got a few choices for parking — there's the city-run valet service as well as underground parking in the city garage. You can find one parking lot right on Rusk St. amid the entertainment complex and another just alongside it, on Smith St. And of course, there's always the tried-and-true street parking option.
Does Bayou Music Center serve food?
Yes. You can chow down on choices like burgers for the carnivores and salads for the vegetarians right at the Bayou Music Center, along with beer, wine and liquor.
What are the seating options at Bayou Music Center?
The venue offers general-admission standing room in front of the stage as well as booths, box seats and more reserved seating around the perimeter. For shows with reserved seating only, capacity is 2,400. For standing-only shows, it's 3,464. Search here for tickets.
What are the Bayou Music Center health and safety guidelines?
As part of the center's safety protocols, guests and their bags will be searched upon entry. Guests should familiarize themselves with the clear-bag policy. Additional safety protocols followed by the Bayou Music Center include mandatory masking, reduced capacity, social distancing, frequent cleaning and sanitizing, availability of hand sanitizer and contactless payment options.
You Might Like
Everything you need to know about Miami's hub for sports and entertainment.
Xfinity Center History Since 1986, Xfinity Center has been Massachusetts' premier venue for outdoor concerts in a tree-lined setting. Originally known ...
Gainbridge Fieldhouse History In the heart of Indianapolis, Indiana, Gainbridge Fieldhouse has hosted a dizzying number of all-star athletes and world-class ...