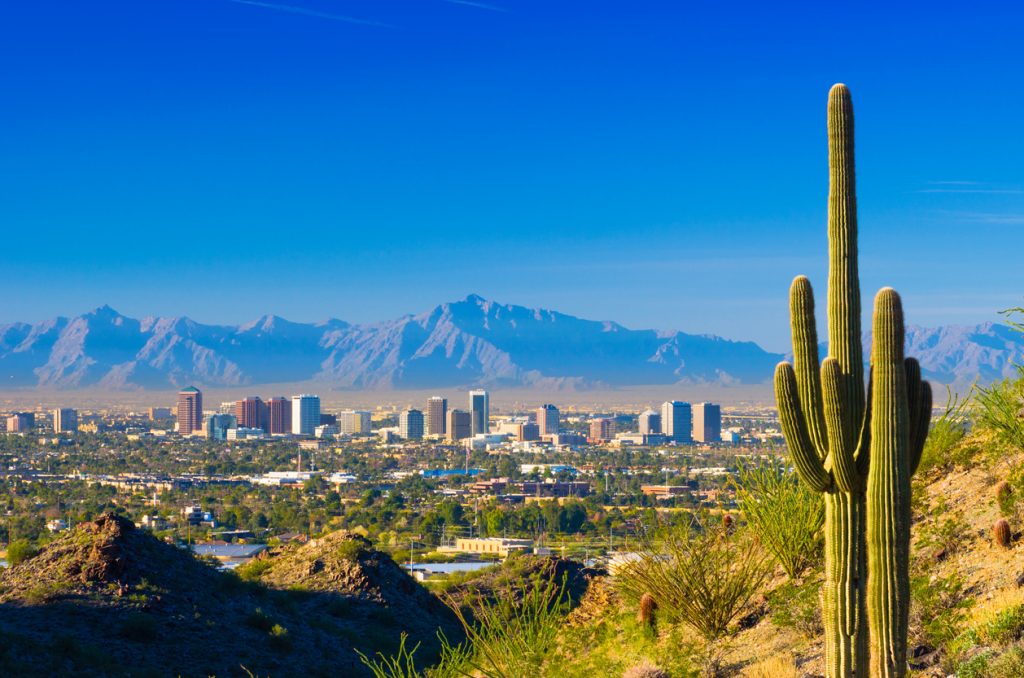 From sports, to tours, to special annual events – the year-round live calendar in Phoenix is as hot as the desert. Here are all the essential spots playing home to entertainment in the Valley of the Sun.
Phoenix Sports & Music Venues
---
Desert Diamond Arena in Glendale, less than 15 miles from downtown Phoenix, is home to the National Hockey League's Arizona Coyotes, who have have hosted three NHL playoff contests since the venue opened (then named Glendale Arena) in 2003. As a concert venue, Desert Diamond seats up to 19,000 people and features legacy superstar acts such as rock gods KISS, The Rolling Stones, and the Eagles, plus pop icons Taylor Swift, Justin Timberlake, and Katy Perry. Desert Diamond also serves up events for the whole family, from Cirque du Soleil to PBR's Built Ford Tough Series bull-riding tour. When the Gila River Indian Community cinched naming rights from 2014 to 2022, this was the first such deal struck between a federally recognized Native American tribe and a major-league sports arena.
---
Chase Field is situated in downtown Phoenix in a thriving civic and entertainment district near Arizona State University; nearby you'll find Phoenix Symphony Hall, the Phoenix Convention Center, Talking Stick Resort + Arena, and Heritage Square. Owned by Maricopa County, Chase Field features a retractable dome roof that, when closed on 100º days, cools the arena using a state-of-the-art chilled water system that can drop the indoor temperature by 10º per hour, air conditioning the entire 48,700-seat venue with impressive efficiency. Chase Field proudly boasts ADA accessibility features throughout the building, and Valley Metro Rail delivers fans to the 3rd St. stop, just one block away. NCAA College Football holds the Cheez-It Bowl (formerly the Copper Bowl and Cactus Bowl) at Chase every winter. In addition to sporting events, Chase Field hosts big-name concerts from artists like country music icon Kenny Chesney and pop legend Billy Joel.
---
Talking Stick Resort Arena, located downtown next door to Chase Field, has been the home of the Phoenix Suns since 1992, which was NBA All-Star Charles Barkley's MVP season. In 2007, the Suns organization won 12 Emmys for a video of their NBA playoff series appearance here. The Talking Stick's 2003 renovation added a 16,500-square-foot glass atrium where fans can literally chill out before events. The light rail drops fans off right outside, and it's an easy walk to downtown attractions. Beyond sports, the 18,000-seat concert configuration brings such major acts to Phoenix as Ariana Grande, Paul McCartney, Michael Bublé, Carrie Underwood, and Iron Maiden, as well as WWE tournaments and touring comedians.
---
Twelve miles west of Phoenix, off Interstate 10, Talking Stick Resort Amphitheatre has the largest concert capacity of any venue in the Phoenix area, with 8,000 seats under the pavilion and an additional 12,000 lawn and hillside seats. Talking Stick Resort Amphitheatre launched as Desert Sky Pavilion in 1988. Billy Joel performed at the amphitheater's inaugural concert, and every summer since, Talking Stick Resort Amphitheatre, the home of Mayhem Festival since 2008, has accommodated renowned tours such as Lollapalooza, Lilith Fair, and OzzFest. Green Day shot their "Cigarettes and Valentines" video here, and Fall Out Boy recorded their 2008 live album at the amphitheater, then named Cricket Wireless Pavilion. Other big headliners have included Future, Santana, Florida Georgia Line, Dave Matthews Band, Nine Inch Nails, and Bon Jovi.
---
Touring artists who want a midsize theater — smaller than an arena, but bigger than a nightclub — find the 5,000-seat Comerica Theatre a perfect performance venue. Located in the Government District, walking distance from downtown's larger arenas and three blocks off the 1st and Jefferson light-rail stop, Comerica opened in 2002 with Harry Connick Jr. The theater's three levels of seating and state-of-the-art sound and light systems make the space ideal not only concerts but also for comedy, variety, and dance productions. Blue Collar Comedy Tour: The Movie was filmed here, as well as George Lopez's 2007 HBO special. Music stars who have graced Comerica's stage include Janet Jackson, Lorde, Lana Del Rey, and Meek Mill, and the theater is well-suited to family entertainment like the Rockettes, Dancing with the Stars, and PAW Patrol Live.
---
The Crescent Ballroom on 2nd Avenue in Downtown Phoenix occupies the former F.L. Hart garage, a 1917 building at the heart of Phoenix's urban boom. A midsize, independent concert hall with a 500-person ballroom floor capacity and a full-service restaurant, the Crescent is an excellent place to gather, either to hang out in the lounge or take in live entertainment inside the hall: bands (The Church, Parachute, Mike Doughty), DJs and dance parties, jazz and cabaret acts (Pandora DeStrange), comedians, and spoken word (The Moth). Right off the 1st and Van Buren light rail stop, the Crescent serves drinks and a full menu until midnight seven days a week.
---
Founded in 1929 as part of the vaudeville circuit and later a stop on the national Broadway tour, the Orpheum Theatre — on the National Register of Historic Places for its design, history, and restoration — is part of the Phoenix Convention Center network operated by the city. A cultural hub in Phoenix in the heart of Downtown, the Orpheum is the home of the Phoenix Opera. It features an intimate, well-lit stage and gorgeous Baroque/Spanish Revival ornamentation, and in addition to the opera it hosts Broadway musicals, intimate concerts and personal appearances, variety and comedy shows, and Ballet Arizona. The Orpheum seats 1,364 in orchestra and balcony sections. Whether you come to see a performance of Evita or a taping of the Tonight Show when Jimmy Fallon takes it on tour, the Orpheum is truly a destination venue.
---
A relatively new concert hall in Downtown Phoenix, The Van Buren opened in 2017 with a sold-out show featuring Cold War Kids. The 1,800-capacity venue — a former car dealership — is situated in Phoenix's historic old automotive district a few blocks from its sister club, the Crescent Ballroom, and three blocks from the 1st and Van Buren light-rail stop. The room is a sight to behold, revamped with chandeliers and Instagram-worthy fittings and floor tiles. Major touring acts  who want to play an intimate room come to the Van Buren, including hip-hop stars DMX and Flying Lotus; indie rock acts such as Neko Case and Portugal. The Man' and variety shows as varied as Chippendales and Welcome to Night Vale.
You Might Like
Historic venues and outdoor glory shine in Southern California.
Whether you're a long-time local or just in town for a quick trip, the entertainment experts at Ticketmaster have you covered!
Whether you're a die-hard basketball fan, enthusiastic concertgoer or simply looking for something extraordinary to do, the Vivint Arena in Salt Lake City, U...