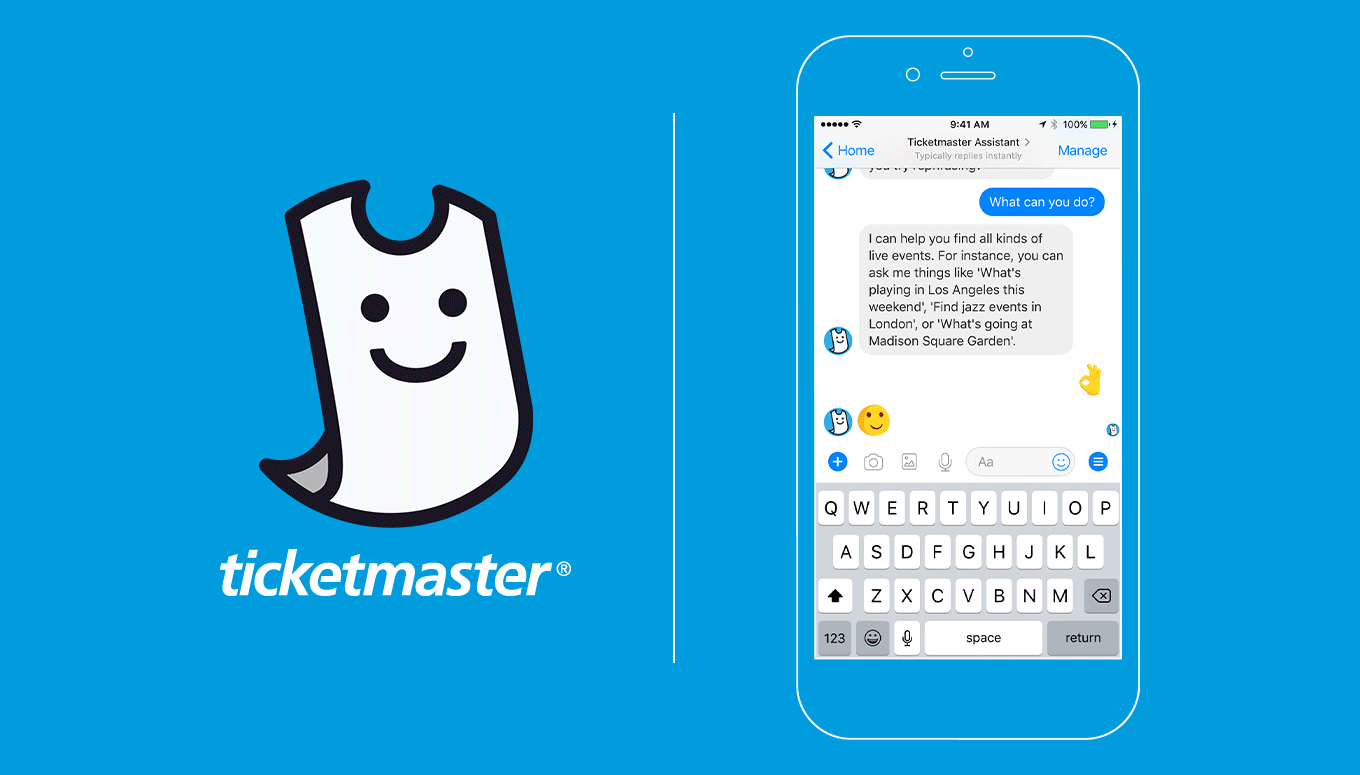 We're all talking to our newest co-worker here at Ticketmaster HQ but it's oddly quiet except for some LOLs bubbling up from people's desks. How is it that we can all fire off questions at once and amazingly each one of our queries is being answered in detail in real time?
Today our mission of getting more fans to the live events they love expands to a new platform with the launch of a Ticketmaster bot for Messenger: Ticketmaster Assistant.
Ticketmaster Assistant for Messenger is here to help fans discover and search for live events around the world. Think of it as that friend who always knows what's happening and has all the details – whether it's for a tour that was just announced or last minute tickets to tonight's game, our Messenger chatbot has you covered.
As the global market leader in ticketing, Ticketmaster has the widest selection of live events that spans music, sports, theater, comedy, and more around the world and now we are bringing the ability to easily search that vast selection to the fingertips of the 1 billion+ people using Messenger each month.
Ticketmaster Assistant for Messenger helps fans discover and search for events by date, location, genre, or specific artist and it's super easy (and fun) to use and since you probably already have Messenger, you already have access: https://m.me/TicketmasterAssistant.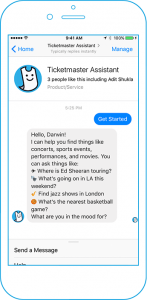 Start with a simple, "What's happening tonight?" and see all the live event options in your area including concerts, sports, arts & theater, comedy and more.
Or get more specific from the beginning, "Is Lady Gaga playing in New York this year?" – spoiler alert: she is and we have tickets available, but don't take our word for it, ask for yourself.
Going on a trip?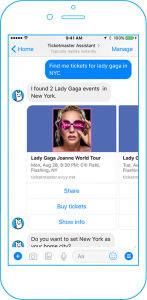 Ticketmaster Assistant will be happy to help you find something to do wherever you are. You can also set a home city to make your conversations go even faster. (While the search data covers 83 countries, currently the global experience is provided in English.)
And because your friends are already on Messenger it makes rallying the crew that much easier. Cutting and pasting is so 2016, use Ticketmaster Assistant to share links directly in Messenger. Buy tickets with a link that drops you seamlessly into the purchase experience at Ticketmaster, or learn more information about the event.
Ticketmaster Assistant is built using our APIs and we'll continue to update the bot, streamline the purchase experience and add in more personality – but it's already got some jokes…
Ticketmaster is committed to getting tickets into the hands of fans. The ability to build new automated capabilities like bots for Messenger is another step forward in that commitment, allowing us to interact with fans in engaging, new ways.
Our aim is to meet fans wherever they are and make it as easy as possible for more of them to get tickets to the live events they love.
Any fan. Any ticket. Anywhere.
Tags
You Might Like
No matter what type of live events you love, Ticketmaster has you covered – and now you can buy tickets with the ease of asking Alexa.
You want to make it to your favorite events as easily as possible – and today we're announcing another way to do just that. Ticketmaster is now integrated wi...
Finding verified tickets guaranteed to get you into live events just keeps getting easier. That's a big part of Ticketmaster's mission, and it's why we're un...