Ticket Tips: VIP Packages and Upgrades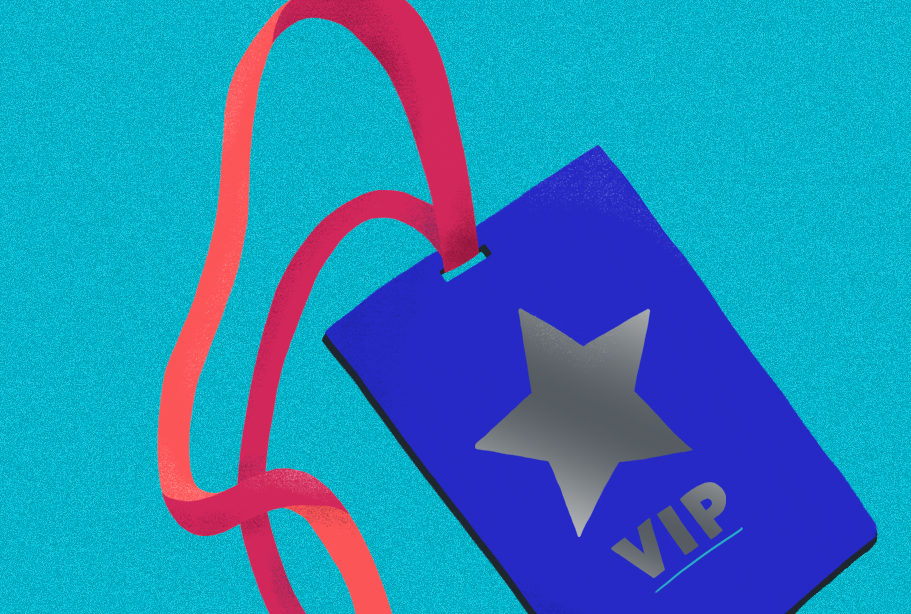 Ever experience deep pangs of jealousy seeing your fellow fans screaming from the front row, donning limited-edition merch, or even partying it up with the artists themselves? Those lucky few are most likely VIPs — but we've got good news, you can be one too! Many of the world's biggest superstars — and possibly some of your all-time favorite artists — offer exclusive VIP packages to purchase right here on Ticketmaster. 
These packages guarantee more than just great seats. They may also include exclusive backstage access, special souvenirs, a pre-show party invite or a chance to meet your favorite artist in the flesh. Purchasing a VIP package can lead to some once-in-a-lifetime moments. 
Here's everything you need to know about VIP packages, how to buy one, and why they're worth the splurge.
What's a VIP Package?
Buying tickets to a show can be exciting enough. Purchase a VIP package, and you guarantee it'll be an unforgettable night. Every package is different, and each artist will offer their own unique experience. A VIP package will always include reserved or general admission tickets to the event, and may include one or some of the following:
Meet and greet with the artist

A photo with the artist

Exclusive access to a private pre-show soundcheck

Exclusive access to a backstage tour

Opportunity to shop for artist merch before doors open to the general public

A private performance or Q&A session with the artist

Invitation to a pre- or post-show party

Limited-edition and/or autographed merch

Official VIP laminated pass

On-site VIP concierge team

Free food and drinks

Dedicated VIP entrance and check-in
Before purchasing, you'll find a complete list of everything your VIP status will get you. Note that these packages are different from Official Platinum Seats, which just guarantee in-demand seats and not the special extras that VIP packages include.
How Do I Purchase a VIP Package?
To find out if your favorite artist has a VIP package available for an upcoming show, search for an event on Ticketmaster and browse the seat map for tickets. VIP packages will be highlighted on the seat map with a gold star. You can also check the ticket list to the right-hand side on desktop, or at the bottom on mobile. VIP packages will always be at the top and highlighted with a gold star.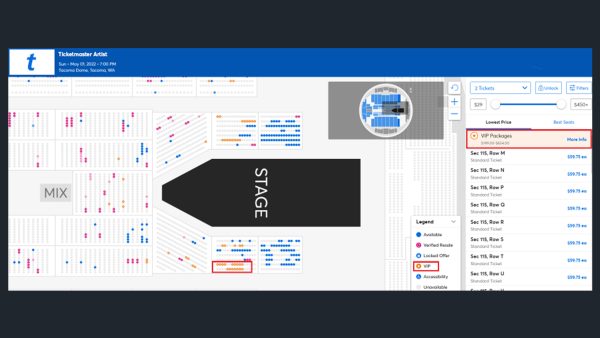 Click on the package link to get full details of the VIP Package. Sometimes multiple packages will be available, so be sure to read through each option. Once you've decided on your package, click "Next" to complete your order.
What's a VIP Upgrade?
You buy your ticket to that much-anticipated show. Then decide you want to treat yourself and make it a night to remember. A VIP Upgrade is the answer. Select artists offer VIP Upgrades that you can buy after your initial event ticket purchase. Every VIP Upgrade is different, but, just remember, your ticket is purchased separately. 
How do I purchase a VIP Upgrade?
To find out if your favorite artist has a VIP Upgrade available in your area, type their name in the search box at the top of Ticketmaster. Once you've found a specific event, see if there are any "Add-Ons" available.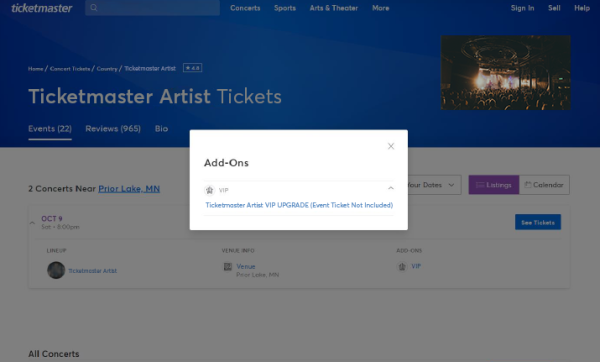 If you've already purchased your ticket, look directly in your Ticketmaster "My Account" page.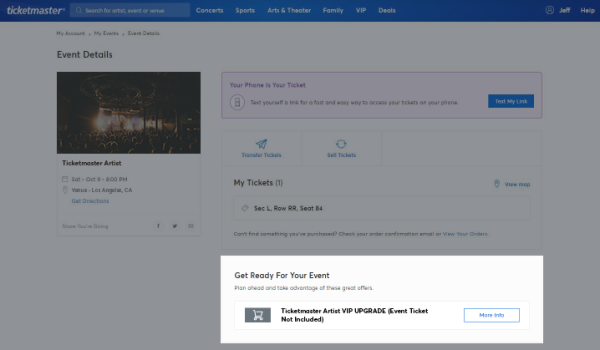 Or, if you're in the process of purchasing your ticket, you can add on the VIP Upgrade.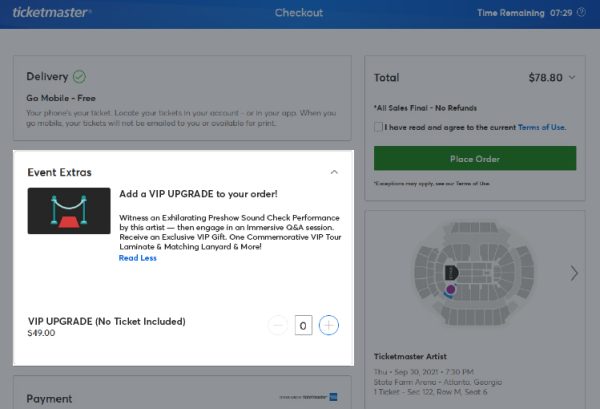 What is the difference between VIP Packages and VIP Upgrades?
Upgrades are VIP packages that don't include a ticket. They can be purchased during checkout or after the initial ticket purchase by visiting your Ticketmaster "My Account" page. Please keep in mind that upgrade elements differ from artist to artist, and not all performers will offer VIP Upgrades.
Why Go VIP?
Going VIP is like nothing you'll ever experience. The artists themselves often have the final say in what they want to provide for their VIP fans. Be sure to look over every detail of what each package provides before your purchase. Depending on the artist, tour and venue, some packages are limited to a very special few fans.
Tags
You Might Like
All the tips and tricks you need to get the most out of your Ticketmaster account.
Garth Brooks has announced new shows for his Las Vegas Residency, Garth Brooks/Plus ONE at The Colosseum at Caesars Palace in Las Vegas and is using Verified...
Broadway is having a serious moment right now—perennial faves like The Lion King at the Minskoff Theatre, Wicked at the Gershwin Theatre, or Hamilton at the ...