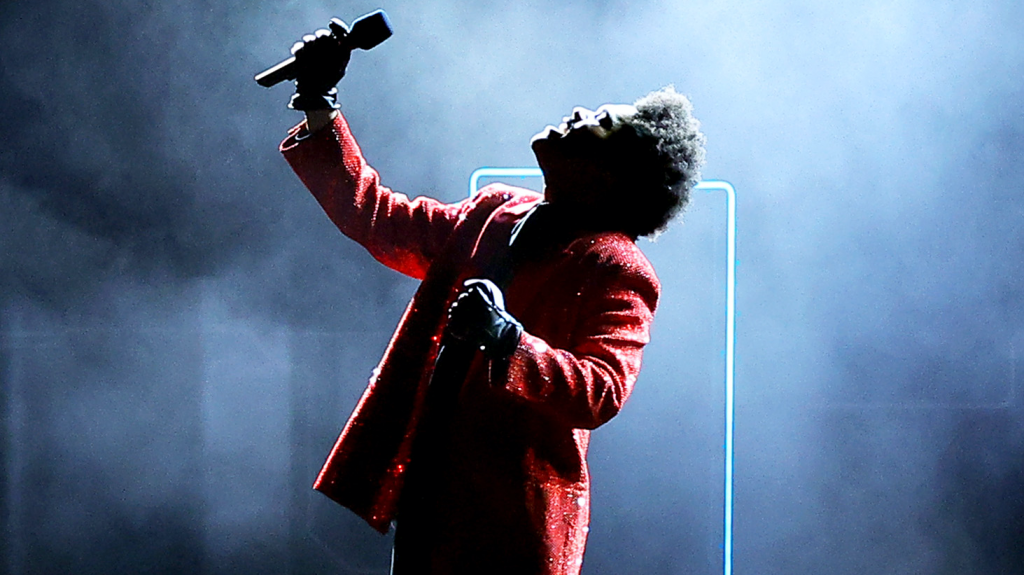 Ashleigh Hill is a music lover that explores the mystic and magic behind the artistry in music and culture, working at the intersection of community, experiences, and media at TheFutureParty. She's obsessed with live music, making it difficult to choose a favorite artist. However, she finds new music daily and has around 20 mixes on Spotify for your happy listening! 
Coming to you in the after hours of the Super Bowl, but still stuck on it. Who caught the game? And more importantly, who caught The Weeknd's performance? If you missed it, we're going to recap it for you. And if you really want to heighten your senses while reading this article, play or watch YouTube performances of The Weeknd while reading (it's what I did when writing). There is nothing that beats the sweet tune of Abel's voice bringing the story below to life. To start, let's explore the come up of the starboy, Abel Makkonen Tesfaye, known professionally as The Weeknd. Abel has such an exciting and out of the ordinary, off beat yet so on it story.
In 2011, The Weeknd dropped three songs on YouTube under the username xoxxxoooxo. As I re-listen to What You Need, Abel sounds fresh yet transcendent. The anonymity he held on to in his primitive stages is what drew people to him, similar to Dominic Fike and his story. Three months after The Weeknd's first YouTube drop, Complex published an article titled: "Who Is The Weeknd?". The internet needed to know more about this undercover superstar.
By my calculations, Abel has been now releasing music out in the world for about 10 years, starting with House of Balloons / Glass Table Girls. It's insane to think this track was released not even a month after his first mysterious videos dropped and his mystical internet presence loomed. He was really stepping into his own here. The shift in vibe at the 3:30 time stamp is actually one of the most beautifully, surprising transitions I have ever heard. Who knows, maybe I'm also on a Weeknd high.  
As I was trying to understand the dark mystery behind Abel and his stories, I went down a rabbit hole of his Tumblr page, which once read: "XO till we overdose". His home page features cute moments from 2016, but hasn't been updated since then. So my tip is, scroll down and click archive on the bottom—that's the treasure chest. It's everything we've been missing from his Instagram in terms of pure, raw and special content by the artist from his early days. It goes all the way back to May 2012. Here are some of my favorite finds: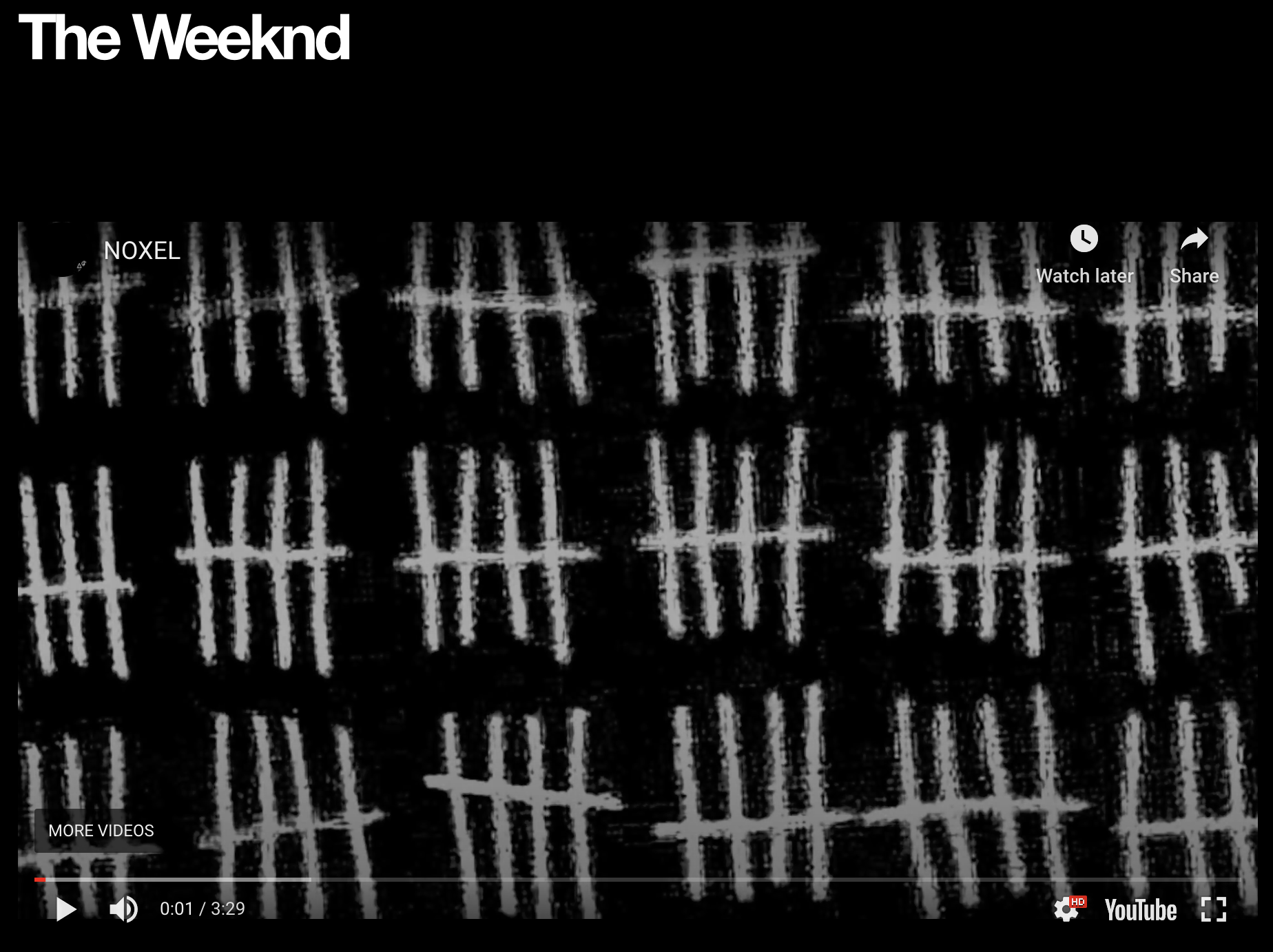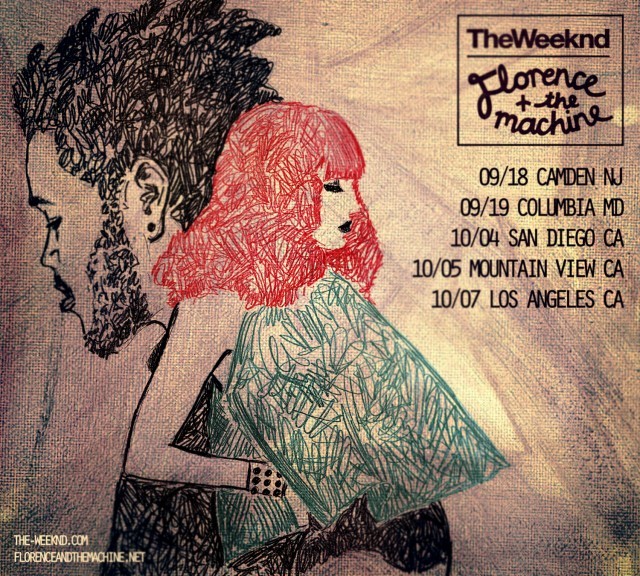 During the Tumblr years, we got to experience The Weeknd embark on more formats in culture. From big features in movies to still the mystical SoundCloud drops. Abel's tune "Earned It", from Fifty Shades of Grey, became a No. 3 solo hit alongside a riskay music video. He then switches it up, dropping a diversely different song like "Birthday Suit", which is honestly a VIBE. I had never heard it until now. The Weeknd throughout the past 10 years has done a great job of accomplishing the mainstream, while still remaining ever so ominous. 

Abel posted the above tweet in 2015. Fast forward to today and his star-power team is exactly that. This makes me wonder if that has been The Weeknd's success all along? A team made up of best friends that rose to the ultimate glory. Imagine, the Weeknd and his squad, the brain trust of XO Records, all looking staggering in custom made suits. Billboard did this groundbreaking interview recently headlined, "The Weeknd on the Crew That Boosted Him From 'Basically Homeless' to the Super Bowl", and that's how the squad sat for the cover. The article took a unique perspective on Abel, by not only featuring him, but the super powered team as well. 
You'll also find imagery that resembles much of how he characterizes himself today, in terms of his facial bruises, bandages, and imitation plastic surgery. This was one of the most interesting findings while exploring Abel and his team. This showed me how deeply the ecosystem of The Weeknd is integrated into the music and persona behind his stories. As he still today continues to intertwine and develop the same story. The Weeknd has been on an artist journey, and his upbringing resembles these intentions since the beginning.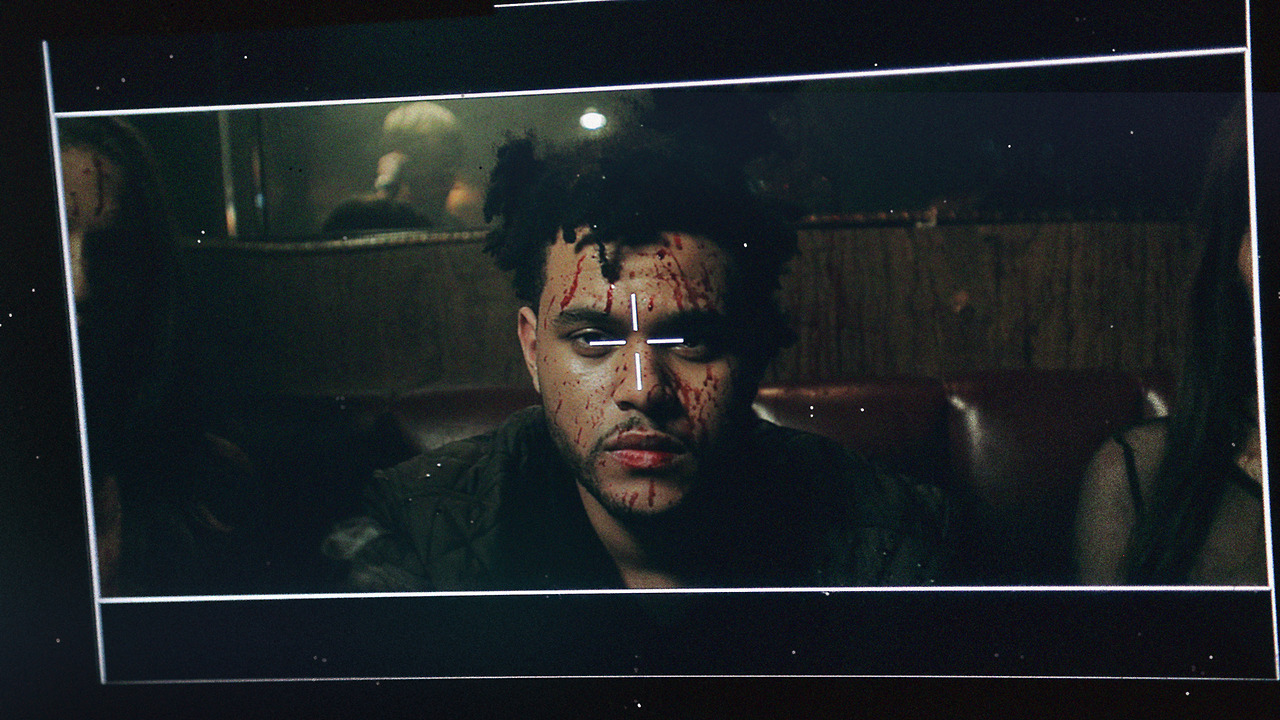 But what is this vision? To that end, he's made "After Hours" as much a visual narrative as a musical one. The Weeknd is now commonly spotted with a busted nose and striking red-jacket. As well as a dangerous, distraught character lost in the night of Las Vegas. Did you know that "Scared to Live" on the album is an interpolation of Elton John's "Your Song" refrain "I hope you don't mind"? Neither did I. Another song, "Faith", has highlighted references to drugs, pain, prayer, and death. Abel opens up about the past and the future throughout the course of the project, which all reeks of Tarantino and The Joker. He's keeping the journey moving with a future of more fear and absurdity while blurring the lines between artist and character.
Fast forward to just a few days ago, Abel held a press conference with the NFL, which had reporters virtually tune in with their questions from all over the world. Abel doesn't take interviews often, so this was exciting to see as I dove in deep for this article. He started with the sunnies, and wrapped with the sunnies. He answered each of the questions thoughtfully, while not letting go of his mystery. He was extremely filled with gratitude, raving over his favorite halftime performance: Diana Ross. There are questions the journalists ask to discover more about the performance itself—to which he replies, "you'll have to watch the show". And wow am I blown away. Welcome to the performance of a century.
Abel steps out of a sleek convertible in a red jacket, but this time it has sparkles. Now this is important. He isn't morphed in the face, he's just Abel, AND he's in sparkles. The sound of a choir rings in the intro as it pans out confirming the Las Vegas scene. An angel flies down to then join a fellow crew of red-eyed angel-like automatons. Imagine as if Star Wars took place in the Heavens with Abel's voice leading its choir. The choir of angels then parted like the red sea amongst the cityscape masked into the stadium, but this time the Weeknd is drenched in a ray of light.
I get chills, the beat drops, and The Weeknd has officially kicked off the show. I grin proudly as he moves his feet and drops dance moves like Michael Jackson. Little did I know this was only the beginning of the star performance. The Weeknd curated an incredible setlist for this show, giving a wide-span and dizzying coverage of his career. It was the perfect mix, throwing him at light speed into the future and solidifying his name as a legend, and this is only the beginning.
Set List:
Call Out My Name (intro)

Starboy

The Hills

Can't Feel My Face (including elements After Hours)

I Feel It Coming

Save Your Tears

Earned It

House Of Balloons

Blinding Lights
In the shift from "The Hills" to "Can't Feel My Face", The Weeknd took us on a distorted experience into a mirrored, trippy maze. The camera swirled in different directions right in the Weeknd's face. Here you see a true morph between artist and story as he spins in circles, singing his heart out—but then breaks a smile and more importantly, a wink. The action signals Abel.
It's fitting that "I Feel It Coming" came next. A crowd favorite and an experience with volcanoes of fireworks. Then the sweet symphony of violins begin and "Earned It" plays. Not only is this another "amongst the masses" radio hit, but a huge opportunity for Abel to show his range, wow can he sing!
I have a sense of deja vu while hearing House of Balloons hybrid with Blinding Lights. With hundreds of dancers wrapped in bandages and in red suits circling The Weeknd. Now this may have been different in style to previous performances historically at the Super Bowl. But what we saw was the perfect montage of The Weeknd's career up to now, and if I'm following the artist's story correctly, the forecast is bright for what's to come. 
Abel got his start in a pretty unorthodox way, but has always stayed true in his path to success. Throughout four studio albums, he's been consistent in building his universe. He is the first Canadian to own the stage at a halftime show (which he didn't even know was the case). Can you believe this is just the beginning of a decade [as a performer] and The Weeknd's just getting started? To the 2022 After Hours tour we go! 
View this post on Instagram
From one music lover to another, thanks for reading. XO – Ashleigh