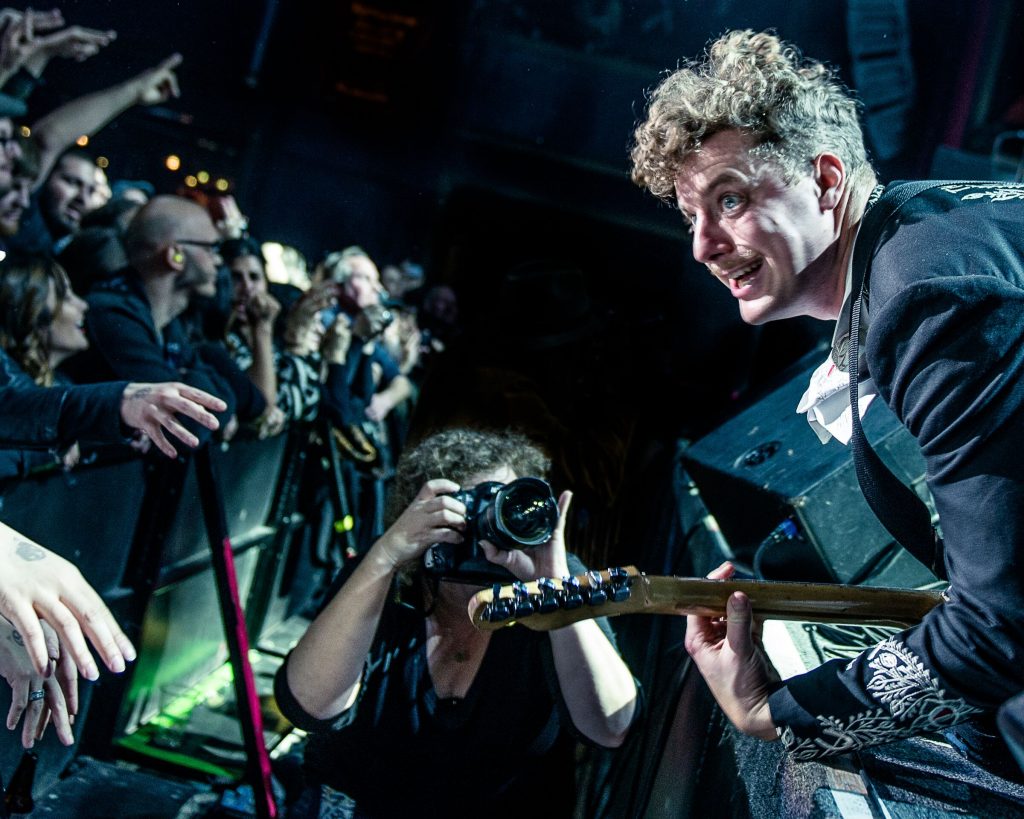 As far as being a concert photographer goes, Paige K. Parsons probably has the greatest gig of them all. The house photographer at The Fillmore in San Francisco, Parsons is regularly in the photo pit of one of the most well-known and historic music venues in the country. The Fillmore was ground zero for rock music's heyday beginning in the 1960s, with legendary concert promoter Bill Graham at the helm of the club.
Today, Graham's legacy lives on: The Fillmore is still an iconic room for artists to play, and Parsons does it justice with her incredible photographs and delightful disposition. The photog lives in Palo Alto, CA, with her husband and two kids, and cheerfully says that she tries to "meet someone new at every show." We caught up with Parsons to talk about the path she took from MIT to the Fillmore photo pit, the most memorable shows she's photographed — and having dinner with Björk.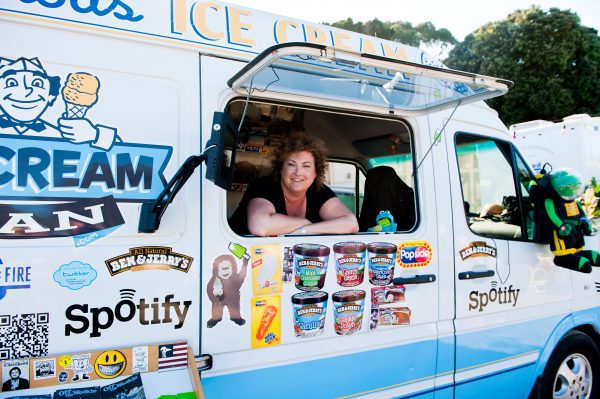 Ticketmaster: Anyone who knows about the history of live music knows about The Fillmore. What do you personally feel when you're in that photo pit shooting artists playing the stage that legends like The Grateful Dead, Miles Davis and Janis Joplin have played?
Paige K. Parsons: Reverence. It's always reverence, and I'm humbled every time I step in there. I feel gratitude, because that room really hasn't changed; the people that are there, the attitude, and what Bill Graham taught about running a venue and keeping a tight ship — it really hasn't changed. My motto is "The Fillmore. Is The Fillmore. Is The Fillmore." Just say no more — the rules haven't changed. And it's not like because I'm the house photographer, I get something special. No, it's The Fillmore!
The thing that I love in particular is that every band that sets foot on that stage knows it's The Fillmore. And they bring their best. Everybody is so on when they're on stage. People always announce if it's their first time playing there and the fact that they're playing The Fillmore is such a special thing that none of us takes for granted. I'm sure that there are a lot of fans that have been there a million times and maybe don't think too much of it, but everyone who works there and performs there knows what a special place it is, and you can just feel it when you walk in. That place has a soul. There's this indescribable energy and I love it.  
How long have you been taking pictures, and what initially interested you in music photography?
I've been photographing as my primary thing for 12 or 13 years. I've been doing music photography overall since my college days in the late '80s. One of my first gigs was for 'The Tech,' my school newspaper at MIT in Boston. I also did some interviewing as well — people like Sinéad O'Connor and a lot of early bands when I was studying abroad in Europe. I got to photograph Morrissey's first solo concert in Wolverhampton in 1988. It was very serendipitous. I happened to be there for 48 hours when he announced his concert and said, "You just need a Smiths T-shirt and you can get in free!" I made it in and got some pictures.
When did your professional music photography career start?
It really got going when I hooked up with Matt Allen, "The Ice Cream Man" — who travels the country giving people free ice cream — at Lollapalooza in 2007. I realized that people have careers doing this. It's a lot of fun, and I'd always loved photography. I'd been doing it a lot for myself at home amateurishly, or on a volunteer basis for my kids' schools. It was sort of this "Aha!" moment of being able to combine all the different things that I love: photography, music and philanthropy with The Ice Cream Man.
I happened to be going to Chicago to visit my sister and planned on going to Lollapalooza and sneaking a camera in – that's what you did back then. I found out that Matt needed photos, and I thought he just meant after the fact: take some photos and share them with him, which I'm about, especially for people that are working for a good cause. And he was like, "No, I have a photo pass and I'm looking for a photographer for one of the days." And I don't know why, but he took a chance on me. I had my 11-year-old nephew with me, which was terribly inappropriate, but back then they let him in the photo pit.
"Doing something different that most people don't have access to is what really entices me."
You've shot a number of festivals since then, right?
Yeah, there hasn't been a summer when I haven't shot a festival. Matt loved what I did and I literally got home three days later and he was like, "Hey! The Download Festival is tomorrow, do you wanna do it?" So I did – the Cure played. Two weeks later was the first Treasure Island Music Festival, and I've shot that every year since. I'm on the house team there, and I've also done every year of Outside Lands, too.
Is it true that you got connected at The Fillmore through someone you met at a festival?
Yeah, Ashley Graham [no relation to Fillmore founder Bill Graham] was working for Live Nation at Sasquatch as the media manager, and she transferred down here and recognized me from the festival. I think she had a couple photographers shoot a test gig for her and she liked what I did. I think, most importantly, she liked working with me because I was easy to work with. She's actually still at The Fillmore and the Masonic. She arranges my photo passes, image publications and rights releases, and makes my life so much easier.
The first show I shot at The Fillmore was Amanda Palmer with the Grand Theft Orchestra in 2012, so it's been seven years now.
What are some of the most legendary shows that you've shot at The Fillmore?
The Zombies' 40th Anniversary Show. It's not like I'd been waiting to see them forever or anything, but it was this cultural communion of people that had been following the band. It felt like a way-back time machine seeing them perform there.
Also, this year, Sammy Hagar hosted the sixth annual Acoustic-4-A-Cure benefit performance. Initially, they didn't let anyone in the photo pit for those shows, and now they let me because they know what I do, and I'm often the only one in the pit. Those concerts are always special because people who have never played together are jamming.
In terms of younger bands, one of my favorite shows I remember seeing was Father John Misty when he opened for the Walkmen. I love the Walkmen, and I knew who Father John Misty was, but seeing him there as the opener, knowing that he would go on to do bigger and better things, was pretty special.
Haven't you also worked with artists as a personal photographer?
For the most part it's like a last-minute thing, where they want somebody and the promoter will approach me. But with Björk, for example, her assistant approached me the week before, and it was really exciting because she was doing a residency, and there weren't any other photographers. Doing something that's different and that most people don't have access to is what really entices me, and this hit all those things. Björk doesn't play often, it was at Craneway Pavilion — where nobody ever plays — and it was a multiple-night residency. It was also different because Björk's team wanted me to come have dinner with them before, spend some time backstage, see what the performance was about, catch a little of the soundcheck and then photograph the show and work with Björk afterward to approve all the photos. She actually physically approves them all.
What challenges have you had to overcome in pursuing your career?
The biggest challenge has been setting myself apart from the crowd. There are so many people that photograph, and anyone can go do it. But it's not just getting the gig: when somebody sees an image, I want them to feel like it really captured the show. I want to capture the essence of that night, but one of the challenges with that is that the essence isn't always wonderful. Sometimes it's not the best show, and sometimes performers are not at their best for a number of reasons. And the challenge is trying to put my best foot forward and their best foot forward, whatever that might've been that night. Being honest and portraying it in an honest and authentic light is crucial.
I often come home from a show with 1,000 pictures, and it's completely up to me. I can portray people as pissy, mean or distracted. So, I have a huge responsibility. I have a choice about how I'm going to portray that night and how that night is going to be remembered forever, so making those editorial choices is something that I don't take lightly.
But one thing that always makes me super happy is when someone sees me at a show and says, "I saw you there and when I did, I put my phone away, because I knew you were gonna get some awesome pictures!" Nothing makes me happier than thinking somebody sees that I got this covered, and they can just be present and enjoy their favorite band.
—Adrian Spinelli