Ticketmaster's Tailgate Tour Flies With the Philadelphia Eagles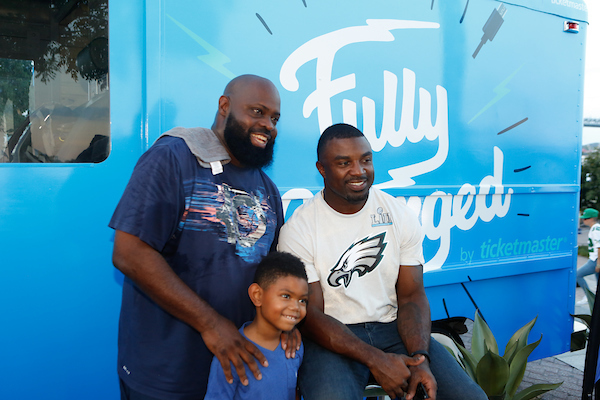 Philadelphia – September 6
Festivities surrounding NFL Kickoff 2018 took place at Penn's Landing in Philadelphia, featuring a variety of games, vendors, and a concert to celebrate the start of the season featuring the likes of Shawn Mendes and DAYA.
Eagles fans came out in full force to celebrate their Super Bowl Champions' first game of the season. They got to take pictures with the Vince Lombardi trophy and relive their first-ever Super Bowl win as the match-up staged a re-run for the crowd, receiving electric cheers among all the game's biggest moments.
The Ticketmaster Tailgate truck featured charging stations to charge fans' mobile phones and pre-download digital tickets for the night's game, and fans could win a portable phone charger to add to their gameday supplies and ensure a smooth event entry. Eagles legend Brian Westbrook stopped by the truck to take photos and sign autographs for numerous fans who lined up to see the former NFL running back.
Following the closure of the festivities along the waterfront, the Eagles continued their winning ways by fending off the Atlanta Falcons at Lincoln Financial Field by a score of 18–12.
Will the Eagles dominate the road to victory again this season? Find out by purchasing tickets here or in the widget below from Ticketmaster – the Official Marketplace of the NFL.
You Might Like
What famous fans are cheering alongside you for your favorite team?
The NFL's ultimate pre-game party can sometimes be a greater spectacle than the game itself. Tailgating has a long and storied history filled with traditions...
Experiencing NFL gameday is about more than just the excitement of the game. Stadiums have raised the bar on food, enticing hungry fans with memorable and de...