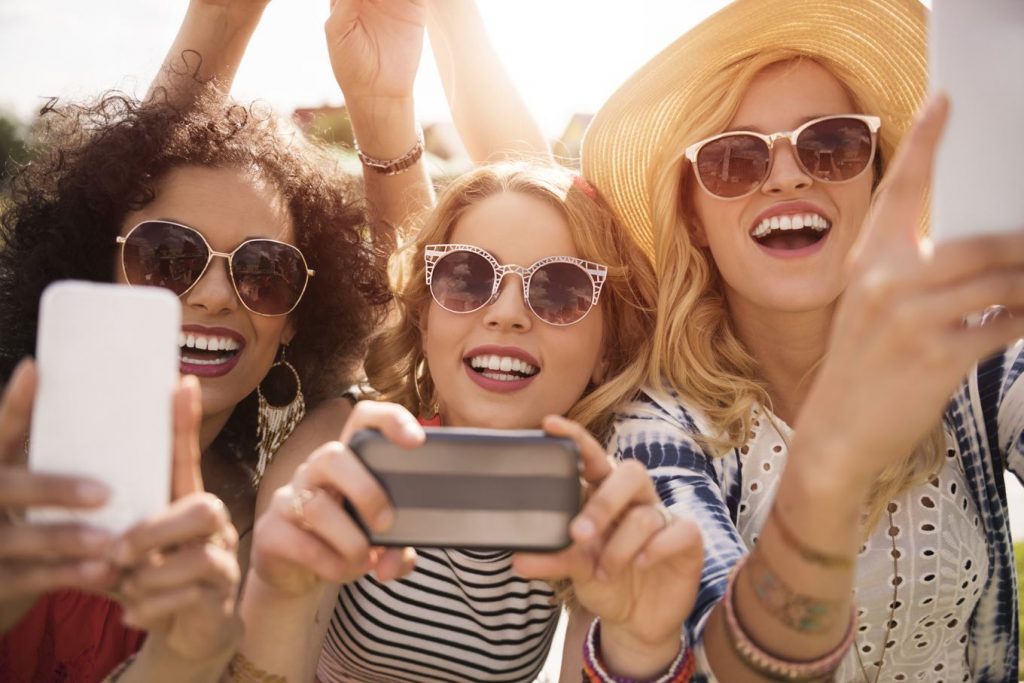 Sunglasses are by far the number one summer accessory you pretty much need with you at all times—especially if you're attending an outdoor concert or music festival.
Not only do UV blocking and polarized shades protect your eyes from the sun's harsh rays, they also instantly elevate whatever outfit you're rocking and they'll make your concert and festival selfies look extra cool. With so many options of sunglasses out there, we're here to make things a little easier for you with our ultimate summer sunglasses guide. Whether you're craving a dope new pair with a pop of color and a funky frame or like to keep things neutral, classic and laid-back, there's a pair of sunnies here for every style.
Let's get shady!
For Girls…
Karen Walker
Karen Walker is known for her tortoise shell sunglasses, but this season her signature sunnies ($280) have a whole new look thanks to rose gold mirrored lenses. Their shape is pretty groovy too.
---
Warby Parker
Sunglasses with a pop of color are another must-have for your arsenal of eye-protectors. Wear these edgy blue sunglasses ($95) to add an eye-catching touch to a simple shorts and white tank top outfit.
---
Quay
If you don't want to splurge on a new pair of specs but you still want to look totally on-trend at a music fest, go with a pair from cult-favorite label Quay. These cat-eye shades ($48) are budget-friendly and would make a great addition to your collection thanks to their cool mirrored blue lenses.
---
Dior
If bright look-at-me colors are not your jam, no worries you can still be on trend by just opting for a pair of sunglasses that have a unique and interesting shape like these geometric Dior stunners ($450) in silver and white.
---
Westward Leaning
These eye-popping Westward Leaning leopard-printed frames with pink lenses ($185) are the cat's meow! They're perfect for making a statement at a music festival or outdoor concert. Try them with a neutral colored outfit so they can be the star of your ensemble.
---
Raen
If you're more of a neutrals kind of girl, we suggest going for this sweet pair of blush hued shades ($170). They'll look amazing paired with a flirty sundress and strappy sandals at a concert.
---
Culter and Gross
Feeling funky? Go for these super cute red heart-shaped sunglasses ($565). After all, summer festivals and concerts are all about letting loose and having fun. Pair them with cut off shorts and a breezy off-the-shoulder top for an effortless and playful look.
---
For the Guys…
Cray Eyewear
Tortoise shades aren't just for the ladies. They look good on guys too. This Crap Eyewear pair ($72) has a cool aviator-style shape and the best part is they won't break the bank.
---
Ray-Ban
If you're a more laid-back type of guy who likes to keep things simple, you can never go wrong with an all-black pair of Ray-Ban aviator sunglasses ($200). They are perennially stylish and look good with everything.
---
Spitfire
These wallet-friendly sunglasses ($39) are great if you want to test drive the mirrored lenses trend without spending a ton of money. With their intergalactic vibe, blue and green mirrored lenses, retro round shape, and chic gold accents, all eyes will be on you at the festival.
---
Steven Alan
Want a pair of shades that goes with everything? These acetate sunglasses ($175) are the ones for you. The shape is classic, but the see-through frames make them totally on point and add a new level of cool.
---
Smoke x Mirrors
If you love the aviator style, but want a little something different, we recommend this pair of aviator sunglasses ($350) with a distinct geometric shape. They look and feel luxurious thanks to their chic gold frames.
---
Oliver Peoples
Here's another aviator style option with a supercool squared shape ($450). To boot, the sunglasses also boast rad gold mirrored lenses that promise to turn heads at a music fest or outdoor concert.
---
Tom Ford
These Tom Ford sunglasses ($405) are for the dapper dudes who really want to make a statement at a music festival. The bold shape, gold accents, and gradient lenses make this pair of sunglasses a winner.
---

You Might Like
As we prepare for Lollapalooza's virtual 2020 installment, let's look back at the moments that made the festival iconic.
Headed to Voodoo? Here's everything you'll need.
The first weekend of Austin City Limits Music Festival was picture perfect.