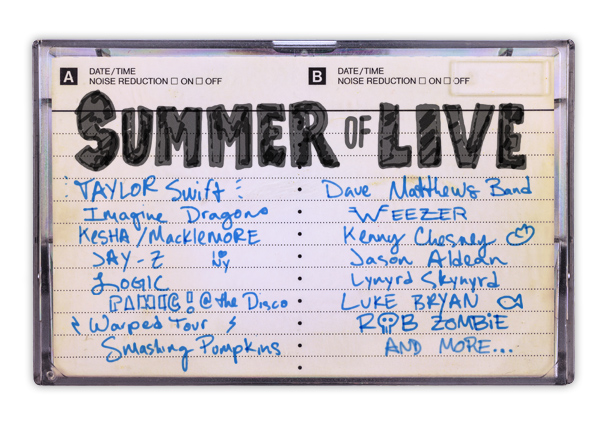 Looking forward to summer concerts with your favorite artists and your best friends? Here is your Summer of LIVE 2018 playlist featuring artists on tour this summer to get excited about the sunshine, warm weather, great music, and the memories to be made!
This cute love song about slammin' screen doors and a summer love from Taylor Swift in her early days of fame is not to be forgotten! Though Taylor's sound is much different now, she maintains the sweet lyrics and girl-next-door vibe that originally made her famous. With some of her tour already underway, she's the queen of the Summer of LIVE scene as it starts…
No better summer song than a song titled "Summer." Imagine Dragons' tune incorporates a fun beat behind Dan Reynolds' vocals that makes you want to put on sunglasses and open up the sunroof.
Kesha and Mackelmore's emotional tune will have you feeling nostalgic for the good old days, when life was simpler, reflecting on past mistakes, and being young and reckless.
Unless you live under a rock, you've probably heard that Beyoncé and Jay-Z recently released a surprise album titled "EVERYTHING IS LOVE" with stunning visuals filmed at The Louvre in Paris. "Apes**t" quickly rose to the top as being one of the most popular songs on the album. Carrying lots of meaning, this is one song you definitely need to know.
Logic's "Everyday" will have you make you feeling like you can do anything this summer with his positive lyrics about working hard everyday and being able to accomplish anything!
For those lazy days you just don't get out of bed until… nine in the afternoon. This old jam from Panic! at the Disco should be revived each summer for its feel-good lyrics.
A Summer of LIVE isn't complete without Warped Tour – and 2018 is the last chance fans have to enjoy this iconic tour! To celebrate Reel Big Fish performing at this summer's final spin, with heaps of memories from years past, let's bring back this throwback, "Sell Out"!
Okay, maybe there is one thing better than a song called "Summer"… Two songs called "Summer!" In addition to memorable hits like "1979" that are full of memories, this acoustic song from Smashing Pumpkins features charming lyrics about being able to relax and be true to yourself with summer love.
A classic for just over two decades from Dave Matthews Band! "Ants Marching," a song that never seems to grow old, is sure to get you up and moving this Summer of LIVE just like the one or many before!
Weezer – "Feels Like Summer"
Weezer's upbeat anthem "Feels Like Summer" is about a lover who embodies summer. It is a refreshing take on electro-pop that is guaranteed to make you want to roll down your windows!
Kenny Chesney's "Summertime" is the perfect country Summer of LIVE anthem! With lyrics like "school's out and the nights roll in, man, just like a long lost friend you ain't seen in a while and can't help but smile," you can't help but turn up this song.
Jason Aldean – "Gonna Know We Were Here"
Jason Aldean's song about tearin' up a town to remember the name is a power ballad for summer and living in the moment.
Luke Bryan – "Sunrise, Sunburn, Sunset"
Luke Bryan's new single, "Sunrise, Sunburn, Sunset," is definitely one you won't want to miss this Summer of LIVE! Perfect for barbecues and road trips with friends, you'll be sure to be basking in the sunlight to this easy-summer-lovin' jam.
You can't have a summer playlist without "Sweet Home Alabama!" This American classic is perfect for warm summer days AND nights filled with singin' songs about the southland.
Rob Zombie – "Living Dead Girl"
If summer is the season of the sun, Rob Zombie dominates the darkness no matter the time of year. He'll be touring and thriving outside of the light.
Shakira – "Waka Waka (This Time for Africa)"
With the World Cup happening this summer, let's throw it back to Shakira's 2010 World Cup summer anthem, "Waka Waka!" No matter which team you're rooting for, you have to agree this song is a hit!
Make the best of your freedom this summer by supporting these artists on tour and singing your hearts out! Find tickets to artists featured on our Summer of LIVE playlist in the widget below.