Step Inside: Wells Fargo Center – Home of the 76ers & Flyers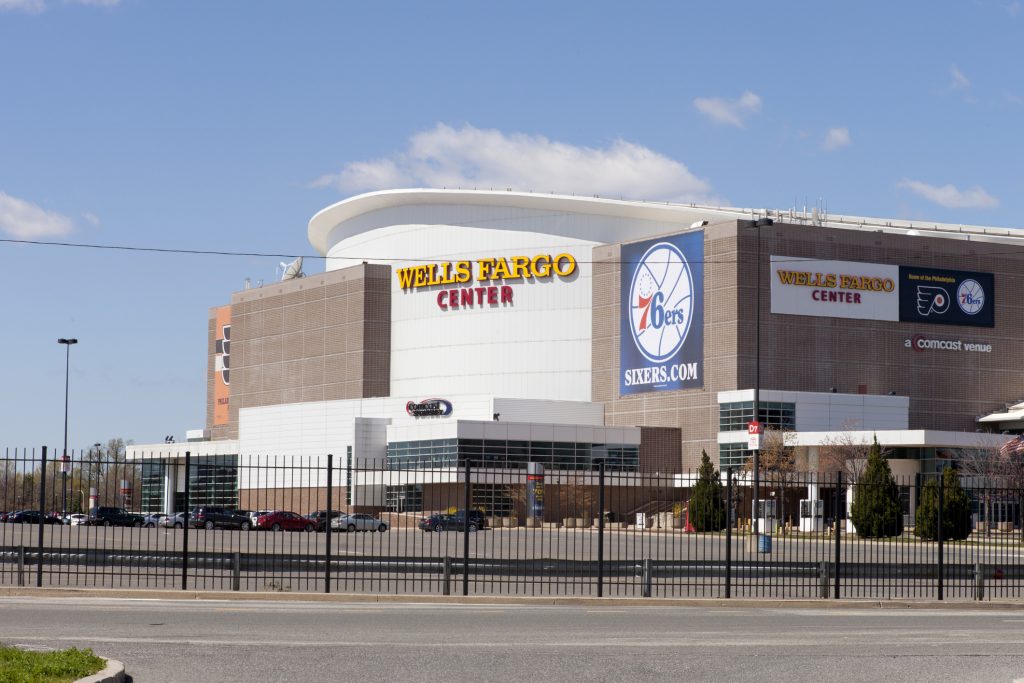 Stadium History | Parking & Admission | Seating & Capacity | Food & Concessions
The historic home to the NHL®'s Philadelphia Flyers® and the NBA's Philadelphia 76ers, Wells Fargo Center in South Philadelphia, Pennsylvania, is the epicenter of sports in Philadelphia. This multi-purpose venue not only hosts NHL® and NBA games, but it's also welcomed some of the top performing artists and acts in the world. Come join us as we explore this legendary venue's past and present.
What events are coming up at Wells Fargo Center?
See upcoming events and buy tickets for Wells Fargo Center right here on Ticketmaster.
Wells Fargo Center History
Opening in 1996 and originally known by locals as Spectrum II, after taking over for the legendary previous home of the Flyers and 76ers, Spectrum, Wells Fargo Center was renamed in 2010. Before it was named Wells Fargo Center it was the CoreStates Center from 1996–1998, First Union Center from 1998–2003 and Wachovia Center from 2003–2010. Wells Fargo Center has been a cultural hotspot and iconic venue since its inaugural event, which was Team USA vs. Team Canada in the First Round game of the 1996 World Cup of Hockey. Since that 5-3 Team USA win, Wells Fargo Center has seen an extensive amount of nationally recognized events, including the 1998 U.S. Figure Skating Championships, 1999 AHL All-Star Weekend, 2000 NCAA Women's Basketball Final Four, 2000 Republican National Convention, 2001 NBA Finals, 2001 and 2002 ESPN X-Games, 2002 NBA All-Star Weekend, 2008 U.S. Gymnastics Championships, and the 1997 and 2010 Stanley Cup® Finals. There have also been thousands of notable non-sports-related events, performers and acts that have been at Wells Fargo Center, including Billy Joel, Disney on Ice, Michelle Obama, Kevin Hart, Travis Scott, Metallica, The Killers, American Idol Live, and many more.
Wells Fargo Center features a state-of-the-art Xfinity WiFi with 3,501 access points and 700 beacons. The largest crowd Wells Fargo Center has seen was on September 30, 1999, when the Backstreet Boys performed to 21,424 fans. With 18 total shows, Billy Joel holds the record for the most concerts performed at the Wells Fargo Center by one entertainer.
Wells Fargo Center has perfected the transition from hockey ice to basketball court. It takes approximately two hours and 10 minutes to change the floors from an ice hockey rink to basketball court, using a crew of 35 to cover the ice with 550 sheets of Ice Pro, remove 156 sheets of hockey glass and then build a 225-piece basketball court.

Parking and Admission at Wells Fargo Center
Parking is as easy as it gets at Wells Fargo Center, with eight parking lots surrounding the venue that are brightly lit and constantly patrolled by security. Wells Fargo Center recommends using SpotHero when you park for an event. Parking at Wells Fargo Center averages between $25–$50.
When entering Wells Fargo Center with a bag larger than 4.5″ x 6.5″ and smaller than 14″ x 14″ x 6″ be sure to use the Broad Street Entrance or the 11th Street Entrance to allow bags to be X-rayed. Bags larger than 14″ x 14″ x 6″ are not permitted in the arena. If guests need to carry bags with them, there are lockers where bags can be stored on the 11th Street side of Wells Fargo Center. Other prohibited items at the venue include, but are not limited to weapons of any kind, mace/pepper sprays, explosives/fireworks, fuels, chemicals, tools, razors/scissors, projectiles, outside food or beverages, drones, noisemakers, professional camera equipment, selfie sticks, skateboards, large banners or signs, coolers and laser pointers. Signs and banners are allowed inside if they are no larger than 11″ x 17″. Wells Fargo Center is also a non-smoking facility, including electronic cigarettes. There are no designated smoking areas outside the arena and a no-re-entry policy means anyone who leaves to smoke or for any other reason will not be let back in.
Wells Fargo Center Capacity & Seating Options
Wells Fargo Center has a max capacity of 21,000 guests. For Flyers hockey games the capacity is 19,600 and for 76ers basketball games the capacity is 21,000. Along with thousands of general seating options, fans also have the choice of exclusive VIP seating. VIP seating options include the Suite for a Night Package, which features access to Adrian and Club Level, VIP parking and entrance, private bathroom and customizable food and beverage packages. Other VIP seating options include the Shift4 Club, an all-inclusive season ticket membership package, and Revolutionary Row, a premium front-row seat with exclusive bar and access to all 76ers and Flyers games. Wells Fargo Center also has a number of premium clubs, including Club Loge, Club Premier and Club Select.

What are the best seats at Wells Fargo Center?
The best seats at Wells Fargo Center vary depending on the event and personal preferences. Check out Wells Fargo Center seating charts and find your favorite seat today.
Food & Beverage Options at Wells Fargo Center
When entering the Wells Fargo Center be sure to come with an appetite, as this venue features top-quality food and beverage options throughout. Notable food options are Spectrum Favorites, Dietz & Watson, Federal Donuts, Chickie's & Pete's, Cuz's Pizza, The Coop, Spring Garden, Liberty Kitchen, 9th Street Italian Sandwiches, First Line Steaks, and Philly Grille Works. For alcoholic drinks, be sure to check out Sports Lounge Bar, Coors Light Bar, Craft Beer Bar, and Bud Light Skyline Bar.