Step Inside: U.S. Bank Stadium – Home of the Minnesota Vikings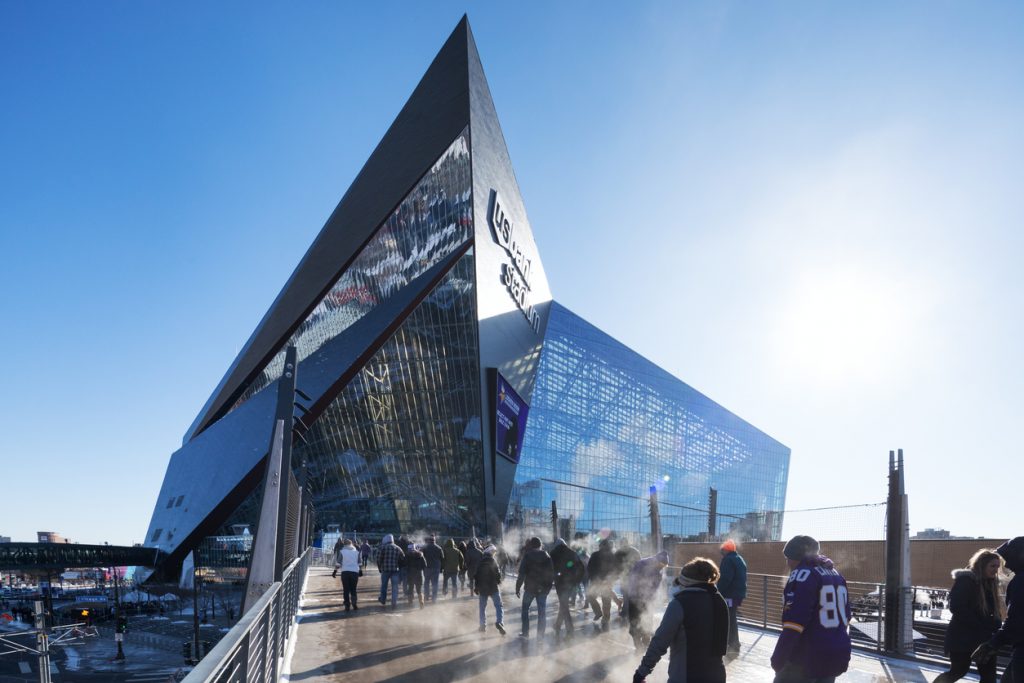 Stadium History | Parking & Admission | Seating & Capacity | Food & Concessions
Venue Quick Facts
Venue Name
U.S. Bank Stadium
Location
Minneapolis, MN
Address
401 Chicago Ave, Minneapolis, MN 55415
Phone #

(612) 777-8700

Capacity
73,000
Opened
July 22, 2016
Architect
Bryan Trubey, Mark Williams, Kevin Taylor, John M. Hutchings, Heath May, Scott Hunter
Website
https://www.usbankstadium.com/
Located in the heart of downtown Minneapolis, U.S. Bank Stadium boasts several unique features, including massive pivoting glass doors that open up to spectacular views of the Minneapolis downtown skyline. It has seven different levels, and in addition to being the home stadium of NFL's Minnesota Vikings, it hosts an array of sporting events — from soccer to wrestling and major concerts, as well as community-oriented activities.
Constructed in 2013 and opened in 2016, U.S. Bank Stadium is considered a major development in Minneapolis and was designed to house Superbowl LII, the Minnesota Vikings football team, and other uses. It was the first fixed-roof NFL stadium built since 2002.
During the design phase, the state of Minnesota pressed for an indoor, rather than outdoor, stadium, specifically to be able to host events such as the Final Four games and Super Bowl games. The Vikings owners, on the other hand, were partial to an outdoor stadium. In the end, a compromise was struck – the stadium was designed with a fixed-roof, but its roof was made with a translucent material to bring in as much natural light as possible. The walls were also designed with translucent material to allow visitors and fans the chance to take in a view of downtown Minneapolis, as well as providing fans the opportunity to gain all the benefits of an outdoor stadium without ever having to cancel games due to weather.
The address of U.S. Bank Stadium is 401 Chicago Avenue, Minneapolis, MN 55415.
What events are coming up at U.S. Bank Stadium?
See upcoming events and buy tickets for U.S. Bank Stadium right here on Ticketmaster.
U.S. Bank Stadium History
Prior to the construction of the U.S. Bank Stadium, the Hubert H. Humphrey Metrodome served as home to the Minnesota Vikings from 1982 until 2013, when it was determined that the old stadium needed a new roof. Instead of spending millions on roof repairs, the Minnesota Legislature and the Minneapolis City Council decided to fund an entirely new $975 million multi-purpose stadium to replace the Metrodome. The 66,800-plus seat U.S. Bank Stadium boasts many unique features, including the largest transparent ethylene-tetrafluoroethylene roof in the United States.
Construction on the new state-of-the-art stadium took two-and-a-half years and it officially opened on July 22, 2016 with a two-day open house that gave the public the first glimpse of the impressive new facility. The first sporting event took place on August 3 — a 2016 International Champions Cup soccer match between A.C. Milan and Chelsea. A few days later, the stadium hosted its first concerts by country star Luke Bryan and rock legends Metallica, both of which sold out.
U.S. Bank Stadium was the first NFL stadium to host ESPN's Summer X Games in 2017, and in February 2018 it hosted its first Super Bowl, which had the distinction of being the only "Zero Waste" Super Bowl, with 91% of the trash from the event getting recycled. It was also the first NFL stadium to host the NCAA DI Wrestling Championships in March 2020.
U.S. Bank Stadium is considered one of the loudest stadiums in the country, as the translucent roof and walls create an acoustically reflective environment. While the Vikings may have gotten used to the noise, opposing teams have a harder time adapting to the sound variations and decibel levels throughout the stadium.
Parking and Admission at U.S. Bank Stadium
U.S. Bank Stadium can be reached via many transportation options including light rail, bus, charter bus, and taxi or rideshare services. The METRO Blue and Green Lines offer service to U.S. Bank Stadium Station directly from St. Paul, Minneapolis, and Bloomington. You can pre-purchase Light Rail tickets through the Minneapolis/St. Paul Metro Transit website.
You can also make your way to U.S. Bank Stadium by bus. Routes 3, 5, 7, 9, 14, 19 and 22 all stop at or near the stadium. Check the Minneapolis/St. Paul Metro Transit website for more information and to plan your trip.
The Northstar Line Park & Ride is also an option. The surrounding areas hold 3,000 free Park & Ride spaces at Northstar stations for select events. From there, you can board the Northstar and be dropped off directly at U.S. Bank Stadium.
U.S. Bank Stadium does not technically manage any public parking areas, but there are plenty of private parking options available near the stadium, with more than 20,000 parking spaces between the stadium and Hennepin Avenue, all within a 20-minute walk. When traveling to U.S. Bank Stadium before an event, keep an eye out for signage displaying parking lot options while approaching downtown Minneapolis. Parking lots are generally open six hours prior to the beginning of an event and will close two hours after the event has ended.
When entering the stadium, please keep in mind that the only bags that will be permitted inside must be clear plastic, vinyl or PVC bags that do not exceed 12″ x 6″ x 12″, one-gallon clear plastic freezer bags and small clutch bags that are no larger than 4.5″ x 6.5″ (with or without a handle or strap). Exceptions may be made for medically necessary items after inspection at the designated gate.
Any bags larger than 12″ x 6″ x 12″, coolers, briefcases, backpacks, fanny packs, computer bags, strollers and outside food and beverage will not be permitted inside the stadium.
U.S. Bank Stadium Capacity & Seating Options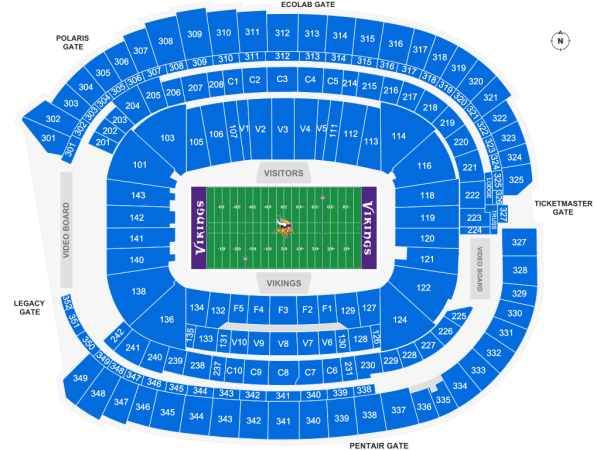 With seven distinct levels including two general admission concourses, premium club areas with approximately 7,500 seats and 135 suites, U.S. Bank Stadium offers something for everyone. The stadium has a capacity of approximately 66,800 for football games, and can be expanded to up to 73,000, depending on the event.
The stadium's luxury suites can accommodate anywhere from eight to 100 guests and feature premium amenities including your own dedicated suite attendant, exclusive game-day menus and catering and premium club access. Luxury suites for Minnesota Vikings games typically come with VIP parking passes in a lot convenient to the entrance to your suite. For non-Vikings games, parking passes can be purchased for an additional cost.
Restrooms can be found throughout U.S. Bank Stadium. Family restrooms are intended only for those accompanying small children as well as attendees with mobility issues or other disabilities. Family restrooms can be found in the West Event Level End Zone, on the concourse behind sections 103, 114, 124, 136, 306, 309, 316, 319, 340, 343, 346 and Thomson Reuters Press Level, in addition to all club spaces throughout the stadium.
Baby changing stations are located in all public restrooms, as well as family restrooms.
What are the best seats at U.S. Bank Stadium?
The best seats at U.S. Bank Stadium vary depending on the event and personal preferences. Check out U.S. Bank Stadium seating charts and find your favorite seat today.
Food & Beverage Options at U.S. Bank Stadium
View this post on Instagram

U.S. Bank Stadium offers plenty of classic stadium food and dining options at concession stands throughout the venue, including hot dogs, hamburgers, chicken sandwiches, French fries, pizza and nachos. For gluten-free and veggie-minded folks, Be Graceful Café offers falafel pitas, Portobello French dip sandwiches, Impossible sloppy joes and more. And for more than your standard stadium fare, Twin Cities Foodies Stand has Caribbean jerk bacon sandwiches and smoky chicken nachos.
An array of mixed drinks and specialty draft beers can be found at concession stands located on all of the concourses and at the Blue Line Bar and Cocktails on Tap Bar.
You Might Like
For the first time ever, an NFL game will take place on Black Friday, adding another matchup to catch during the league's traditionally packed Thanksgiving w...
The Packers and Vikings are longtime division rivals, both playing in the NFC North. The rivalry has been fueled by their close proximity and competitive his...
Step inside Lumen Field, home of the Seattle Seahawks, and learn more about this PNW staple for sports and entertainment.