Step Inside: Truist Park – Home of the Atlanta Braves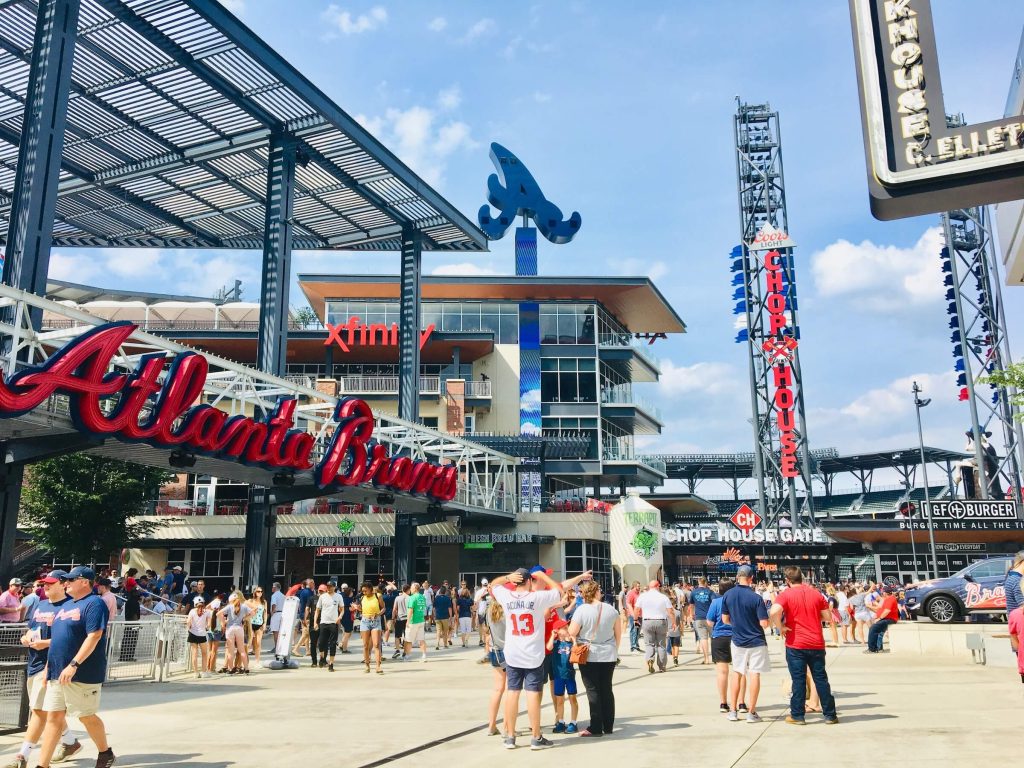 Stadium History | Parking & Admission | Seating & Capacity | Food & Concessions
Truist Park is located in the Atlanta metropolitan area in Cobb County, Georgia, in the unincorporated community of Cumberland, which is about 10 miles northwest of downtown Atlanta. Opened in 2017, Truist Park is the home of the Atlanta Braves of Major League Baseball.
Truist Park was built as a replacement to Turner Field, which served as the home stadium for the Braves from 1997 to 2016 and was located in the downtown area of Atlanta. Prior to Turner Field, the Braves played one block away at Atlanta-Fulton County Stadium from 1966 to 1996.
What events are coming up at Truist Park?
See upcoming events and buy tickets for Truist Park right here on Ticketmaster.
Truist Park History

In 2013, the Braves announced that the franchise would leave their previous home, Turner Field, after the 2016 season. Turner Field was originally built for the 1996 Summer Olympics, which were hosted in Atlanta, and was originally named Centennial Olympic Stadium. Following the Olympics, the stadium was converted into a baseball stadium and was leased to the Braves by the Atlanta-Fulton County Recreation Authority on a 20-year lease.
The Braves originally looked at renovating Turner Field, but estimates came back with a bill for $350 million. In addition, complaints about access to Turner Field centered on underserved parking and congested transportation options, leading the franchise to begin looking at options outside of downtown Atlanta.
Construction for Truist Park began in 2014 with a targeted opening of 2017. The park was completed on February 24, 2017, and was originally named SunTrust Park. The name changed to Truist Park in 2020 after a merger between SunTrust Bank and Truist Financial.
The 2017 MLB season was the first for the Atlanta Braves in their new stadium, and the first MLB game played at the stadium was against the San Diego Padres. The Braves won that game 5–2. Braves legend, Hank Aaron, threw out the ceremonial first pitch. During pregame ceremonies, the organization's 10 retired numbers were revealed on a façade in left field with Hank Aaron, Bobby Cox, Tom Glavine, Chipper Jones, Dale Murphy, Phil Niekro, and John Smoltz in attendance.
The first football game played at Truist Park was between Kennesaw State University and Jacksonville State University. Kennesaw State beat Jacksonville State 60–52 in 5OT.
Truist Park has also hosted several concerts since its opening. The first concert at the stadium was on April 28, 2017, when Billy Joel performed as part of his tour, Billy Joel in Concert. Other artists to perform at the stadium include Def Leppard, Jason Aldean, and Zac Brown Band.
Parking and Admission at Truist Park

When planning to attend a game at Truist Park, you will want to account for travel. If you plan to travel by car, there are plenty of parking options, but one common question is, how much is parking at Truist Park? Parking options vary depending on the length of time you are parked, which lot you use, and the event. For game days, Truist Park events rates are:
Red, Green, Purple and Yellow Parking Decks
0–2 Hours: FREE
2–3 Hours: $20
3–4 Hours: $30
4–24 Hours: $50
Orange Parking Deck
Valet parking ONLY Braves Premium Clubs
Street Parking (Limited)
Truist Park recommends pre-purchasing parking before visiting the venue, available right here on Ticketmaster. Braves-controlled lots have varying opening times. Please confirm parking lot opening times before purchasing.
Public transit options for Truist Park include CobbLinc Circulator Blue and Circulator Green lines. There are also designated RideShare pick-up and drop-off locations at Windy Ridge Parkway and Heritage Court.
Truist Park rules are in place to provide a safe and enjoyable experience for all guests at the stadium. Prohibited items are in accordance with MLB policy. Gates open two hours before first pitch. On Thursday games, gates will open 90 minutes before first pitch.
Truist Park policy requires that all fans enter the stadium by walking through metal detectors. If the device detects something, you will be required to check your pockets before additional screening with a handheld metal detector.
In accordance with MLB policy, Truist Park recommends fans do not bring any bags. According to those rules, the only bags permitted inside Truist Park are bags that do not exceed 16″x16″x8″.
Possible exceptions include:
Diaper bags
Single-compartment drawstring bags
Other bags used for medical reasons
All items are subject to search and all other bags will be denied.
Truist Park Capacity & Seating Options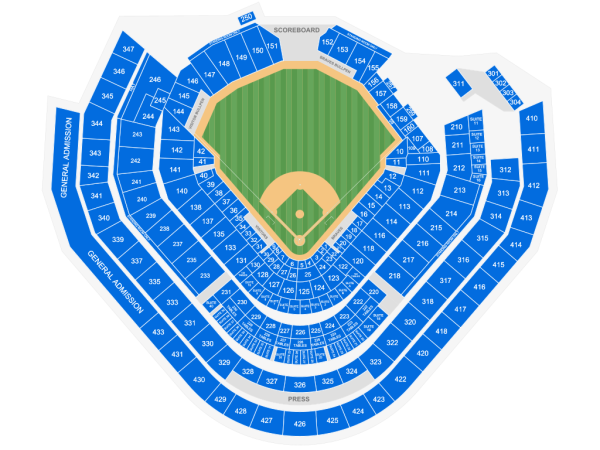 When you visit Truist Park, you have plenty of seating options to enjoy the game. Truist Park capacity is 41,084. When the stadium originally opened in 2017, capacity was 41,149 but was reduced after the season with some changes to the top six rows of seats in sections 122 and 130. The attendance record during the regular season is 43,619.
Other Truist Park seating options include club seats, suites, and VIP seating. Truist Park offers party suites in both the Champions and Xfinity suites. These suites offer plenty of space and can accommodate 20 to 52 people. Feel like a VIP at Truist Park with a premium seating opportunity including the exclusive Truist Club which offers the most luxurious gameday experience at Truist Park. Other club options include the Xfinity Club and Delta SKY360° Club.
What are the best seats at Truist Park?
The best seats at Truist Park vary depending on the event and personal preferences. Check out Truist Park seating charts and find your favorite seat today.
Food & Beverage Options at Truist Park
View this post on Instagram

Whether you just want some peanuts at the ballpark or the best dining experience that Truist Park has to offer, there are a wide variety of concession stands throughout the venue to help you find what you want. Truist Park is a cashless venue with cash-to-card options located at only specific locations.
Truist Park includes plenty of local favorites, including Coors Light Chop House, Fox Bros. Bar-B-Q and H&F Burger. Some of the most popular concession items include the Big RiBi Sandwich at 1871 Grille, the Knucksie Sandwich at Smokey Q and the Gold Glove Chicken Sandwich at Fry Box.
Celebrating the 2021 World Champions, one of the most popular concession items is the World Champions Burger, which is a Wagyu beef burger topped with fried eggs, and grilled lobster tail. The burger features either a replica or authentic championship ring. The burger will cost you $151, price based on the amount of years the Braves have been a team. For $151, the burger comes with a replica of the 2021 World Series ring. However, for $25,000, fans can purchase a version of the burger that includes a limited-edition World Series ring — available while supplies last.
For guests heading to the game with dietary restrictions, there are vegetarian, vegan and gluten-free food options throughout the venue.
You Might Like
It's the hunt for October! Learn about the MLB playoff structure and how the seeding system works as teams compete for the Major League Baseball World Series.
If you're looking to travel outside of your hometown for a game, we've compiled a list of the best MLB stadiums to help you plan accordingly. Check out our t...
Baseball has always been a sport rich in tradition and history, and one of the most fascinating aspects of the game is the intense rivalries that have develo...