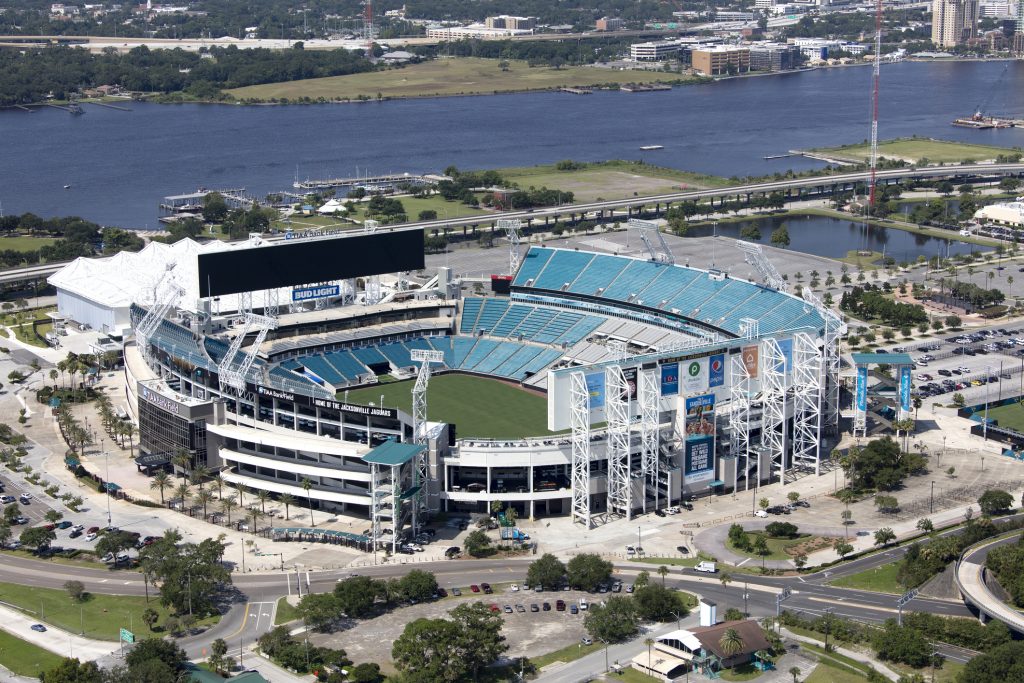 Alongside St. Johns River in Jacksonville, Florida, stands an edifice that's central to the recreational and cultural lifeblood of the region. TIAA Bank Field holds a lot of appeal for a lot of people. Some take one look at the lunging jaguar statue out front and get fired up to cheer on their beloved Jacksonville Jaguars, with all the NFL action that entails. Some go there to cheer on the athletes of the U.S. men's and women's national soccer teams when they come to play. Music lovers flock to the stadium to catch concerts by some of the biggest names in show business. With a capacity of more than 67,800, an astonishing eighty-eight luxury suites and concessions that give a nod to the best Southern cuisine has to offer, TIAA Bank Field is a jewel in Jacksonville's crown.
TIAA Bank Field History
Though TIAA Bank Field first opened its doors to the public in 1995, its story actually goes all the way back to 1928. That's when Jacksonville's first-ever football venue, Fairfield Stadium, opened for business. Twenty years later, Fairfield became the Gator Bowl Stadium, named for the famed college football event that had already begun happening there. Fast-forward to 1994, when work began on a whole new stadium on the same site, which opened a year later. It went by a few different names over the years, before finally becoming TIAA Bank Field in 2018.
A lot has happened here. The arena hosted Super Bowl XXXIX — where the New England Patriots notched a 24-21 victory over the Philadelphia Eagles — in 2005 (with a Paul McCartney halftime show, no less). And of course the Gator Bowl is an annual event not to miss. No dust has collected on the structure itself — the renovations that began in 2013 included a pair of 362-foot end-zone scoreboards, wading pools (it's Florida, after all), and 55,000-square-foot HD video screens. A 2016-17 revamp included upgrades such as an amphitheater and walkout patios at the 50-yard line. 
TIAA Bank Field Events
The stadium isn't only a place to go watch athletes sweat and battle each other for dominance, though; year after year it plays host to a steady stream of world-class concert fare. The biggest rock and pop bands on the planet have played at TIAA Bank Field, from U2 on their 1997 PopMart Tour to *NSYNC on 2001's PopOdyssey tour to The Rolling Stones on their 2019 No Filter tour. Country superstars like Kenny Chesney, Florida Georgia Line and Jason Aldean have all brought their A-game to the stage here too. 
TIAA Bank Field Food and Concessions
Like any proper self-respecting sports and entertainment venue, TIAA Bank Field will not let you suffer hunger or thirst, no matter what you're in the mood for. On the upper concourse, peckish visitors can load up on the likes of Smokey 'Q Southern BBQ, Vinny's Original Pizza, Burger Prime or Authentic Philly cheesesteaks, among other options. On the main concourse, there are such tasty possibilities as Southside Burrito Company, Andrew Jackson BBQ, Bubba Burger, Sideline Bistro, Deville Grille, Dick's Wings and Grid Iron Grill. 
And that's not even taking into account the culinary choices that open up to you if you partake of the stadium's US Assure Club. In addition to ensuring yourself a premier seating situation, you also unlock a whole new level of eateries. Those include The Melt, 95 Southern Fried, Stack Burger, Bond's BBQ, Jaxson's Classics and Bay Street Pizza. The folks behind the stadium's concessions are also no slouches when it comes to snacks. Suffice it to say: If you've never had Cheetos popcorn before, you haven't really been living.