Step Inside: State Farm Stadium — Home of the Arizona Cardinals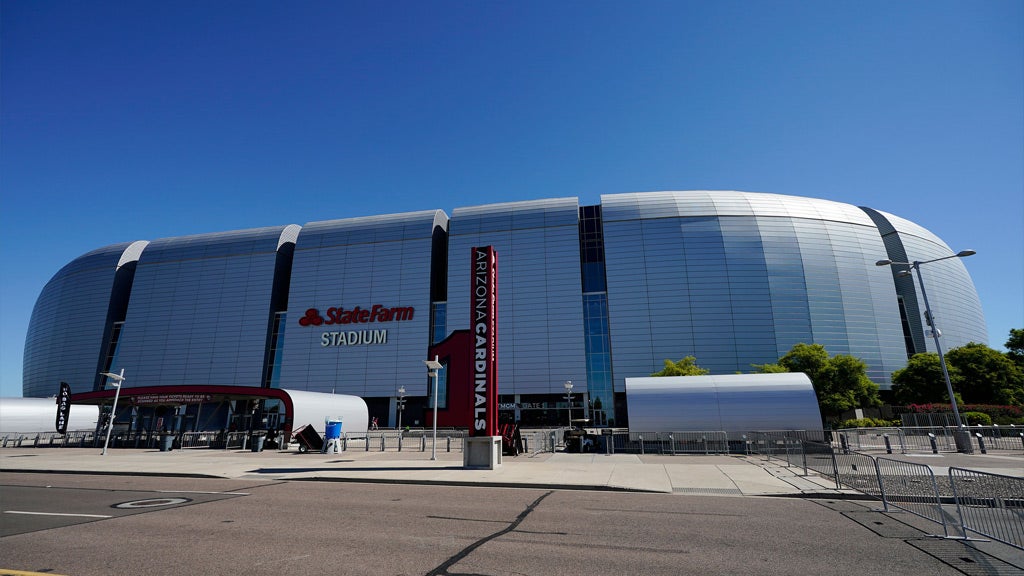 Stadium History | Parking & Admission | Seating & Capacity | Food & Concessions
The ultra-modern State Farm Stadium is located in Glendale, Arizona — just a few miles west of Phoenix. Home of the Arizona Cardinals as well as the Fiesta Bowl, the Stadium is one of the most versatile in the country with a retractable roof to allow event-goers to take advantage of Phoenix's good weather most of the year, as well as a retractable natural grass field. It also has the honors of hosting Super Bowl LVII on February 12, 2023.
State Farm Stadium History
State Farm Stadium has undergone a few name changes since it opened in 2006. Originally called the Cardinals Stadium on opening day, it changed names soon after when the University of Phoenix acquired naming rights later that year. The Stadium took on its current moniker after State Farm Insurance Company signed an 18-year deal to retain the naming rights in 2018.
When the Cardinals originally moved from St. Louis, Missouri, to Phoenix in 1988, they played at the Sun Devil Stadium on the Arizona State University campus in Tempe, Arizona. After campaigning for years to get their own stadium and complaining that they couldn't take advantage of revenue streams available to other NFL teams while squatting at a college stadium, the Arizona Sports and Tourism Authority funded the construction of the new cutting-edge Stadium, which broke ground in 2003.
It opened three years later and was considered an architectural landmark of the region, designed in the shape of a barrel cactus, which is representative of the natural landscape in the area. The stadium was named by Business Week as one of the 10 "most impressive" sports facilities in the world. Some compare the unusual shape of the Stadium to a UFO or the Goodyear Blimp, but one thing most fans agree on — it's a terrific place to watch a game.
Parking and Admission at State Farm Stadium
All of the parking for Arizona Cardinals games is fully digital and must be pre-paid using the Cardinals Mobile App. When paying for parking using the app, you will receive directions for where to enter the Stadium based on where your parking space is located. Every vehicle entering the parking lot will be required to show proof of payment on their mobile device.
For other events held at the stadium, such as concerts, soccer matches and the Monster Jam motorsports event, parking policies will vary and you'll want to check the event website in advance. In some cases, you may be able to pay for parking on-site, just remember it's a cashless venue.
State Farm Stadium has a strict bag policy. Each person can bring in a maximum of two bags — one bag that is clear plastic, vinyl, or PVC no larger than 12″ by x 6″ x 12″ or a one-gallon clear plastic freezer bag and one small clutch purse or wallet no larger than 4.5″x 6.5″. No outside food and beverages are permitted inside the stadium, except for one small, sealed 16-ounce water bottle per person.
State Farm Stadium Capacity & Seating Options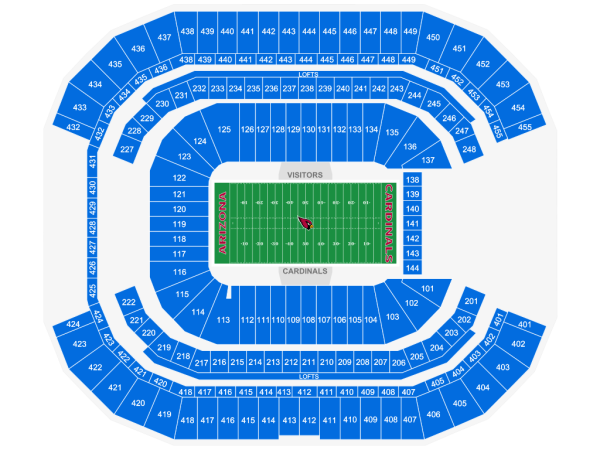 The stadium offers an impressive selection of seating options in the 63,400-seat venue. It also has the reputation for being one of the easiest NFL stadiums to navigate with only three core seating areas — the lower level, club level and terrace level. The stadium offers four premium seating options: Private Lofts, Party Lofts, Club Cabanas, and Field Boxes. Private Lofts are ideal for corporate outings or intimate groups who want the suite all to themselves; Party Lofts are great for corporate events and offer an open lounge space and one private restroom; Club Cabanas are semi-private pre-game spaces that seat up to 12 on the Stadium's Club Level where people can enjoy refreshments before the game starts; and Field Boxes are located on the Main Concourse level surrounding the 50-yard line or midfield. These semi-private spaces hold up to eight guests and offer fantastic views  for concerts, soccer matches and motorsports.
Food & Beverage Options at State Farm Stadium
The stadium offers several enticing food options, from traditional stadium fare (think burgers, hot dogs, French fries and nachos) to authentic Mexican street tacos and Philly-style cheesesteaks. Beer and wine are also available, and if you're looking for a special place to enjoy a beverage, the Flight Lounge is an elegant wine bar with views overlooking the stadium floor. As an added bonus, it's open early for some pre-game mingling and drinking.