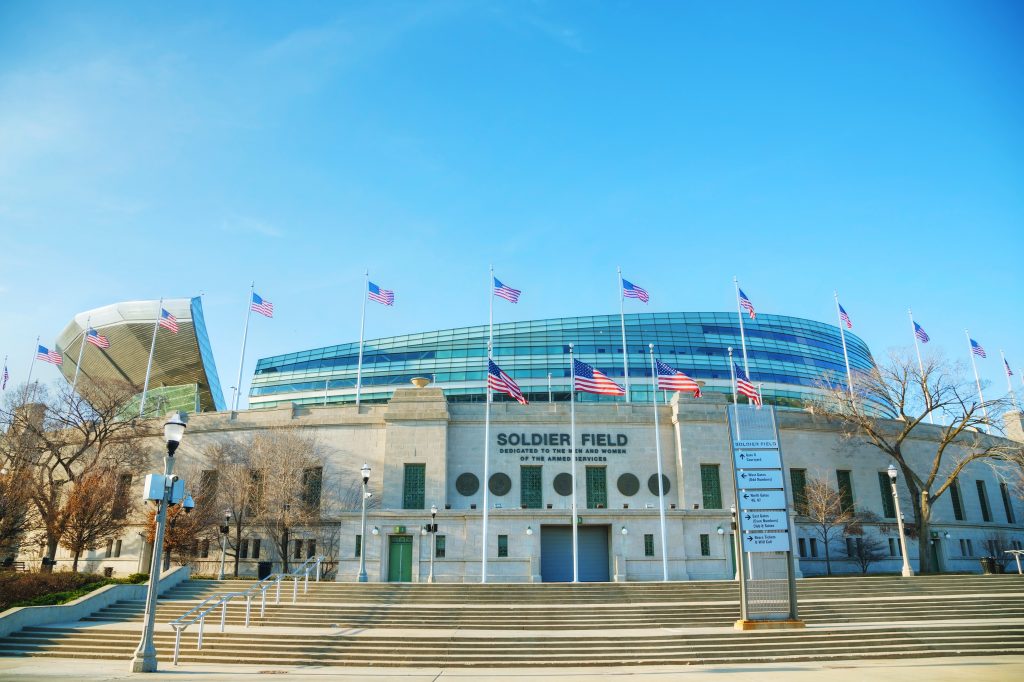 As the home of the Chicago Bears, Soldier Field is a Windy City institution, not to mention a legendary location for football fans all over America. But for all of the stadium's gridiron glory, the story of Soldier Field extends well beyond the kingdom of the Bears to include hockey, soccer and a heavy-duty history as a top-tier concert venue. Since its unveiling back in 1924, Soldier Field has broken all kinds of attendance records and been the first stadium to host historical milestones such as The Special Olympics and memorable ski meets. 
Soldier Field History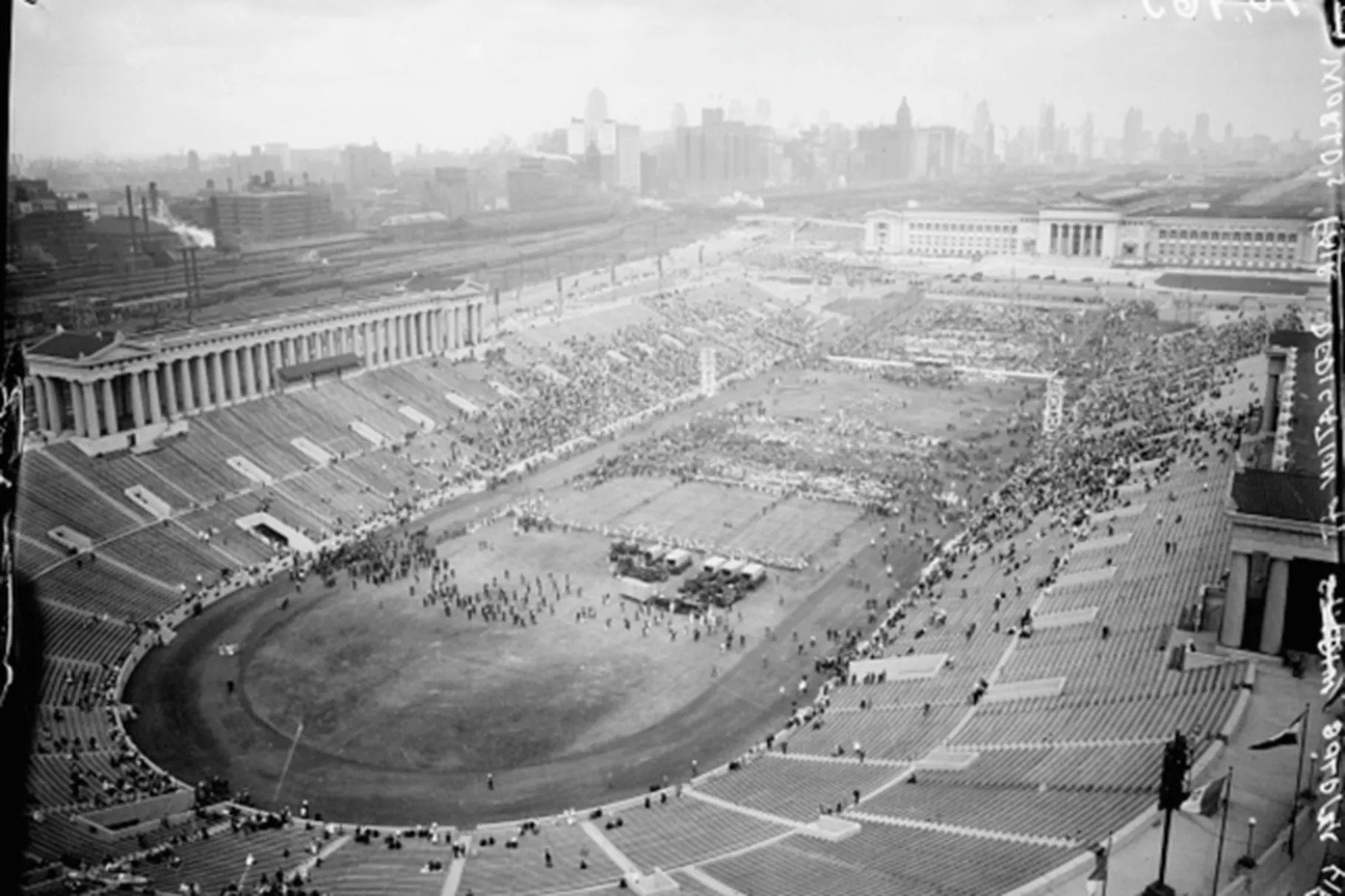 Soldier Field opened on October 9, 1924, under the name of Municipal Grant Park Stadium, but by the end of the following year it was given the name we all know it by today. In 1929, while their own stadium was under construction, the Notre Dame Fighting Irish made their home there, and other more long-term tenants followed over the decades, including Soldier Field's most famous residents, the Bears, starting in 1971. Except for a period of renovation, the Bears have remained there ever since, through championships and fallow periods alike. 
The stadium eventually became a National Historic Landmark. But ironically, when a massive renovation began in 2002, with the goal of bringing fans' seats closer to the action on the field, the resulting decrease in seating (to 61,500) actually lost Soldier Field its official designation. But pretty much no one needs confirmation of the stadium's iconic status as one of Chicago's most beloved institutions. In 1927, the Dempsey/Tunney heavyweight fight — now a part of boxing mythos — took in the biggest gate ever for a boxing match at that time: $2.5 million. In 1968 Soldier Field was the site of the first-ever Special Olympics. All throughout its history, the stadium has enhanced and underscored Chicago's contributions to American culture.
Soldier Field Events
In keeping with its monumental place in the Chicago cultural landscape, Soldier Field has always gone big even when it wasn't hosting some of the biggest games around. The stadium has a jaw-dropping concert legacy that spans eras and styles but has always included some of the most beloved musical acts of any given era. For 36 years starting in 1930 it was the home of the Chicagoland Music Festival, where the legendary likes of Rudy Vallee and Jascha Heifetz would appear. In the '60s, giants like Johnny Cash and Barbra Streisand could be seen there. 
Soldier Field's stage also saw some of the biggest classic-rock bands of the '70s, like Emerson, Lake & Palmer, Pink Floyd and The Rolling Stones. The '80s and '90s brought stadium-fillers like the Grateful Dead, Madonna, Bruce Springsteen and U2. Following the turn of the millennium, the concert roster has become more eclectic than ever, hosting country royalty like Kenny Chesney and Tim McGraw, hip-hop heroes such as Jay-Z and pop titans including Taylor Swift, Ed Sheeran and One Direction.
Soldier Field Food and Concessions
Arrive hungry. Chicago is a food-lover's paradise, and Soldier Field will give you a crash course in its culinary thrills — by the time you're finished loading up you might forget that you came there for any other reason than chowing down. First off, there's the Midway Club, an expansive bar and eatery that you can access by purchasing a mobile pass. But if you want to sample the rest of the stadium's eateries, you can find Italian sandwiches at Café L'Appetito, Greek delights at Kronos Gyros, cheesy goodness at Beggar's Pizza or mouthwatering Mexican fare at Pilsen Tacos, to name just a few of the possibilities. 
There's no shortage of options in the sweets department, either. Whether you're up for churros, donuts, or the dried fruits and nuts of Nuts on Clark, tasty treats abound among Soldier Field's concession stands. And if you're out to quench your thirst, you can take your pick of soaking up some suds from the bar on two wheels known as Beer Cycle or hitting up Heartland Hops for a more traditional, stationary experience. For libations that are a little more mixed up, check out the top-shelf liquor and imaginative craft drinks at the Chicago Cocktail Company.
You Might Like
Whether you're a long-time local or just in town for a quick trip, the entertainment experts at Ticketmaster have you covered!
We're getting close to the Big Game — Super Bowl LVII. Thousands of fans will fill State Farm Stadium in Glendale, Arizona, on February 12, 2023, to see who ...
The Super Bowl is always one of the year's most in-demand events, and this year is proving to be no exception as the Big Game heads back to Arizona for the f...