Step Inside: PNC Bank Arts Center — Holmdel, NJ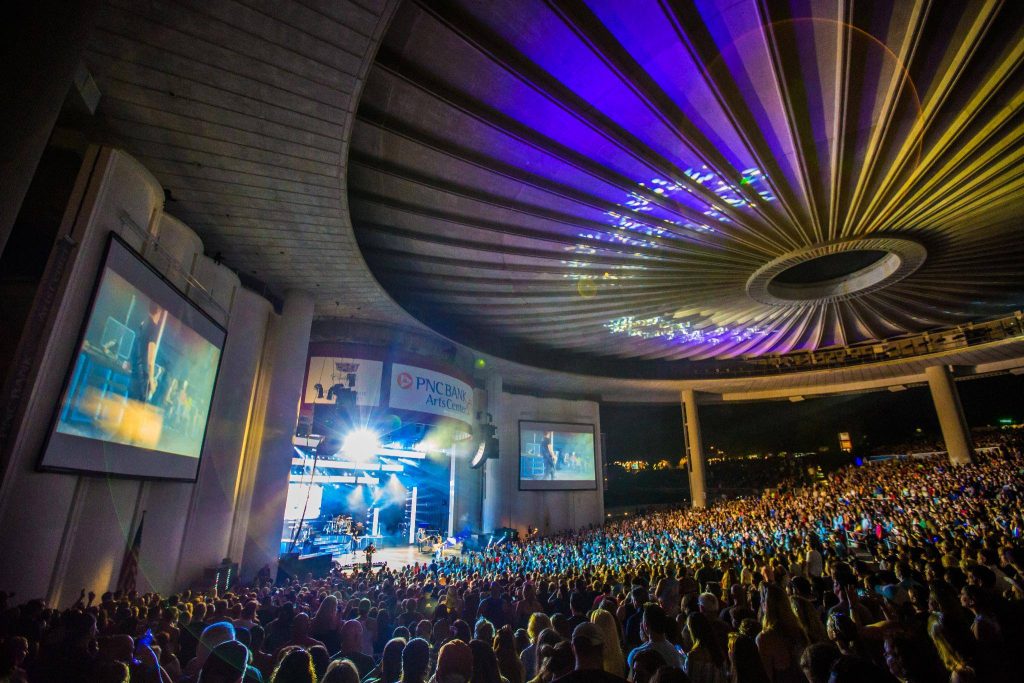 New York City certainly isn't hurting for classic music venues. But if you want to take in a show with the stars shining above your head and a soft, summer breeze blowing through your hair – not to mention far removed from city noise – you may have to get out of the Five Boroughs and check out some New Jersey concert venues.
PNC Bank Arts Center is the premier outdoor arena in the New York City Metropolitan Area. Here's everything you need to know about this incredible amphitheatre.
1. It's the pride of the Garden State.
There's no doubt about it: PNC Bank Arts Center is one of the very best music venues in New Jersey. Located in Holmdel Township, the amphitheatre isn't exactly right outside city limits, but it's easily accessible from the Big Apple, so both city dwellers and suburbanites can enjoy a show there.
2. It was designed for sophisticated music.
No offense to Gwen Stefani, Phish or the Jonas Brothers (all of whom have held concerts there in recent years), but that's not the kind of music the amphitheatre's founders had in mind when they built the venue in 1968. The Garden State Arts Center, as it was known at the time, included a lot of classical music in its programming.
3. Its capacity has grown over the years.
When it first opened, the amphitheatre could hold a little more than 10,000 people, with 5,000 seated in the lawn and roughly another 5,000 underneath its distinctive saucer-shaped roof.
PNC Bank Arts Center's capacity has ballooned since then, with renovations and expansions bringing that total up to 17,500.
4. It has an unlikely resident musician.
When you think New Jersey, you think Frank Sinatra, Bon Jovi and Bruce Springsteen. But none of those artists ever played PNC Bank (or the Garden State Arts Center) nearly as much as folk singer James Taylor, who appears nearly annually.
5. PNC Bank caught Girl Power Fever.
1998 might be synonymous with the rise of boy bands, Nu Metal, Britney Spears and TRL, but it also saw the tail end of Spice Girls mania. The British supergroup played a sold-out show at PNC Bank during their Spice World Tour.
6. It has some very famous kindred venues.
Edward Durell Stone, the architect who designed the amphitheatre (back when it was known as the Garden State Arts Center) also made his bones creating other venues in the Mid-Atlantic. You may have heard of them: Radio City Music Hall and the Kennedy Center.
7. It knows how to decorate for the holidays.
Every year, PNC Bank Arts Center puts on one of the most incredible holiday light displays in the country, with 2.5 miles' worth of Christmas lights and displays in a Winter Village.

8. PNC has beer drinkers and foodies covered.
From premium drafts to domestic beers, there's something for every ale, lager and IPA enthusiast. Concessions even serve flavored malt beverages if you're looking for something a little different than the usual pilsner. Grab a Bavarian pretzel while you're at it. The venue has tons of other quality eats, too. Grab one of Questlove's Cheesesteak™, named for the GRAMMY Award-winning drummer's innovative spin on the Philly classic made with Impossible™ plant-based meat. Or how about actor Danny Trejo's famous Los Angeles Trejo's Tacos, or Italian dishes from Top Chef's Fabio Viviani? Or hand-crafted gourmet hotdogs and sausages from Dog Haus or fresh pizza? And don't miss Art Bird's fried chicken, a favorite of Lady Gaga and Michelle Obama. The drinks are top-notch, too. Gulp down refreshing drinks from our brand new signature cocktail program, curated by world-class mixologist and 2014 American Bartender of the Year, Sean Kenyon.
9. Plan on driving.
Although it's possible to get in the general vicinity of PNC via public transportation, it's a bit of haul (especially if you're coming from NYC). Your best bet is to hop in the car and drive on over. Check if tailgating is allowed at your particular show. If you're absolutely dead-set on taking the train, the venue does have a shuttle service to pick up up concertgoers at the Aberdeen-Matawan train station.
10. PNC's VIP preferred parking options will make life a little easier.
Shelling out a little extra for the VIP preferred parking service could save you a lot of time and frustration finding a spot close to the venue. You can also spring for VIP seating for a more comfortable concert experience.
11. Take a trip to the arcade.
If you're looking to scratch your retro video game itch while in the area, consider heading over to Yestercades in Red Bank. From pinball machines to coin-munching classics, Yestercade has all of your old favorites. And there's plenty of more recent games if Pac-Man isn't your thing.
12. Pre-game and whet your whistle with local craft beer.
Looking for a good place to grab a beer before the show? Check out Carton Brewing Company in Atlantic Highland. Take a tour and see how some of New Jersey's finest craft beer gets made. Or better yet, skip straight to the tasting room and try their brews out for yourself.
Everyone in the tri-state area can find their perfect show at the PNC Bank Arts Center. Simply put, it's one the very best New Jersey music venues. Take a look at all of the upcoming concerts to see if your favorite artist is coming to town.