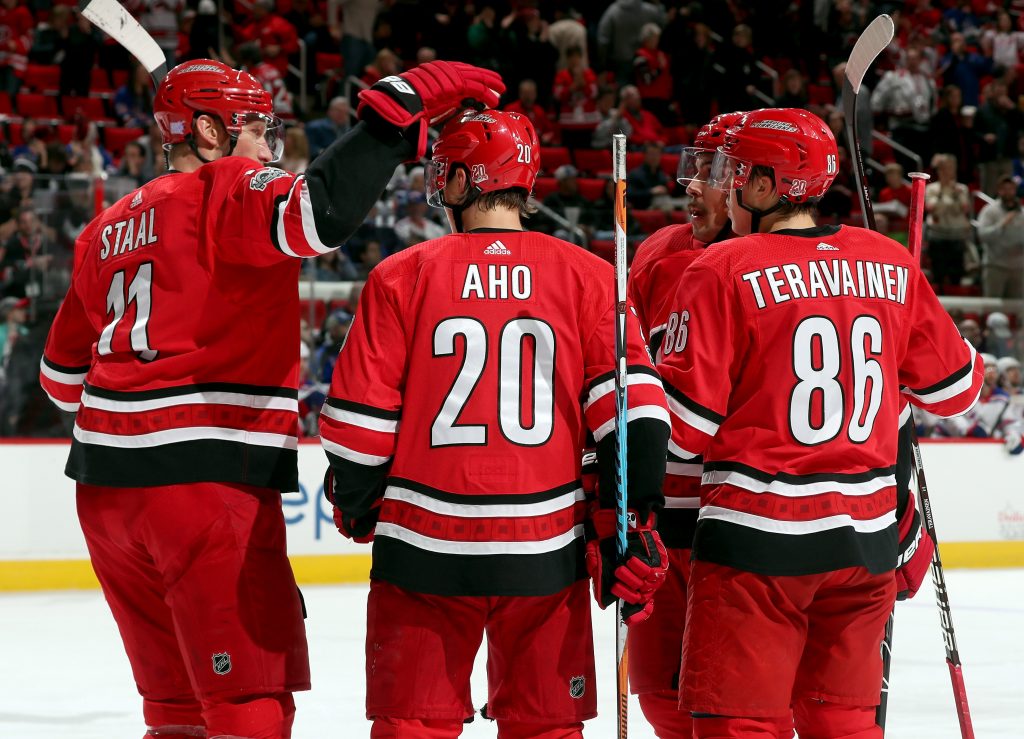 PNC Arena is the cultural and entertainment hub of North Carolina's capital city, Raleigh, and is the proud home of the Carolina Hurricanes and the NC State Wolfpack. 
PNC Arena History
PNC opened its doors in 1999, quickly becoming the crown jewel for music, sports, and entertainment in the City of Oaks. Strategically located off I-40, the arena is easily accessible to the surrounding cities of Durham and Chapel Hill. 
PNC is hard to miss — situated about seven miles west of downtown, its grand, oval design almost resembles a giant hockey puck. The $158 million arena encompasses approximately 700,000 square feet, with four different seating levels that can accommodate up to 20,000.
PNC Arena is home to the Carolina Hurricanes (the Canes to loyal fans) who took home the NHL Stanley Cup in 2006, marking the first professional sports title for a North Carolina team. In 2019, the Canes made the Stanley Cup Playoffs for the first time since 2009, and the players, team mascot Stormy the Ice Hog and fans have collaborated with unique game-winning celebrations, known as Storm Surges. With hilarious stunts including human bowling, spirited rounds of duck-duck-goose and hockey-stick limbo, the 2019 Canes took fan interaction and celebration to the next level.
Transforming a hockey rink into a basketball court is no small job: It can take up to six hours to dry up PNC and get it ready for a game of hoops, and it takes 5,000 gallons of water to switch it back to an ice rink. The NCAA Men's basketball NC State Wolfpack shares a den with the Canes at the PNC, and with two National Championships, four Final Four appearances and numerous Conference Tournament Championships under their belts, this team never has a dull game night. Note: PNC is kept at a crisp 60 degrees for Canes games, so be sure to bring a hoodie. 
PNC Arena Shows and Food Options
The PNC has become the premiere destination for some of the biggest names in music, and with the "in-the-round" stage layout, it's a great place to catch your favorite artist, without getting stuck with a terrible view. Paul McCartney, Metallica, Beyoncé and Taylor Swift have all made the PNC a favorite tour stop, and the all-ages venue also welcomes family-friendly events, from Disney on Ice to Cirque du Soleil.  
In early 2019, metal legends Metallica played to a sold-out crowd at PNC, where more than 20,000 fans set a new record for the largest single-day event attendance in the venue's history. 
Sometimes you've just got to treat yourself, and PNC's deluxe suites offer the full VIP experience, featuring comfy seating, private restrooms, customized catering menus and some of the best views in the house. What's a loge box, you ask? Think of it as a hybrid between suites and premium season tickets. PNC is on the cutting edge of arena hospitality, and loge boxes are an exciting concept that provides a shared, suite-like atmosphere for 4 to 8 guests. The loge boxes offer the all-inclusive experience without blowing your budget. 
North Carolina is famous for mouthwatering barbecue, and fortunately North Carolina BBQ Company has a presence at PNC so you can find out what all the fuss is about (if you don't know already). There are also local brews to be had (Foothills, Deep River), and plenty of satisfying stadium-staple options such as chicken sandwiches, burgers and nachos at an array of concessions vendors.