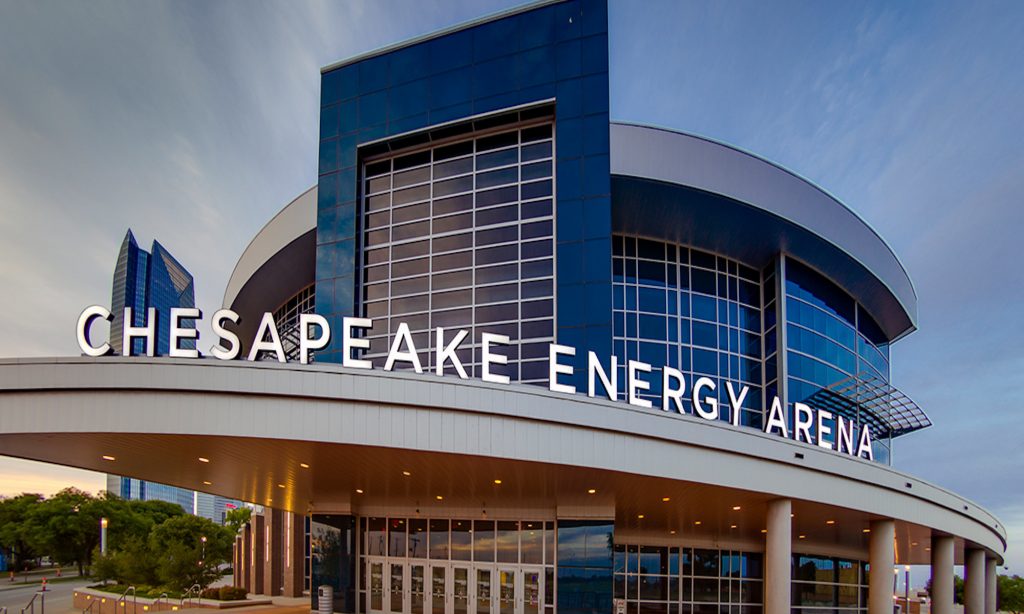 When Oklahoma City residents and visitors are looking for sports action, musical thrills, family fun and beyond, they have a destination that's hard to beat. The 581,000-square-foot edifice that lies just off I-40 and straight across the way from the Cox Convention Center is the entertainment epicenter of downtown Oklahoma City. The Chesapeake Energy Center has been serving the city since 2002, albeit under a few different monikers at various points over the years. With a capacity of more than 18,000 for basketball and 16,591 for concerts, it's the city's definitive grand-scale destination. 
Chesapeake Energy Arena History
When Oklahoma City's home for top-shelf concerts and all sorts of sports first opened to the public, it was known as the Ford Center. That was on June 8, 2002, and at the time it was home to the Central Hockey League's Oklahoma City Blazers, and would remain so until the team hung it up seven years later. In 2010 the venue officially became the Oklahoma City Arena, though that moniker would last for only a year before the entertainment hub was redubbed the Chesapeake Energy Arena in 2011. 
But no matter what it was called at any given point in its history, the arena has always presented the best to the folks of OK City. For events spanning basketball and hockey, music or family-oriented entertainment, year after year the venue has expanded its reputation. And after a major renovation program was completed in 2013, the Chesapeake Energy Arena stood even readier than before to accommodate the thousands of sports and music lovers that pass through its doors for each event.
Chesapeake Energy Arena Concerts & Events
A whole slew of awesome teams have called the arena home over the last couple of decades. In addition to the extended presence of the aforementioned Blazers, the NBA's Oklahoma City Thunder started setting up shop there in 2008. The Oklahoma City Yard Dawgz of the AF2 brought some serious gridiron action from 2004 through 2008. And perhaps most impressive of all is that fact that from 2005-'07, when the New Orleans Hornets were unable to continue playing in their home town due to the damage inflicted by Hurricane Katrina, OK City opened up its heart and its doors to the team and gave them a temporary HQ, at what was then still known as the Ford Center. That's not even mentioning the wrestling, mixed martial arts, boxing and monster truck shows that thrill the venues patrons.
The arena has a rolling roster of incredible concerts as well. When musical icons with millions of fans make their way to town, they hang their hats when they hit Oklahoma City — artists including Cher, Jimmy Buffett, Pearl Jam and beyond have played there. The platter is distinctly wide-ranging, spanning pop legends like Justin Timberlake and New Kids on the Block, country superstars like Jason Aldean and Carrie Underwood, classic-rock heroes like Guns N' Roses and Kiss, and classy crooners like Michael Bublé.
Chesapeake Energy Arena Food & Concessions
The Chesapeake has almost as many different types of food and drink as it has ways to present them. The options are overwhelming — in all the best ways. 
Suffice to say that whether you're in the mood for a full-fledged restaurant-plus-bar like the Old No. 7 Club, a heavy-duty steak house like the Budweiser Brew House, or a quick and easy snack stand like FastBreak, you're covered. Hungry visitors can score some tacos, hot dogs, nachos, wings, burgers, a BBQ sandwich, a personal pizza or something more upscale at one of the above-mentioned restaurants. Just about any beverage preference can be accommodated too, from the suds side of the spectrum all the way to craft cocktail territory, or (of course) the soft drink domain in between.
You Might Like
The NBA trade deadline and buyout market deals are now in the rear view mirror, and it's safe to say that a handful of teams definitely seized the opportunit...
These players are keeping the thrills coming with killer performances.
Last Updated 2/18/2021 As we continually communicate with teams about how to best support and improve fan safety for this upcoming season, we're dedicated to...