Step Inside: NRG Stadium – Home of the Houston Texans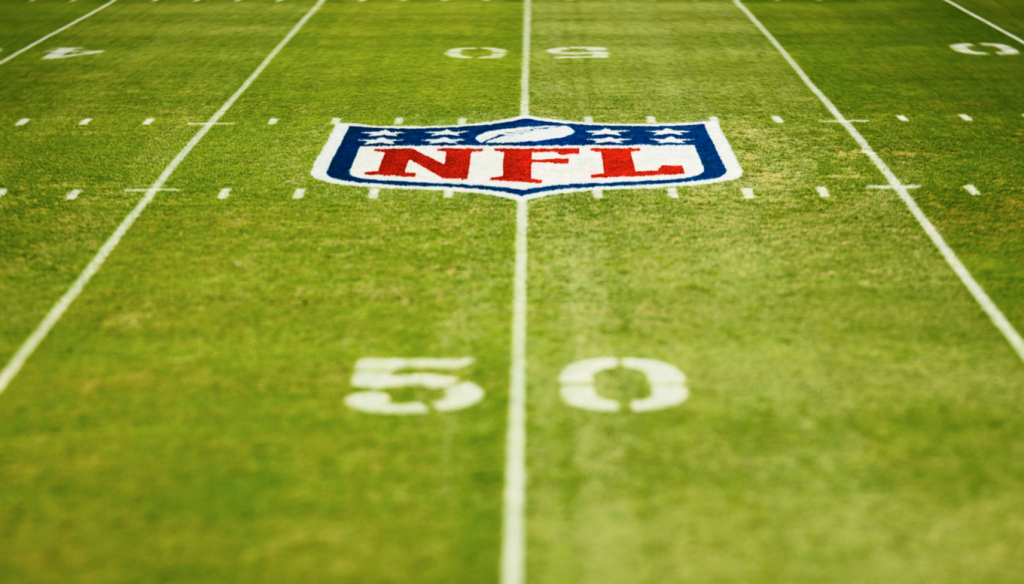 Stadium History | Parking & Admission | Seating & Capacity | Food & Concessions
Home to the Houston Texans and the 2023 NCAA Men's Division 1 Basketball Championship, NRG Stadium is a miraculous multi-purpose event venue in Houston, Texas, located just west of the Houston Astrodome in Southwest Houston. One of the most popular destinations in Houston, NRG Stadium is also home to the world-famous Houston Livestock Show and Rodeo.
NRG Stadium History
NRG Stadium is a massive 1.9 million square-foot venue that is the home to NFL games, exhibits, concerts, professional and amateur sporting events, and world-renowned rodeos. This technologically advanced venue contains a massive retractable roof to allow all events the ability to have an indoor or outdoor experience. With a 96,000 square-foot playing field and four concourse levels, this stadium is the perfect location to view a wide array of live events. Within the stadium, fans have the viewing pleasure of two massive end zone scoreboards, one 360-degree LED Fascia display, four HD LED video boards, four HD LED projection screens, and more than 1,550 HD LCD flat-screen TVs.
Opening in 2002 as the Reliant Stadium, NRG Stadium was renamed in 2014. NRG Stadium was the first NFL stadium to contain a retractable roof, a massive technological breakthrough that changed the way stadiums in the United States were built. Home to the Houston Texans, this stadium has hosted iconic performers such as The Rolling Stones, Beyoncé, Taylor Swift, Guns N' Roses, U2, and many more.
Along with concerts, NRG Stadium has hosted a number of international soccer games, college football games (including the Texas Bowl and Texas Kickoff games), the Houston Livestock Show and Rodeo, Super Bowl LI in 2017, and it's also  the location for the 2023 NCAA Men's Division 1 Basketball Championship, the 2024 College Football Playoff National Championship Game, and will be the home for a number of matches during the 2026 FIFA World Cup.
Parking and Admission at NRG Stadium
With 26,283 parking spots in the surrounding NRG Park, fans will have no problem accessing parking at NRG Stadium. Parking lots can be found around the entire stadium and include the Tan lot, the Orange lot, the Maroon lot, the Blue lot, the Green lot, the Teal lot, the Yellow lot, the Purple lot, and the Red lot. Parking can be pre-purchased on Ticketmaster or at the individual lots. The usual price for parking is between $15–$50 (depending on the event).
Bags larger than 11″ x 17″ are not permitted at the NRG Stadium; however, exceptions are made for diaper and medical bags. Bags that are allowed include clear bags no larger than 12″ x 6″ x 12″ and small clutch purses no larger than 4.5″ x 6.5″. Other prohibited items inside NRG Stadium include, but are not limited to: any weapon or firearm, noisemakers, sealed packages, inflatable objects, professional camera or audio recording equipment, photography lenses larger than 3″, laser pointers, outside food and beverages, drones, coolers, cans, bottles, or fireworks. Smoking is also not permitted at NRG Stadium. There are designated smoking areas outside the facility and electronic cigarettes are not allowed inside NRG Stadium during Houston Texans events.
NRG Stadium Capacity & Seating Options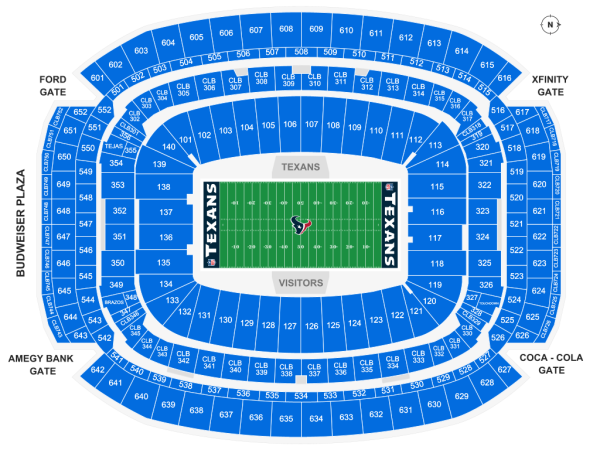 With a seating capacity of 72,220 and 197 different suites, fans attending NRG Stadium are sure to find the perfect spot that fits any and all of their needs. Along with thousands of general seating options, NRG Stadium contains multiple VIP suites that can accommodate groups between 12–28 guests. Fans also have the option of booking a party suite for larger groups. These suites on the 300 level can accommodate anywhere from 45–150 guests. All suites come with exclusive VIP reserved parking, a floor-to-ceiling retractable window wall, access to the 300 level Club Lounge, extra-wide open air viewing seats on private balconies, optional attendant services and catering options, access to portable and fixed bar areas, and private restrooms (in select suites).
Tailgating is also allowed at NRG Stadium during Houston Texans games. Parking lots will be open four hours prior to kickoff, with a first come, first served policy. Oversized vehicles must purchase additional parking spots to accommodate their vehicle size. Open flames are permitted but must be extinguished before kickoff. All tents and chairs must be put away before kickoff. Tailgating will be limited to the purchased parking spot(s).
Food & Beverage Options at NRG Stadium
Fans better bring their appetite when they visit NRG Stadium because the venue contains some of the best food and drink options in the state of Texas. Notable food options include Lone Star Favorites, Papa Johns, HTK Kitchen, Texas Traditions, Gringo's, H Town Classics, Texas Smokehouse, and Killen's Barbecue. Drink locations are readily available throughout the stadium as well, featuring favorites such as the Bud Light Lounge, Bud Light Cantina and the Crown Royal Saloon.