Step Inside: Minute Maid Park – Home of the Houston Astros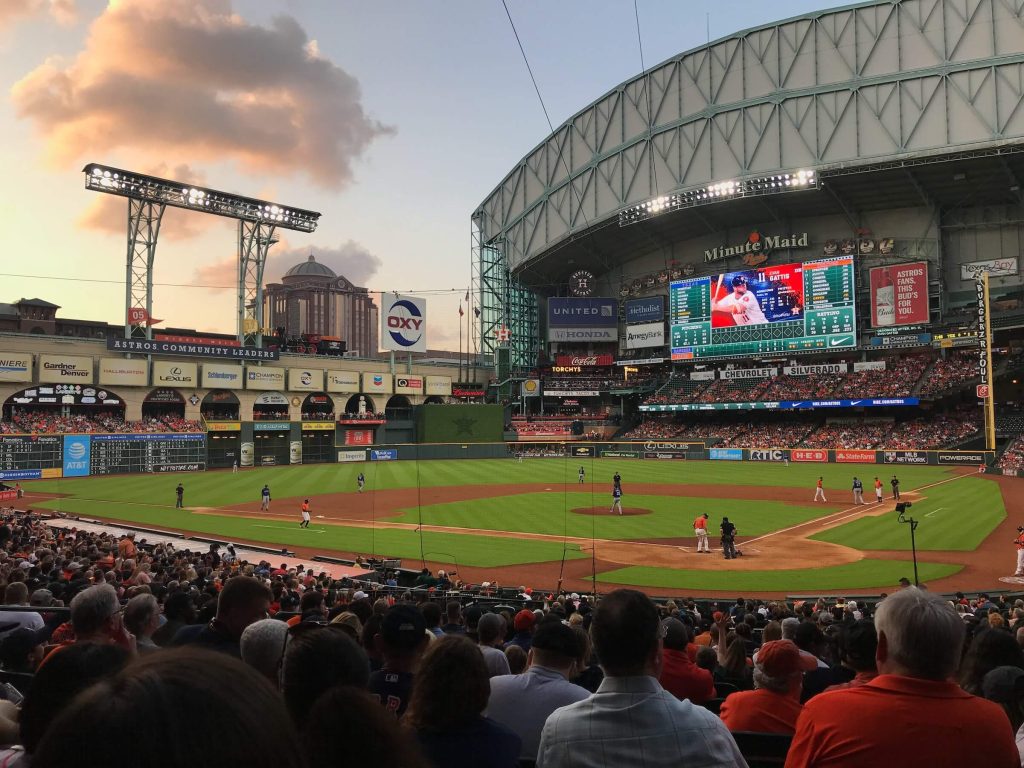 Stadium History | Parking & Admission | Seating & Capacity | Food & Concessions
Minute Maid Park is located in Houston, Texas, in the downtown area of Houston. Opened in 2000, Minute Maid Park is home of the Houston Astros of Major League Baseball.
Minute Maid Park was built as a replacement for the Astrodome (the previous home of the Houston Astros) which originally opened in 1965. Minute Maid Park features a retractable roof, which allows the stadium to offer both domed and open-air events.
What events are coming up at Minute Maid Park?
See upcoming events and buy tickets for Minute Maid Park right here on Ticketmaster.
Minute Maid Park History

Minute Maid Park plans originally began in 1996. The Houston Astros had previously leased the Astrodome from Harris County, and shared the stadium as joint tenants with the Houston Oilers of the National Football League. In 1995, the Oilers announced they were moving the franchise to Nashville, Tennessee, because of a lack of luxury boxes at the Astrodome. The original plans were to renovate the Astrodome, but after a commitment to help provide funding for a new ballpark by Enron Chairman, Kenneth Lay, a referendum was introduced and passed to build a new ballpark in downtown Houston.
The stadium was originally named Enron Field after a $100 million 30-year naming rights deal was agreed to with Enron in 1999. But, after the company declared bankruptcy after the Enron scandal of 2001, the naming rights were sold to Minute Maid, who signed a 30-year naming rights deal in 2002.
In its short history, Minute Maid Park has played host to three World Series. First in 2005, which the Houston Astros ultimately lost to the Chicago White Sox in a four-game sweep. The Astros later hosted the World Series again in 2017 against the Los Angeles Dodgers, winning the series 4–3. The Astros won the World Series again in 2002 hosting Games 1, 2 and 6 at Minute Maid Park. The team won its second World Series in Game 6 against the Philadelphia Phillies.
Minute Maid Park has hosted other major non-baseball events, including the 2006 CONCACAF Champions Cup Quarterfinal and the 2020 WWE Royal Rumble. Minute Maid Park has also served as the venue for several concerts. The first was on April 21, 2007, during Jimmy Buffett's Bama Breeze Tour. Other notable artists who have performed at Minute Maid Park include Paul McCartney, Ed Sheeran, Taylor Swift, Jay-Z and Beyoncé, Lady Gaga, and Morgan Wallen.
Parking and Admission at Minute Maid Park
When planning to attend a game at Minute Maid Park, you'll want to account for travel to the venue. If you plan to travel by car, there are plenty of parking options, but one common question is how much is parking at Minute Maid Park? Parking rates vary depending on which lot you park in, the event, and how close the event is to capacity. Minute Maid Park recommends booking parking before traveling to your event through the Minute Maid Park SpotHero parking page. The area around the stadium offers street parking, garage parking and private parking lots.
Public transit options for Minute Maid Park include taxi and pedicabs, bus or light rail service. The nearest light rail station is one block south of Minute Maid Park, Convention District Station, and is served by both the purple and green lines of the METRORail light rail system.
Minute Maid Park rules are in place to provide a safe and enjoyable experience for all guests at the stadium. Prohibited items are in accordance with MLB policy. Gates open two hours prior to the start of the event.
Minute Maid Park policy requires that all fans enter the stadium by walking through metal detectors. If the device detects something, you will be required to check your pockets before additional screening with a handheld metal detector.
In accordance with MLB policy, Minute Maid Park recommends fans do not bring any bags. According to those rules, the only bags permitted inside Minute Maid Park are bags that do not exceed 16″x16″x8″.
Possible exceptions include:
Diaper bags
Single-compartment drawstring bags
Other bags used for medical reasons
All items are subject to search and all other bags will be denied.
Minute Maid Park Capacity & Seating Options
When you visit Minute Maid Park, you have plenty of seating options to enjoy the game. Minute Maid Park capacity is 41,168.
When it comes to luxury, Minute Maid Park seating options include club seats, suites and VIP seating. Minute Maid Park offers 5,197 club seats and 63 luxury suites. Feel like a VIP at Minute Maid Park with a premium seating opportunity including the exclusive Gallagher Club, which offers premium food and beverage options. Other club options include the Field, Diamond and Insperity Club seats.
What are the best seats at Minute Maid Park?
The best seats at Minute Maid Park vary depending on the event and personal preferences. Check out Minute Maid Park seating charts and find your favorite seat today.
Food & Beverage Options at Minute Maid Park
View this post on Instagram

Whether you just want a hot dog at the ballpark, or want the best that Minute Maid Park has to offer, there are a wide variety of concession stands throughout the venue to help you find what you're looking for. Elote and Pupusas in section 124 offers plates with salsa rojo, chicharrone and frozen paletas. Battered-Up can help anyone who has a fixing for fried foods with chicken tenders, corn dogs and even deep-fried Reese's. Other options include Kitchen Nachos, House Smoked Pastrami, Spud House, and Killen's BBQ.
Starting in the 2022 season, Minute Maid Park became the first MLB stadium to incorporate cashless stores utilizing Amazon's "Just Walk Out" technology for two concession stands at the stadium.
For guests heading to the game with dietary restrictions, there are vegetarian, vegan and gluten-free food options throughout the venue.