Step Inside: Mercedes-Benz Stadium – Home of the Atlanta Falcons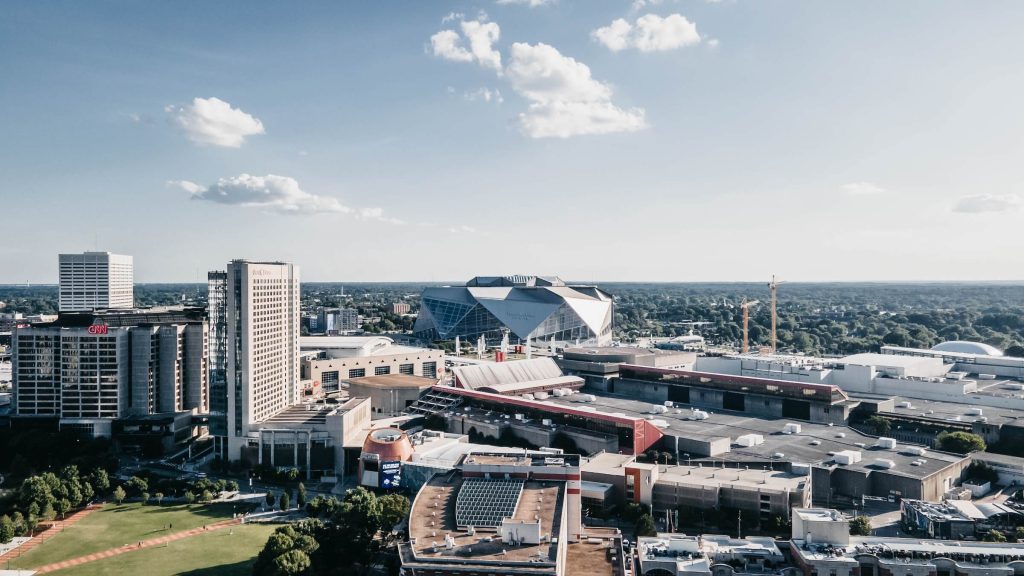 Stadium History | Parking & Admission | Seating & Capacity | Food & Concessions
Mercedes-Benz Stadium is located in Atlanta, Georgia, in the downtown area of Atlanta. Having opened in August 2017, Mercedes-Benz Stadium serves as the home of the Atlanta Falcons of the National Football League and Atlanta United of Major League Soccer.
Mercedes-Benz Stadium was built as a replacement for the Georgia Dome, and was built adjacent to the previous stadium. Shortly after the completion of Mercedes-Benz Stadium, the Georgia Dome was demolished and the site became space for tailgating at Mercedes-Benz Stadium and for other events for the community. This area is now known as the Home Depot Backyard.
What events are coming up at Mercedes-Benz Stadium?
See upcoming events and buy tickets for Mercedes-Benz Stadium right here on Ticketmaster.
Mercedes-Benz Stadium History
Mercedes-Benz Stadium is one of the newer stadiums in the NFL and MLS. Completed in 2017, the first game was an NFL preseason game between the Atlanta Falcons and Arizona Cardinals on August 26, 2017.
Planning for the new stadium began in May 2010 when reports surfaced that the Falcons were exploring the possibility of replacing the Georgia Dome with a new stadium. At the time, the plan was to keep the Georgia Dome open for non-NFL events.
After negotiations between the Falcons and city of Atlanta in 2012, the two parties came to an agreement to build the new stadium on March 7, 2013. Groundbreaking took place May 19, 2014, with an intended opening date of March 1, 2017. Delays forced an eventual opening date of August 26, 2017.
Mercedes-Benz Stadium's signature feature is its retractable roof, which is a pinwheel design consisting of eight triangular panels. The circular opening of the roof was inspired by the Roman Pantheon. Below the roof is a 58-foot by 1,100-foot video board known as the Halo. At the time it was installed, it was three times as large as the next largest video board in the NFL at EverBank Field, home of the Jacksonville Jaguars.
In its short history, Mercedes-Benz Stadium has played host to several major events. Before construction was completed, it was announced in 2015 that Mercedes-Benz Stadium would host Super Bowl LIII in 2019. The SEC Championship game, Celebration Bowl, Peach Bowl, and Chick-fil-A Kickoff Game are college football games that are played annually at Mercedes-Benz Stadium. The Georgia Tech Yellow Jackets also play one home game each year between 2021 and 2026. The stadium hosted the 2018 College Football Playoff National Championship between the Alabama Crimson Tide and Georgia Bulldogs.
As the home for Atlanta United FC, Mercedes-Benz Stadium is a premier destination in the MLS and is noted for setting several attendance records, including for the 2018 MLS Cup when Atlanta United hosted the Portland Timbers before a crowd of 73,019 fans. Atlanta United won the game 2-0.
Mercedes-Benz Stadium has been selected as one of 11 U.S. venues to host matches for the upcoming 2026 FIFA World Cup.
Since opening in 2017, Mercedes-Benz Stadium has hosted several tours for musicians. The inaugural concert took place on October 12, 2017, with Garth Brooks visiting the stadium as part of his World Tour. Taylor Swift's Reputation tour sold out consecutive nights in 2018 with 116,746 in attendance both nights.
Parking and Admission at Mercedes-Benz Stadium
Located in downtown Atlanta in the sports and entertainment district, there are more than 20,000 parking spots within a 20-minute walk of the stadium. Parking rates vary depending on the event and are not owned or operated by Mercedes-Benz Stadium. For information for your specific event, or to pre-purchase parking passes, visit www.parking.mercedesbenzstadium.com.
Public transit options include the MARTA station on the northwest side of the stadium. This station is connected to the stadium by a pedestrian bridge that allows for fans to walk safely to the stadium.
Mercedes-Benz Stadium recommends fans get through the gates early when arriving at the stadium. Gates open one-and-a-half hours prior to kickoff for Falcons and United games. All other times vary based on the event. All fans are required to enter the stadium by walking through metal detectors. If the device detects something, you will be required to check your pockets before additional screening with a handheld metal detector.
In accordance with NFL policy, Mercedes-Benz Stadium recommends fans do not bring any bags. According to those rules, the only bags permitted inside Mercedes-Benz Stadium are:
Clear plastic bags that do not exceed 12″x6″x12″
One-gallon resealable clear freezer bag
Women's clutch purse no larger than 4.5″x6.5″
Medical bags for accompanying patron
All items are subject to search and all other bags will be denied.
Mercedes-Benz Stadium Capacity & Seating Options
Mercedes-Benz Stadium capacity varies by the event. For football games, the stadium holds 71,000 fans, and can expand up to 75,000 fans. The configuration for soccer games accommodates 42,500 fans and can expand up to 71,000 fans. The record attendance for a sporting event is 79,330 fans for the 2022 Chick-fil-A Peach Bowl.
Mercedes-Benz Stadium offers a variety of club and suite options for a VIP experience. With 7,500 club seats and 100,000 square feet of space, there is a feeling of luxury when attending a game in a suite. Seating options include field-level terraces that feature premium views of the game and an upscale menu, as well as upper level suites that offer premium seating for your group.
What are the best seats at Mercedes-Benz Stadium?
The best seats at Mercedes-Benz Stadium vary depending on the event and personal preferences. Check out Mercedes-Benz Stadium seating charts and find your favorite seat today.
Food & Beverage Options at Mercedes-Benz Stadium
View this post on Instagram

Mercedes-Benz Stadium is known as one of the best options for fan experience. The stadium has worked with vendors to reduce food prices throughout the stadium, and as recently as 2019 reduced prices again on items like hot dogs, burgers, pretzel bites, ice cream cones, and chips and salsa. Most notably, the stadium offers a $2 soda cup with unlimited refills, and a $5 beer. These changes have led to the stadium being ranked No. 1 in the NFL for food and beverage in 2017, 2018, 2019, 2020, and 2021.
The upper concourse of the stadium includes the 100 Yard Club, which is a concession and gathering area that stretches the entire length of the football field, offering no shortage of options of amenities for fans in attendance.
There is no limit to what kind of food you can find at Mercedes-Benz Stadium, whether you want a burger, chicken sandwich, hot dog, wings, or a combination of any of the above, you'll be able to find it. Top options include West Nest by Westside Works, Gamechanger, Farmburger, Fresh Mex, Bruster's, and Capital Crust Pizza. Chick-fil-A has locations in the stadium, but as following the restaurant's tradition, it remains closed on Sundays.
For guests attending with dietary restrictions, there are vegetarian, vegan and gluten-free options available throughout the venue.