Step Inside: Levi's Stadium – Home of the San Francisco 49ers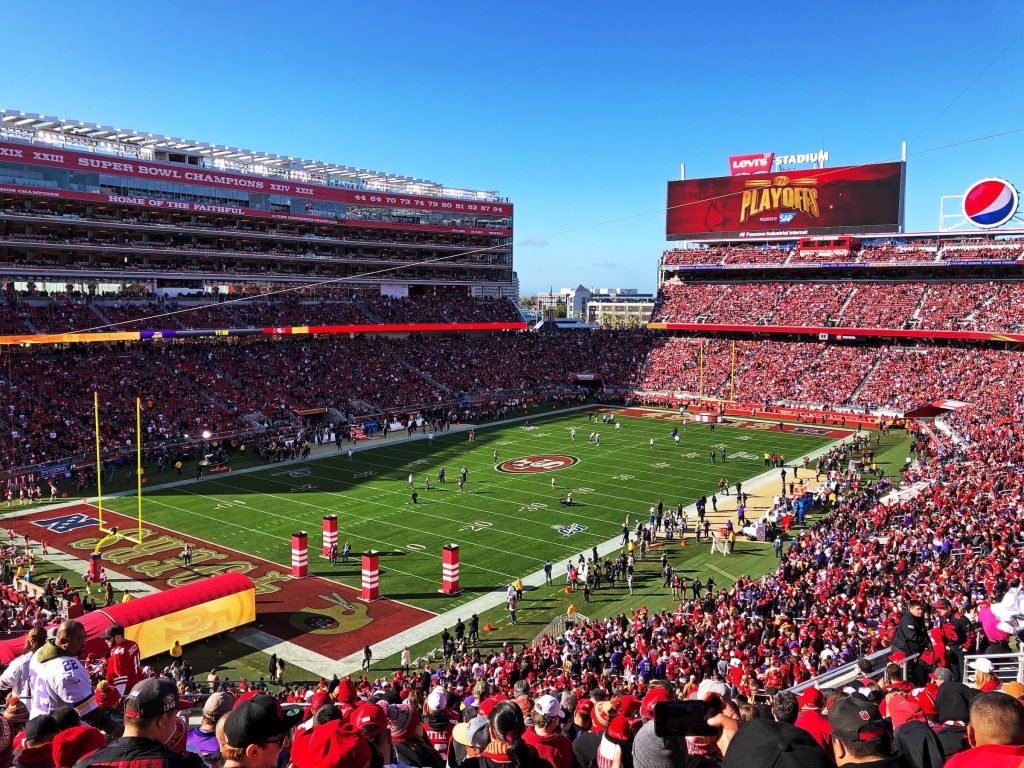 Stadium History | Parking & Admission | Seating & Capacity | Food & Concessions
Venue Quick Facts
Venue Name
Levi's Stadium
Location
Santa Clara, CA
Address
4900 Marie P DeBartolo Way, Santa Clara, CA 95054
Phone #

(415) 464-9377

Capacity
68,500
Opened
July 17, 2014
Architect
Tambra Thorson, Lanson Nichols, Tim Cahill, Fernando Vazquez, Scott Capstack, Wesley Crosby
Website
http://levisstadium.com/
Levi's Stadium is located in Santa Clara, California, about 40 minutes south of San Francisco. It serves as the home field for the San Francisco 49ers. Replacing the bayside Candlestick Park in 2014, Levi's Stadium brought heaps of innovation to the 49ers' home field, starting with its natural grass turf, environmentally conscious design and league-exclusive, fully functional rooftop farm.
Aside from its annual NFL residency, the open air stadium has housed several special events, including the 2015 NHL Stadium Series, Super Bowl 50 in 2016 and the 2019 College Football Playoff National Championship game. In March 2015, fans set a stadium attendance record at Wrestlemania 31, only to be broken a few months later during the Grateful Dead's Fare Thee Well Tour when the typical 68,500-seat venue was expanded to an 83,000-person capacity. Levi's Stadium has been tapped to host Super Bowl LX as well as several matches for the FIFA World Cup in 2026.
Levi's Stadium is located at 4900 Marie P. DeBartolo Way. Fans can get to the stadium either by car or by taking public transportation, as the light rail stops by the main entrance.
With a fanbase heavily rooted in Silicon Valley, it's no wonder that the 49ers incorporated plenty of technology when building Levi's Stadium. The venue offers world-class Wi-Fi service, with over 1,000 access points placed around the stadium, along with 2,500 HDTVs. No matter where you are, you'll always be connected and never miss a moment of the action.
Where Levi's Stadium truly sets itself apart is with its custom mobile app. Once downloaded, fans get access to a host of helpful features, such as turn-by-turn directions to your seat, search functions to explore the stadium, and real-time game stats. You can also use the app to order food directly to your seat, check the map to see which restroom has the shortest line, and watch a live broadcast of the game from anywhere inside the stadium.
Levi's Stadium leads the way in "green" building initiatives. Its location in Santa Clara was specifically chosen due to its close proximity to public transportation and many of the stadium's parts were constructed using recycled materials from demolished buildings. On top of this, the venue relies heavily on reclaimed water and houses enough solar panels to power every home game completely through solar energy. These environmentally friendly extra measures all added up to Levi's Stadium earning LEED Gold certification, a first for an NFL stadium.
Perhaps the most unique sustainability feature is the stadium's 27,000 square foot "Green Roof" that sits on top of the luxury suite tower. This lush garden of 16 native plants growing on the roof naturally lowers the AC and heating required for the suites throughout the year, saving on energy consumption, with the added bonus that the viewing terrace can be booked for memorable ceremonies and receptions.
What events are coming up at Levi's Stadium?
See upcoming events and buy tickets for Levi's Stadium right here on Ticketmaster.
Levi's Stadium History
Levi's Stadium became the replacement for the 49ers' Candlestick Park in 2008. Originally, the city of San Francisco wanted to keep the team's stadium in the Bay Area, but a plan could never be agreed upon because of cost, real estate availability and infighting between the 49ers and the city. Eventually, plans were agreed upon with various conditions being put in place that included public transport accessibility, city tax provisions and an environmental impact report. Now, Levi's Stadium is praised for being an architectural marvel, with beautiful sightlines, advanced amenities, public transport access and overall being environmentally friendly in comparison to other stadiums.
The first game played in Levi's Stadium was an MLS contest between the San Jose Earthquakes and the Seattle Sounders. The first regular season 49ers game in the stadium was a Sunday Night Football contest against the Chicago Bears. The game was played in front of a record breaking home crowd of 70,799.
Parking and Admission at Levi's Stadium
In 2014, 21,000 parking spots were approved by the Santa Clara government in an arrangement with a nearby Golf and Tennis Club. There are now a total of 31,600 parking spaces available for every home game at Levi's Stadium, either on premises or nearby. The 49ers recommend pre-paying for parking passes online. Gates open three and a half hours before scheduled kickoffs for 49ers games to allow fans to arrive early and tailgate. You can purchase parking passes the day of the game, but spaces are usually limited. Passes allow one vehicle per space and vehicles are limited to 17 feet in length per spot. Lots are designated by pass, color and lot number, and guests are encouraged to map out their assigned lot before arriving.
Levi's Stadium Capacity and Seating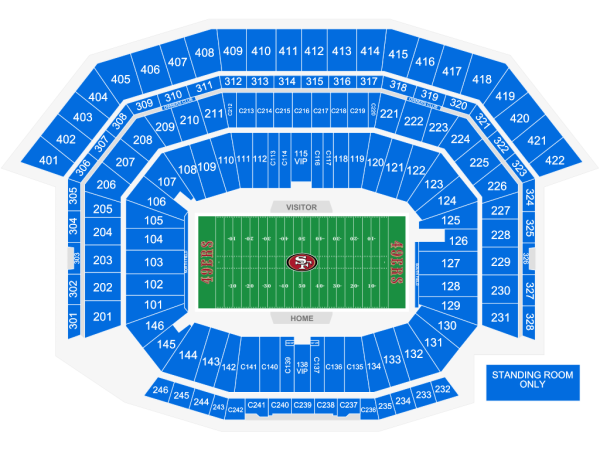 Levi's Stadium has a maximum capacity of 68,500 for 49ers games. The stadium layout allows for a larger capacity of 75,000 for special events, such as the Super Bowl and the FIFA World Cup. The record attendance came during the Grateful Dead Fare Thee Well Tour, when the stadium capacity was extended to 83,000 by allowing fans on the field surface.
Levi's Stadium does not feature closed bowls on all three levels. Instead the lower bowl is closed, and the middle and upper bowl have an opening on the south endzone. The 174 executive suites and many of the 9,000 club seats are on the west side of the stadium, located strategically in the shade.
What are the best seats at Levi's Stadium?
The best seats at Levi's Stadium vary depending on the event and personal preferences. Check out Levi's Stadium seating charts and find your favorite seat today.
Food & Beverage Options at Levi's Stadium
View this post on Instagram

Concessions at Levi's Stadium are available at designated locations and moving carts on both levels. Fans can get brats, chicken tenders, pizza, Churwaffles, chili, waffles, nachos, ribs, pulled pork and more. If you're strictly looking for alcohol, you can purchase beer, wine, spirits and mixed drinks at both levels as well. Levi's Stadium does not allow outside alcohol into the premises. Guests are limited to two alcoholic beverages per purchase and alcohol sales stop at the beginning of the third quarter.
Things to Do at Levi's Stadium
Beyond the normal concession offerings, Levi's Stadium houses its own high-end steakhouse, Bourbon Stake, along with Bourbon Pub, a more casual dining experience famous for its nachos and soft pretzels. There's also Michael Mina's Tailgate, a members-only club exclusively for Levi's Stadium season ticket holders that offers an fun spin on the traditional football barbecue.
If you have time, check out the 
49ers Museum
. The 20,000 square foot space features 11 exhibits that cover the team's past and recent successes via curated artifacts, a signature film chronicling the franchise's heritage, and an engaging interactive augmented reality fan experience. There's also the Levi's Stadium 
Art Collection
, a series of local artist galleries that celebrate the team's storied history and rich culture of San Francisco.