Step Inside: FedExField – Home of the Washington Commanders
View this post on Instagram
Stadium History | Parking & Admission | Seating & Capacity | Food & Concessions
Venue Quick Facts
Venue Name
FedExField
Location
North Englewood, MD
Address
1600 Fedex Way, North Englewood, MD 20785
Phone #

(301) 276-6000

Capacity
62,000
Opened
September 14, 1997
Architect
Populous
Website
https://www.commanders.com/stadium/
FedExField, the home stadium for the NFL's Washington Commanders, is located in the suburb of Landover, Maryland, about five miles east of Washington, D.C.
Opened in 1997 as Jack Kent Cooke Stadium, named after the team's late owner, FedExField boasted the highest seating capacity across the NFL from 2004 to 2010 and led the league in attendance every year from 2002 to 2008. In 2007, the stadium reached record capacity at 90,910 fans in a matchup with the Commanders' long time NFC East rivals, the Dallas Cowboys. Seating has since been reduced to 67,617 after several renovations.
The stadium honors NFL history with each level bearing the name of a significant figure from the team or league. The lower bowl has been dubbed the Bobby Mitchell Level after Washington's Hall of Fame running back, the Club Level shares its name with three-time Super Bowl-winning head coach Joe Gibbs and the Upper Level honors former NFL commissioner Pete Rozelle.
Aside from NFL games, FedExField has been used to host the annual Prince George's Classic college football game, as well as numerous soccer exhibitions. As a performance venue, the facility has seen U2, Coldplay, Taylor Swift, and more make multiple appearances. In recent years, The Weeknd, Beyoncé, and Ed Sheeran have brought their headlining tours to the stadium.
FedExField is located at 1600 Fedex Way.
What events are coming up at FedExField?
See upcoming events and buy tickets for FedExField right here on Ticketmaster.
FedExField History
Built with a capacity of more than 80,000, FedExField was the largest stadium in the NFL when it debuted in 1997. This venue was renamed FedExField in 1999, the same year it underwent its first renovation. That renovation included 3,000 more stadium seats, as well as a new Owner's Club suite level. The stadium underwent a further expansion before the 2004 season, which included more luxury suites, an expanded capacity of the stadium to 91,000 and new 100-foot-long HD video scoreboards. FedExField then underwent a unique renovation in 2010 that removed more than 6,000 seats to create a party deck on both sides of the end zones. Another 4,000 seats were removed in 2011, further reducing the capacity to 79,000. In 2015 the top eight rows of the upper deck were removed. The capacity for FedExField is now approximately 62,000.
In September of 2023, the team announced that the stadium will undergo a $40 million renovation to install new ticket scanners, add multiple suites and updated Commanders signage around FedExField.
FedExField has also been the site of a number of world-class sports and entertainment events. Aside from international soccer and rugby games, the stadium has hosted the annual Prince George's Classic college football games, as well as concerts by Taylor Swift, Beyoncé, The Rolling Stones, Guns N' Roses, Metallica, Linkin Park, Bruce Springsteen, Coldplay and many more.
Parking and Admission at FedExField
FedExField features thousands of parking spots surrounding the stadium. Parking prices at FedExField vary from event to event. Tailgating is permitted during Washington Commanders games and is available in the D-Purple, F-Purple, G-Purple, Orange, Green, Gray, Platinum, Limo and Bus/RV parking lots four hours before kickoff. The Safeway RedZone Lot is also available for tailgating and opens five hours before kickoff.
FedExField Bag Policy
FedExField follows the NFL's Clear Bag Policy, meaning the only bags allowed in the stadium are clear plastic, vinyl or PVC bags that do not exceed 12″ x 6″ x 12″. Fans are allowed to bring in a one-gallon clear plastic freezer bag and a small clutch bag that does not exceed 4.5″ x 6.5″. Exceptions will be made for medically necessary items after proper inspection at a specific bag check gate. Other prohibited items at FedExField include, but are not limited to, non-certified guide animals, audio and video recording devices (GoPros, selfie sticks), cameras with detachable lenses 5″or greater, containers, folding chairs, outside food or beverages, LED lights, weapons, laser pointers, battery powered clothing, seat cushions with zippers or pockets and Native American inspired ceremonial headdresses or face paint of any kind.
FedExField Capacity & Seating Options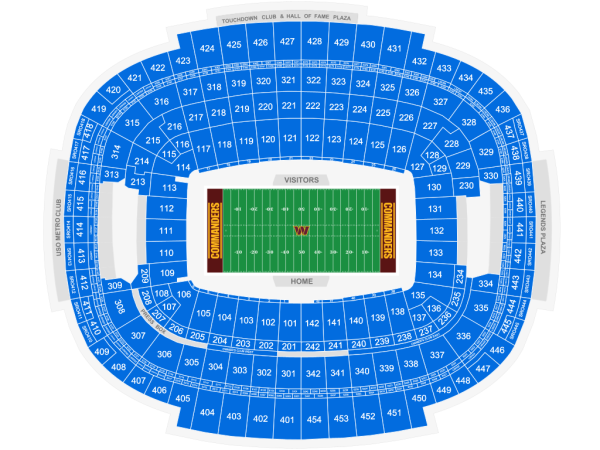 New construction to FedExField has lowered the current capacity of the stadium to approximately 62,000. Along with thousands of general seating options, FedExField has a wide range of suites and clubs. All suites include access to preferred parking, private entrances, elevator access, a dedicated suite attendant, in-suite catering options, a private restroom, HDTVs and protection from the weather. Suite options at FedExField include the Owner's Club Suites and Executive Suites, which can hold up to 40 guests and offer high-end views and service during Washington Commanders games and other events. Loge Suites can host 18-50 guests and offer an open-air suite experience and complimentary catering. Other premium seating options include Club Seats, Dream Seats and the Merrill Touchdown Club. These seating options offer benefits such as access to private clubs throughout the stadium, close-up views of the game and year-round exclusive events.
What are the best seats at FedExField?
The best seats at FedExField vary depending on the event and personal preferences. Check out FedExField seating charts and find your favorite seat today.
Food & Beverage Options at FedExField
FedExField offers a number of seafood and crab cake options to highlight local cuisine, as well as many other fan-favorite concessions throughout the stadium. Notable food options include Johnny Rockets, Ellaray's Café, Fireman's Café, Hoffman's, Taffer's Tavern, DMV Crab, Fan Fare Grill, Kitchen Cray, Chicken Guy and Casa De Avila tacos. Drink options are also located throughout FedExField and include East Endzone Bar, Kickoff Cocktails, West Endzone Bar, Crown Royal Bar, Crown Royal 50-Yard Bar, Smirnoff Bar, EA Sports Lounge and FanDuel Bar. Concessions for non-alcoholic drinks are available throughout the stadium as well.
You Might Like
Step inside Acrisure Stadium, home of the Pittsburgh Steelers, and learn more about this PGH staple for sports and entertainment.
Step inside Gillette Stadium, home of the New England Patriots & Revolution, and learn more about this Massachusetts staple for sports and entertainment.
Explore the fierce spirit of the Monsters of the Midway as they rally behind their team. From iconic players to memorable moments, discover the enduring prid...