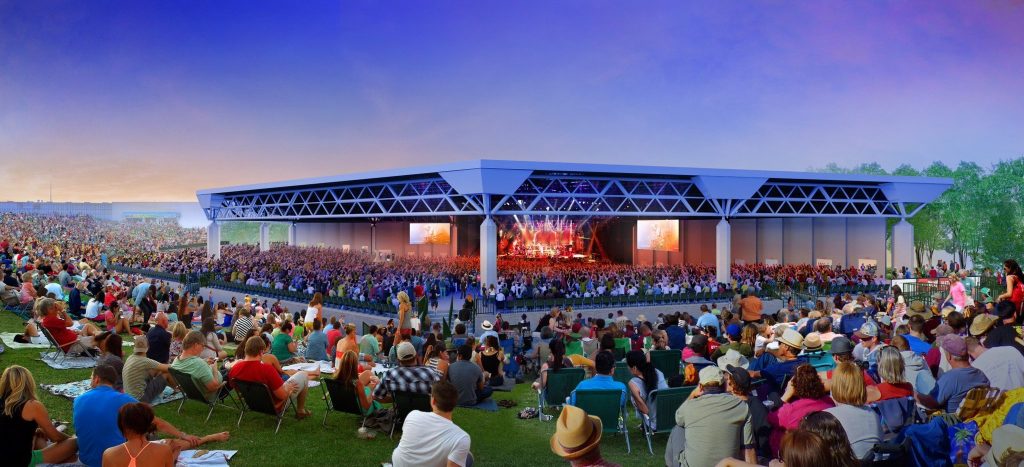 It's true that most everything is bigger in Texas. And the Fair Park in Dallas offers plenty of evidence — each year it's home to a legendary state fair that lasts a month in the fall, pulls in a couple million people, and features a full-on football game. But the Fair Park is also home to the Dos Equis Pavilion. Sure, with space to hold 20,000 fans and a stage that has been graced by just about every classic rock great ever, the amphitheater is literally huge. But under the night sky it can feel pretty intimate too. Here's everything you need to know about Dos Equis Pavilion.
1. It's an oasis of grass and music.
Though it's only 3.5 miles east of downtown Dallas, the pavilion feels like its own little world. With ample lawn space, trees behind the stage, and the big Texas sky above this sizeable slice of Fair Park, you'll forget you're in the ninth biggest metropolis in the U.S.
2. It opened with a bang… followed by lots of shred.
When the venue opened its doors for the first time on a late July weekend in 1988, Rod Stewart christened it with his now-classic anthem — "Forever Young" had only been out for 20 days. The very next night, Aerosmith and Guns N' Roses blew off the proverbial roof (this is an amphitheater, after all) in a hard rock double-bill for the ages.
3. It's got deep beverage-branded history.
The original name was the Coca-Cola Starplex Amphitheatre, and the iconic soda brand is, to date, the venue's longest naming-rights holder — from 1988 through 1998. The pavilion later graduated from soft to hard drinks when it became the Smirnoff Music Centre (2000 to 2008). Since 2017 it's been Dos Equis Pavilion — a happy middle ground, perhaps. 
4. It's the place for festivals.
The pavilion has hosted more than 6 million fans over the years, many of whom flocked here for the festivals. Back when Lollapalooza was touring, the alt-rock festival was a regular. And there were countless others: Lilith Fair, Ozzfest, Warped, jam-band-based H.O.R.D.E., even the local rock station's Edgefest.
5. Parking is ample and free.
Public transit options are minimal, but the venue is surrounded by lots of parking, which is available to concertgoers at no extra cost. In grand Texas tradition, tailgating is often allowed. Also, there's RV parking in Lot 11, for $60 (for up to four spaces). Traffic can back up post-show, so ridesharing isn't a bad option.
6. The lawn is awesome.
While there's plenty of reason to sit up front (sections 100, 101, and 102 are technically the best in the house), many prefer the lawn where it's spacious, cool, and just plain closer to nature. All you need to bring is a blanket—lawn chair rentals are available.
7. Cabanas are cool too.
A lesser-known seating option is the Lonestar Cabana, which is on the lawn but shaded, and equipped with an exclusive bar, private restrooms, and lounge seating.
8. It's family-friendly.
Kids under 2 are free, and the grass offers plenty of space for a proper family picnic.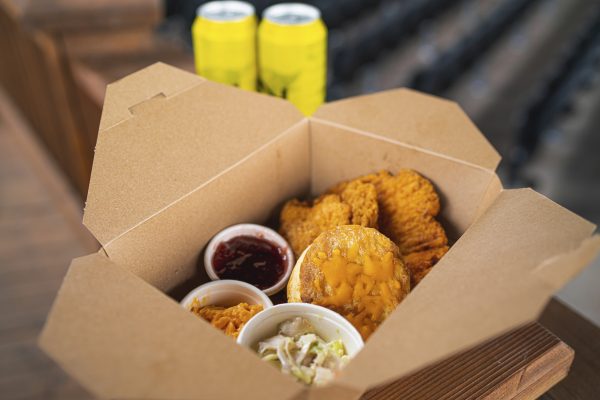 9. Tasty food.
The pavilion's next-door neighbor is the State Fair, and among the annual event's many, many attractions is the Fletcher's Corny Dog. This beloved stick food and its fried friend the funnel cake are available at concessions in the East Plaza. For more Texas fare, consider comfort-food staple ArtBird, or BBQ from Woodshed Smokehouse. Or grab one of Questlove's Cheesesteak™, named for the GRAMMY Award-winning drummer's innovative spin on the Philly classic made with Impossible™ plant-based meat. 
10. There's local beer on tap.
Another reason to consider ridesharing. While the Dos Equis flows like wine here (and oh yes, they do have wine as well), thirsty revelers can also find craft beer from local breweries like Four Corners, Rahr & Sons, Revolver, Deep Ellum, Karbach, and Real Ale. Just keep an eye on the time — the clocks in concessions indicate when last call is coming.
11. But if you want something stronger…
Upgrade to VIP Club in the Live Nation app for access to the Live Nation Lounge, where you can indulge in a cocktail program created by celebrated bartender Sean Kenyon. Pre-show options often include happy-hour specials, free grub, and games.  
12. For extra credit, hit Off the Record.
A mere two miles away in the Deep Ellum arts district, you'll find a must-go for any serious music lover. Off the Record, at 2716 Elm Street, is a vinyl shop and bar where you can find more than 20 taps that favor Texan brew — and better yet, over 2,000 LPs to peruse.
—Chris Martins