Step Inside: Citizens Bank Park – Home of the Philadelphia Phillies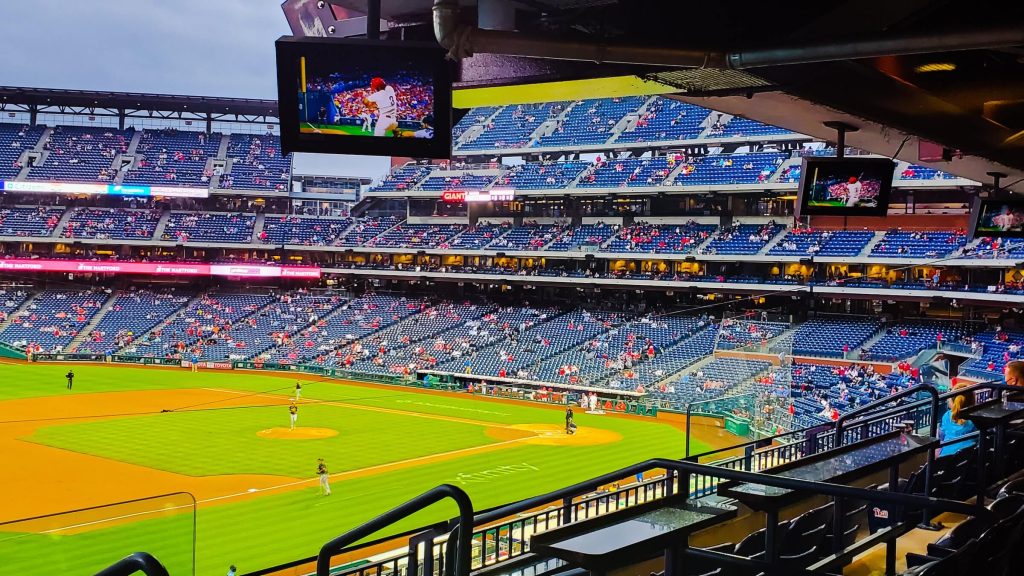 Stadium History | Parking & Admission | Seating & Capacity | Food & Concessions
Citizens Bank Park is located in Philadelphia, Pennsylvania, in the south end of the city. Opened in 2004, Citizens Bank Park is the home of the Philadelphia Phillies of Major League Baseball. The Park is located in the city's sports complex, which also includes Lincoln Financial Field, the Wells Fargo Center and Xfinity Live!
Citizens Bank Park was built to replace Veterans Stadium, a multisport stadium that was the previous home of the Phillies from 1971 to 2003. Prior to Veterans Stadium, the Phillies played at Shibe Park, later known as Connie Mack Stadium.
What events are coming up at Citizens Bank Park?
See upcoming events and buy tickets for Citizens Bank Park right here on Ticketmaster.
Citizens Bank Park History
Requests for a new ballpark in Philadelphia began in 1999. The Phillies and Eagles made a request to replace Veterans Stadium with separate football and baseball stadiums. This desire was also shared by the Pittsburgh Pirates and Pittsburgh Steelers, who both played at Three Rivers Stadium in Pittsburgh.
Veterans Park had become a dated stadium, and concerns about the park's safety mounted after an incident where eight cadets were injured when a section of railing collapsed during the 1998 Army–Navy game. The Phillies originally had plans to build a ballpark downtown similar to Baltimore, Cincinnati and San Francisco. A site was announced near Chinatown, but after protests by neighboring residents, the Phillies agreed on a site by Lincoln Financial Field.
Citizens Bank Park opened in April 2004 with the first game taking place on April 12, 2004, a 4–1 loss to the Cincinnati Reds. The first Phillies win was on April 15, 2004, also against the Reds.
As a franchise with a rich history, the Phillies have a memorial wall called the Phillies Wall of Fame, located behind center field. This wall highlights some of the important teams and players in franchise history. The Wall of Fame is part of Ashburn Alley, which is named for former Phillie Richie Ashburn who spent 12 seasons (1948 to 1959) as a player, and was a broadcaster for the Phillies from 1963 until 1997. Ashburn Alley also includes other features like restaurants, open bullpens and the All-Star Walk.
Citizens Bank Park has hosted World Series games in three different seasons — 2008, 2009 and 2022. The Phillies won just one of those, the 2008 World Series.
As the home of the Phillies, Citizens Bank Park also hosts plenty of non-baseball events, including the 2012 NHL® Winter Classic and concerts. The first concert played at Citizens Bank Park was a two-night performance by Jimmy Buffett on August 25 and 27, 2005. Other artists who have played at the stadium include Bon Jovi, Billy Joel, Bruce Springsteen, and Paul McCartney.
Parking and Admission at Citizens Bank Park
When planning to attend a game at Citizens Bank Park, you will want to account for travel. If you plan to travel by car, there are plenty of parking options.  Car parking is $25, and oversized vehicle parking is $50. All parking is cashless, and Citizens Bank Park recommends pre-purchasing parking before visiting the venue. Lots have varying opening times. Please confirm parking lot opening times before purchasing.
Public transit options for Citizens Bank Park include the SEPTA Broad Street Line. NRG Station is the station located nearest to the stadium, and trains run every 8 to 10 minutes. One-way fare on the Broad Street Line is $2.50.
Citizens Bank Park rules are in place to provide a safe and enjoyable experience for all guests at the stadium. Prohibited items are in accordance with MLB policy. Gates open 90 minutes before first pitch.
Citizens Bank Park policy requires that all fans enter the stadium by walking through metal detectors. If the device detects something, you will be required to check your pockets before additional screening with a handheld metal detector.
In accordance with MLB policy, Citizens Bank Park recommends fans do not bring any bags. According to those rules, the only bags permitted inside Citizens Bank Park are bags that do not exceed 16″x16″x8″. Possible exceptions include:
Diaper bags
Single-compartment drawstring bags
Other bags used for medical reasons
All items are subject to search and all other bags will be denied.
Citizens Bank Park Capacity & Seating Options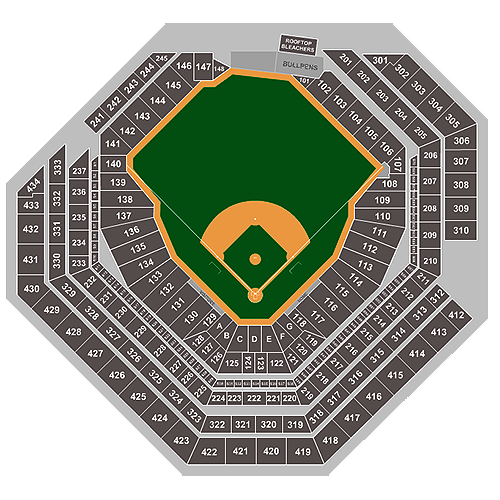 When you visit Citizens Bank Park, you have plenty of seating options to enjoy the game. Citizens Bank Park capacity is 42,792. When the stadium originally opened in 2004, capacity was 43,500. The attendance record for baseball is 46,575 during the 2011 NLDS, and 46,967 for the 2012 NHL Winter Classic®.
Other Citizens Bank Park seating options include club seats, suites and VIP seating. Citizens Bank Park offers premium seating in The Diamond Club, which is located behind home plate, and holds 1,164 seats, and the Hall of Fame Club, which is located between sections 212 and 232 and seats 6,600.
Feel like a VIP at Citizens Bank Park with either of these two premium seating opportunities as well as party suites and club decks. For more information about hospitality options, contact the Phillies at 215-463-5000.
What are the best seats at Citizens Bank Park?
The best seats at Citizens Bank Park vary depending on the event and personal preferences. Check out Citizens Bank Park seating charts and find your favorite seat today.
Food & Beverage Options at Citizens Bank Park
When you come to a game at Citizens Bank Park, come hungry! There are plenty of food options located throughout the stadium, so if it's a hot dog and burger, or a full BBQ platter, you have plenty to choose from.
Some of the most popular concession stands include Boardwalk Eats for ballpark icons burgers and fries, Bull's BBQ for Bull's famous pulled pork, Campo's cheesesteaks, Chickie's & Pete's Crabfries, City Steak for cheesesteaks and chicken fingers, Old City Creamery for a sweet treat, and Manco & Manco Pizza for a local favorite.
For guests heading to the game with dietary restrictions, there are vegetarian, vegan and gluten-free food options throughout the venue.