Step Inside: Caesars Superdome – Home of the New Orleans Saints
View this post on Instagram
Stadium History | Parking & Admission | Seating & Capacity | Food & Concessions
Venue Quick Facts
Venue Name
Caesars Superdome
Location
New Orleans, LA
Address
1500 Sugar Bowl Dr, New Orleans, LA 70112
Phone #

(800) 756-7074

Capacity
74,295
Opened
August 3, 1975
Architect
Nathaniel C. Curtis
Website
https://www.caesarssuperdome.com/
Caesars Superdome, home of the New Orleans Saints, has become not only a staple attraction for the Crescent City, but an indelible landmark in modern American history. Located in NOLA's Central Business District, the 76,468-seat facility forms a consolidated sports and entertainment complex with the adjacent Smoothie King Center, home to the NBA's New Orleans Pelicans.
Opening in 1975 as the first home turf belonging to the NFL's expansion team the New Orleans Saints, the Caesars Superdome stands as the fifth-oldest stadium still in use within the league. Along with hosting every home game in the Saints' enchanting 2009 playoff run on the way to their first Super Bowl victory, the Superdome has hosted seven Super Bowls, most recently in 2013, with an eighth scheduled for 2025.
Caesars Superdome also offers year-round entertainment across all sports. It has hosted six NCAA men's basketball Final Four championships and serves as the annual site for college football games like the Sugar Bowl, the New Orleans Bowl and the Bayou Classic. The Essence Music Festival has taken place at the Superdome nearly every year since its inception in 1995.
The address for Caesars Superdome is 1500 Sugar Bowl Drive, named for the traditional New Year's Day college football game that has been played in New Orleans every year since 1935.
What events are coming up at Caesars Superdome?
See upcoming events and buy tickets for Caesars Superdome right here on Ticketmaster.
Caesars Superdome History
Opening as the Louisiana Superdome in 1975, Caesars Superdome has been the historical home of the NFL's New Orleans Saints ever since. This massive venue covers 13 acres of land and is 27 stories tall. Caesars Superdome underwent a $22.8 million renovation in 1996, which added a new entrance lobby, upgraded bathrooms, an extra concourse for the upper-level seats, extra accommodations for guests with disabilities, and new security and safety measures. Caesars Superdome was used as a shelter during Hurricane Katrina in 2005, harboring more than 30,000 residents of New Orleans. The stadium sustained more than $185 million worth of damage during Hurricane Katrina, but was quickly rebuilt after the disaster, maintaining the original multi-colored seats and three-leveled seating plan, while adding extra video boards throughout the stadium. In 2009, a $210 million renovation to Caesars Superdome took place. It expanded plaza level concourses throughout the stadium, increased the seating capacity, added concession stands, upgraded restaurants, added 300-level suites and a club lounge. Caesars Superdome then began another multi-phase $450 million renovation that began in 2019. This renovation, still ongoing, will include expanding the concourses, new entry gates, adding field-level suites, enhancing food and beverage options, more efficient technology and many more upgrades that will improve the overall guest experience.
Caesars Superdome was called the Louisiana Superdome from 1975–2011. The stadium was renamed the Mercedes-Benz Superdome in 2011 and was then renamed the Caesars Superdome in 2021. Throughout the almost 50 years of service, the Caesar Superdome has seen thousands of world-renowned events. Caesars Superdome has hosted seven Super Bowls (1978, 1981, 1986, 1990, 1997, 2002, 2013), multiple Men's NCAA Final Four championship games, the annual Sugar Bowl and New Orleans Bowl and a College Football Playoff National Championship game. Caesars Superdome has also hosted world-class concerts by many artists, including The Rolling Stones, David Bowie, KISS, Prince, Paul McCartney, U2, Britney Spears, Alicia Keys, Beyoncé, Taylor Swift and many more.
Parking and Admission at Caesars Superdome
Caesars Superdome makes parking easy for all its guests. There are seven parking garages and two surface lots surrounding Caesars Superdome. The parking garages are designated as #1, #1A, #2, #2A, #5 and #6 and the surface lots are designated as Lot 3 and Lot 4. Parking prices vary depending on the event and parking garages only accept credit and debit cards.
Caesars Superdome Bag Policy
Caesars Superdome follows the NFL's Clear Bag Policy, meaning the only bags allowed are clear, plastic, vinyl or PVC bags that are no larger than 12″ x 6″ x 12″. Small clutch bags no larger than 4.5″ x 6.5″ are also allowed. Clear backpacks and clear fanny packs are not allowed in Caesars Superdome and diaper bags must adhere to the clear bag policy. Other prohibited items include, but are not limited to, large banners, bats, bottles, cans, containers, fireworks, glass, glitter, tablets, laser pointers, mace, outside food and drink, selfie sticks, whistles, drones, video and audio recording devices, including GoPros, and projectiles.
Caesars Superdome Capacity & Seating Options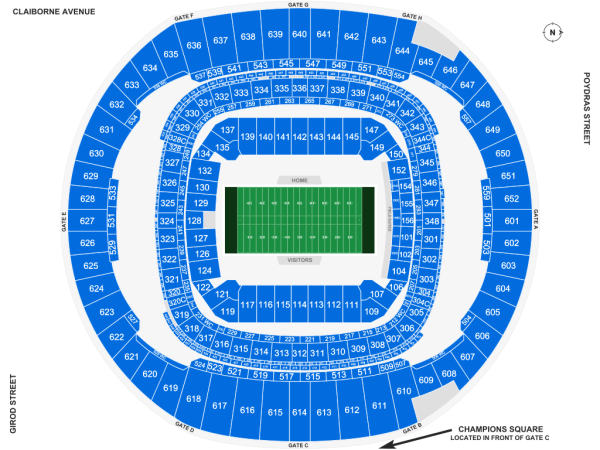 For NFL games, Caesar Superdome has a seating capacity of 74,295. Along with thousands of general seating options, Caesars Superdome offers VIP seating options. There are field level suites, as well as suites on the 300 and 400 levels of the stadium. All suites offer the finest amenities and fantastic sightlines for NFL games and all other events. There are 165 suites available in Caesars Superdome That includes 64 suites on the 400 level with a range of 22-40 seats in the stadium bowl and 89 suites on the 300 Level with 16-20 seats in the stadium bowl. There are also 12 field level suites that are located in the North end zone and have 14-24 seats.
Caesars Superdome has a number of club options throughout the stadium. The Mercedes-Benz End Zone Club has seats in rows 1-6 on the 100 level and offers all-inclusive beer, wine and snacks while offering a dedicated game day entrance. The Caesars Rewards Legacy Club & Crown Royal Signature Club offers seats between the 30-yard lines on the 100 level, lounge access in two locations, upscale dining and a full-service bar. The Loge Clubs have seats on the sidelines between the end zones on the 300 level, four separate club locations throughout the stadium as well as upscaling dining, a full-service bar and panoramic views of the city.
What are the best seats at Caesars Superdome?
The best seats at Caesars Superdome vary depending on the event and personal preferences. Check out Caesars Superdome seating charts and find your favorite seat today.
Food & Beverage Options at Caesars Superdome
View this post on Instagram

Caesars Superdome offers local cuisines and fan-favorite food and drink options throughout the stadium. Notable options include Kings Table, Parish Grill, Little Caesars Pizza, 504 Eats, Bayou Kitchen & Market, Mercado Tortillas Stand, Beau Coup BBQ, Geaux Nuts N' New Orleans and St. Jacks BBQ. Bars are also located throughout the stadium with a full range of alcoholic and non-alcoholic options.
You Might Like
Step inside Acrisure Stadium, home of the Pittsburgh Steelers, and learn more about this PGH staple for sports and entertainment.
Step inside Gillette Stadium, home of the New England Patriots & Revolution, and learn more about this Massachusetts staple for sports and entertainment.
Explore the fierce spirit of the Monsters of the Midway as they rally behind their team. From iconic players to memorable moments, discover the enduring prid...