Step Inside: BB&T Pavilion — Camden, NJ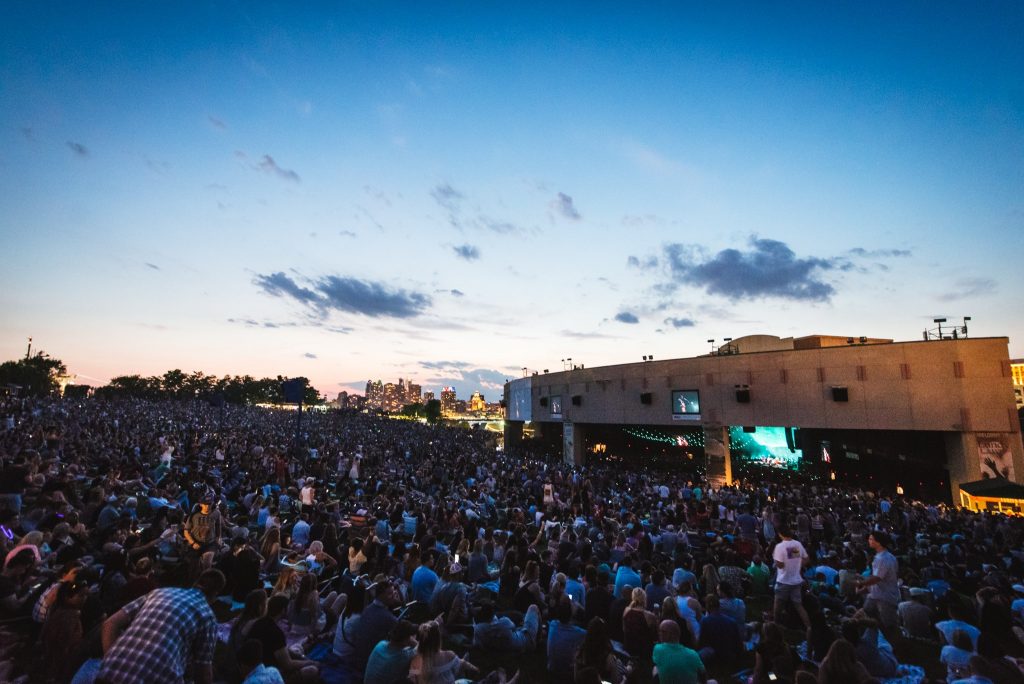 Located on eight acres amid New Jersey's picturesque Camden Waterfront entertainment district, BB&T Pavilion's 25,488-capacity outdoor amphitheater offers crystal-clear sound, convenient LED lawn monitors, and stunning views of the Philadelphia skyline, the Delaware River, and the Benjamin Franklin Bridge. In the fall and winter months, the year-round facility transforms into three fully enclosed, climate-controlled, flexible-capacity theaters for up to 7,000 concertgoers, Broadway aficionados, and fans of family entertainment.
Drawing most of its audience from the city across the river, the pavilion is easily accessible from Philadelphia's waterfront via the stress-free RiverLink Ferry, which runs from early May through late September. So popular a destination is BB&T that, with 505,287 tickets sold, it ranked second in leading concert trade magazine Pollstar's 2018 list of the world's top 100 amphitheaters. It was also named Billboard magazine's top amphitheater in the country for 2016.
From heavy metal pioneers to country legends, BB&T Pavilion has a full slate of pulse-pounding shows lined up over every season. Here's what you should know about the venue.
1. Its waterfront location can't be beat.
Positioned on the Camden Waterfront, the BB&T Pavilion sits just across the Delaware River from downtown Philadelphia. Take in the incredible Philly skyline as you watch acts like Judas Priest, Ozzy Osbourne and Van Morrison do their thing on stage.
2. Its original name is a dose of nostalgia.
Do you get misty-eyed when thinking of the days of VCRs, VHS tapes and "Be Kind, Rewind"? Then get this: Back when BB&T Pavilion first opened back in 1995, none other than Blockbuster snapped up its naming rights (with a little help from Sony Music Entertainment).
3. BB&T Pavilion holds more than 25,000 people.
Between the lawn, pit, boxes, private suites and other pavilion seats, BB&T can accommodate plenty of music fans during the warmer months. Unlike other outdoor arenas, however, it doesn't close up shop when the thermostat starts to dip. In the fall and winter, BB&T converts to a completely enclosed concert space with a max capacity of 7,000.
4. It's a second home to Parrotheads.
No one has played BB&T Pavilion more than Jimmy Buffett. Bubba's breezy island tunes have entertained his fans since the mid-'90s, and he's played the venue more than a dozen times through the years. With all of its name changes, you might as well just call the place Margaritaville.
5. A who's who of '90s acts have come through BB&T.
As the premiere Philadelphia-area concert venue – both in the 1990s and today – it's no wonder that BB&T has hosted some of the biggest names in '90s alt-rock. Want to see The Wallflowers support Counting Crows? You could have on July 26, 1997.
Do the names Everclear, Offspring and Matchbox 20 ring a bell? They all played BB&T Pavilion at the height of their popularity.
6. It's battleship-adjacent.
You've got your lawn seating, waterfront location and views of the Philadelphia skyline – what more could you want from a concert venue? How about a battleship?
BB&T Pavilion is located right next to the Battleship New Jersey Museum and Memorial, which houses and preserves the USS New Jersey. From its early deployment during World War II to its decommission in 1991, the New Jersey is considered the most decorated battleship in U.S. naval history, earning more battle stars than any other Iowa-class ship (It was not, however, the battleship from Under Siege, if that's what you were thinking. That distinction goes to the USS Missouri).
7. BB&T is a foodie and drinker's paradise.
BB&T Pavilion's beer selection goes well beyond the usual suspects of domestic drafts. It has a whole assortment of craft and premium craft draughts on hand. Just because you're at a concert doesn't mean you have to sacrifice on beer quality. As for food… just look at that!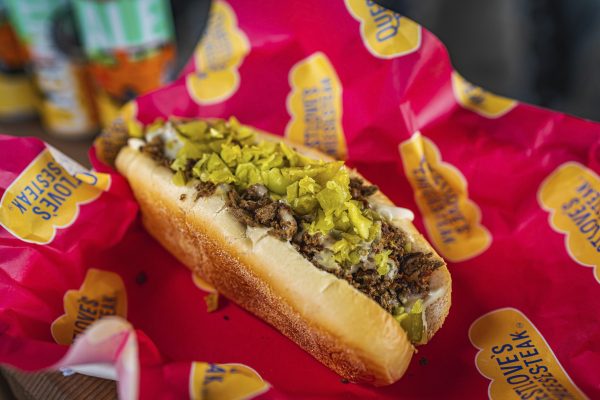 Unlike other venues that provide pretty meager bites to nosh on during a show, BB&T has really outdone itself with burgers, chicken fingers and hot dogs. For more local fare, check out the Chickie's & Pete's stand and try out their famous crab fries. Grab one of Questlove's Cheesesteak™, named for the GRAMMY Award-winning drummer's innovative spin on the Philly classic made with Impossible™ plant-based meat. Or how about actor Danny Trejo's famous Los Angeles Trejo's Tacos, or Italian dishes from Top Chef's Fabio Viviani? Or hand-crafted gourmet hotdogs and sausages from Dog Haus or fresh pizza? And don't miss Art Bird's fried chicken, a favorite of Lady Gaga and Michelle Obama. The cocktails are top-notch, too. Gulp down refreshing drinks from our brand new signature cocktail program, curated by world-class mixologist and 2014 American Bartender of the Year, Sean Kenyon.
8. Take the bridge if you're coming from Philly.
For the most part, driving is the easiest and best way to get to BB&T, but that's especially true if you're staying in Philadelphia. Cross over the Walt Whitman Bridge and look for independent lots near the venue if you want to save some cash on parking.
9. Or consider the ferry.
Philly residents can also hop on the ferry and get dropped off at the Camden dock near the venue. Definitely keep an eye on the route schedule and clock if you go this route. You don't want to be left stranded in Camden.
10. Jerseyites should take the train.
Sometimes it pays to live in New Jersey. If you're coming from the east side of the Delaware, the River Line train will take you directly to BB&T Pavilion – not to mention save you a bundle of money on parking passes and ferry tickets.
11. Easily take advantage of the city's special sights.
You know all about the Liberty Bell, Independence Hall and cheesesteak sandwiches. If you want a true Philly experience that's off the beaten, touristy path, check out Brigantessa in South Philly. Gorge on Neapolitan-style pizzas and imbibe bottomless mimosas or Bloody Mary's (whatever suits your fancy).
BB&T Pavilion is one of the best music venues in the Philadelphia region, and without question the best open-air venue in the city if you're thinking about catching a show near the City of Brotherly Love.