Step Inside: Bank of America Stadium – Home of the Carolina Panthers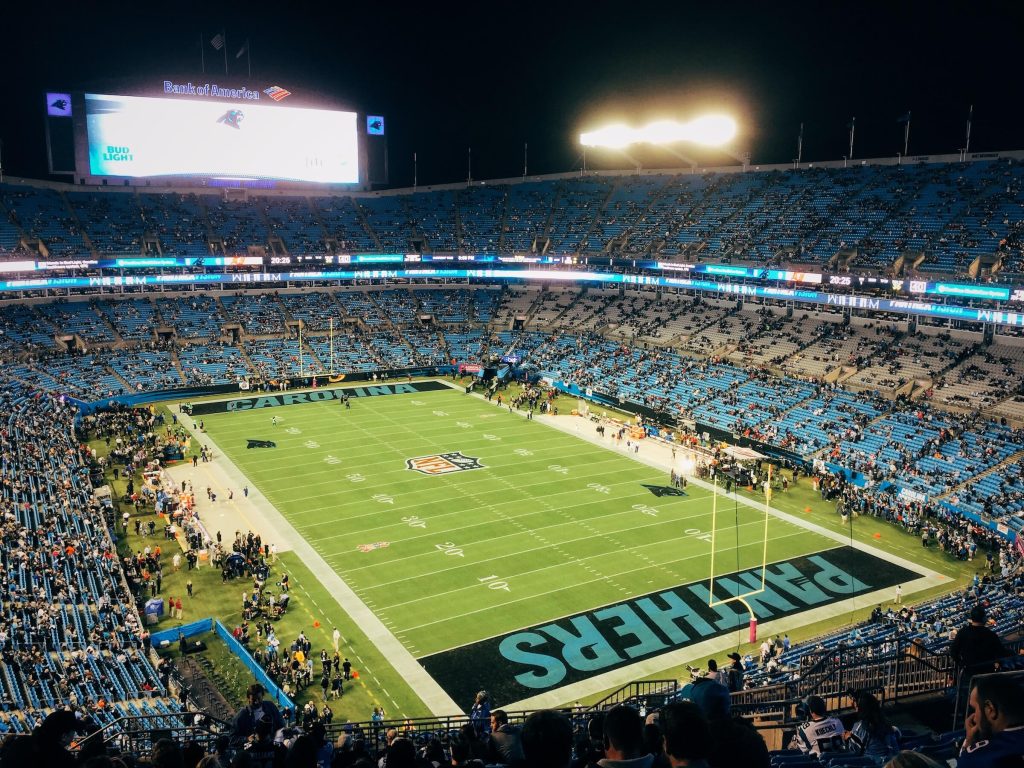 Stadium History | Parking & Admission | Seating & Capacity | Food & Concessions
Venue Quick Facts
Venue Name
Bank of America Stadium
Location
Charlotte, NC
Address
800 S Mint St, Charlotte, NC 28202
Phone #

(704) 358-7000

Capacity
75,525
Opened
September 14, 1996
Architect
Populous
Website
https://www.panthers.com/stadium/
Bank of America Stadium is located in uptown Charlotte, North Carolina in the heart of the city center. The 75,525-seat, open-air stadium was designed specifically for football and is home to the NFL's Carolina Panthers.
Known for the massive bronze panther statues that flank the stadium entrances, Bank of America Stadium also has the distinction of hosting the largest crowd ever to attend a football game on September 9, 2018 when 74,532 fans attended a game in which the Panthers defeated the Dallas Cowboys. Also worth noting is that the stadium's panther statues are the largest statues ever commissioned in the United States.
Considered by many to be a classic American stadium with a traditional bowl design, the architecture of Bank of America Stadium has been compared to the Los Angeles Memorial Coliseum and Soldier Field in Chicago. The façade features distinctive large archways and domed towers.
As a performance venue, Bank of America Stadium has seen the Rolling Stones, Beyoncé, Garth Brooks and many more grace its stage.
The address of Bank of America Stadium is 800 South Mint Street.
What events are coming up at Bank of America Stadium?
See upcoming events and buy tickets for Bank of America Stadium right here on Ticketmaster.
Bank of America Stadium History
Opening in 1996 as Ericsson Stadium, Bank of America Stadium took its current name when the Charlotte-based financial services company entered into a 20-year licensing agreement in 2004. Since 1996, the stadium has hosted every Panthers home game as well as seven playoff games. It's also home to Charlotte FC of Major League Soccer.
On August 3, 1996, the stadium hosted its first professional football game as the Panthers took on the Chicago Bears during the preseason. For the first few seasons, the stadium was considered so far ahead of its time it didn't undergo any significant changes until the 2013–2014 season.
Since then, the stadium has received several major renovations to keep it up-to-date and comfortable for sports fans, offering amenities such as updated and enlarged video boards, buffet-style drink stations, full-body scanners at the entrance to get fans through the gates faster and safer, and more.
Parking and Admission at Bank of America Stadium
Fans who have season tickets with assigned parking will receive information in the mail along with their season tickets. Other stadium guests will be responsible for making their own parking arrangements. There are more than 30,000 parking spaces available within a 10-15 minute walk of the stadium that are operated privately on a game-by-game basis. Parking can be reserved in advance here.
When entering the stadium, be sure that you comply with their bag policy to avoid any inconveniences. Clear plastic, vinyl or PVC bags no larger than 12″ x 6″ x 12″ are permitted. You can also bring in a small clutch bag no larger than 4.5″ x 6.5″ and a one-gallon freezer bag.
Backpacks, camera bags, fanny packs and regular purses are prohibited. Also note that strollers, umbrellas, laptops and outside alcoholic beverages of any kind are not permitted inside the stadium. Guests are able to bring in two sealed 16.9 oz bottles of water per person.
Bank of America Stadium Capacity & Seating Options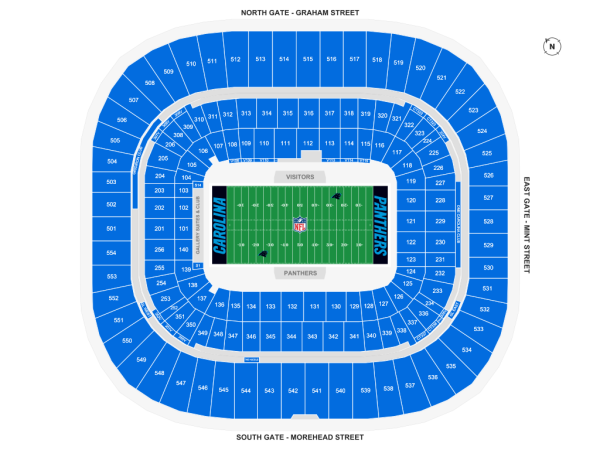 With a capacity of 75,525, there are plenty of excellent seating options, all elevated and designed for optimal viewing angles. Club seats are located on both sidelines of the playing field, offering terrific views and plenty of amenities. The concourse is enclosed and climate-controlled, with eight fully furnished lounge areas, exclusive dining options and full-service bars.
There are also 151 luxury suites on the 300 and 400 club levels. Options here range from 12- to 44-person suites. These luxury suites are perfect for hosting and entertaining groups and include three rows of viewing seats, lounge space and restrooms. Each suite also features individual sound systems.
What are the best seats at Bank of America Stadium?
The best seats at Bank of America Stadium vary depending on the event and personal preferences. Check out Bank of America Stadium seating charts and find your favorite seat today.
Food & Beverage Options at Bank of America Stadium
There are many delicious food and beverage options at Bank of America Stadium. The convenient Panthers app enables you to order directly from your phone to avoid waiting in line. When using the app, you'll be sent a text message when your order is ready and you can go and pick it up. Please note that alcohol will no longer be sold via the app after the start of the second half of the game.
Fans can choose from an array of game-day favorites including hot dogs, bottomless refills on soda and popcorn, peanuts, pretzels and beverage options such as beer and wine. You'll also find tacos and empanadas at Sabor Latin Street Grill, loaded nachos, pulled pork sandwiches and mac and cheese at Carolina BBQ, pizza by the slice at Domino's Pizza and a lot more.