Step Inside: Angel Stadium of Anaheim – Home of the LA Angels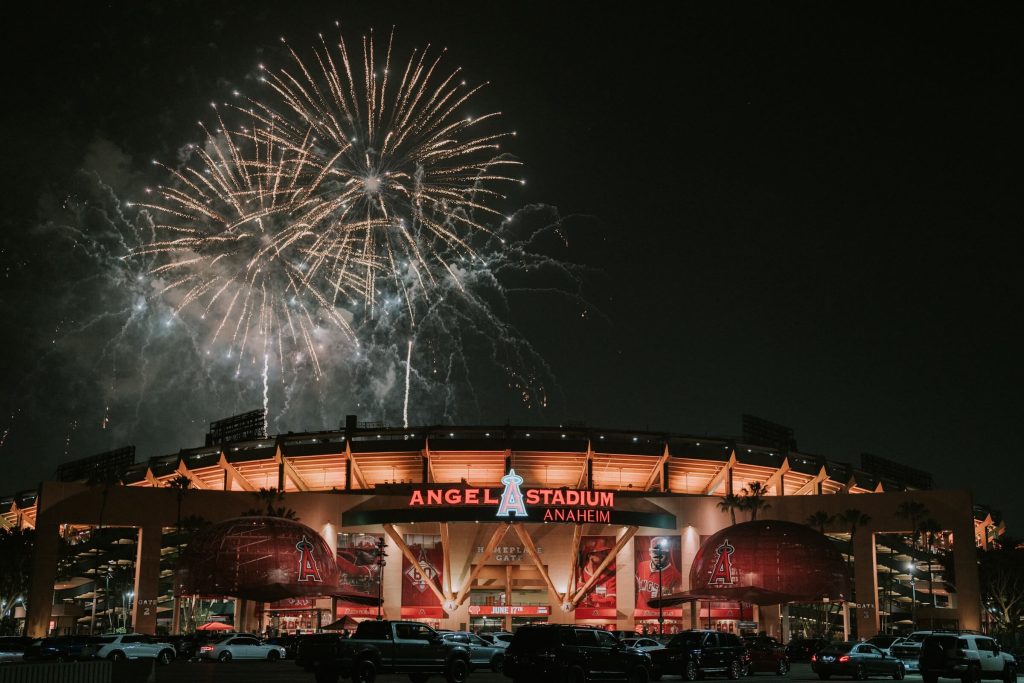 Stadium History | Parking & Admission | Seating & Capacity | Food & Concessions
Angel Stadium of Anaheim, which is also known as Angel Stadium and by its unofficial nickname "the Big A," is located in Anaheim, California just south of Los Angeles. The stadium has served as the home of the Los Angeles Angels of Major League Baseball since its opening in 1966. It was also the home venue for the Los Angeles Rams of the National Football League from 1980 to 1994.
The stadium was built for the Los Angeles Angels after the franchise joined Major League Baseball as an expansion team in 1961. In their first year as a franchise, the Angels played at Los Angeles' former Wrigley Field, then spent four seasons sharing Dodger Stadium with the Los Angeles Dodgers before moving to Angel Stadium in 1966.
What events are coming up at Angel Stadium of Anaheim?
See upcoming events and buy tickets for Angel Stadium of Anaheim right here on Ticketmaster.
Angel Stadium of Anaheim History
Major League Baseball added two expansion teams in 1961: a new Washington Senators franchise (after the previous Senators relocated and became the Minnesota Twins), and the Los Angeles Angels. Ownership of the Angels was granted to a group led by Hollywood star Gene Autry, who owned the team from 1961 to 1997.
The Angels played their first five seasons at Los Angeles' Wrigley Field, then later at Dodger Stadium, which was referred to as Chavez Ravine Stadium for Angels games. Ground was broken for the Angels' stadium on August 31, 1964 and construction was completed in time for the 1966 season. Angel Stadium is now the fourth-oldest active stadium in Major League Baseball behind Fenway Park, Wrigley Field and Dodger Stadium.
In the 1970s, the Los Angeles Rams were looking for a new home venue and eventually settled on Angel Stadium. Rams owner Carroll Rosenbloom negotiated with Angels ownership to add an additional 23,000 seats to the stadium for football games. The expansion was completed in time for the 1980 season, and the Rams used Angel Stadium for their home games until 1994.
In 1996, The Walt Disney Company, who had owned a minority ownership in the Angels franchise since its founding, became the majority owner. Extensive renovations then took place and Angel Stadium became a baseball-only venue.
Angel Stadium has hosted several notable events, including the MLB All-Star Game in 1967, 1989 and 2010. It also hosted the 2002 World Series between the Angels and the San Francisco Giants. The Angels beat the Giants four games to three to win their first-ever World Series championship.
Many concerts have also been held at Angel Stadium, with the first show being played by The Who in 1970 during their Tommy Tour. Other major groups and artists to perform at Angel Stadium include the Rolling Stones, the Osmonds, Pink Floyd, the Eagles, and the Grateful Dead.
Parking, Transit and Admission at Angel Stadium of Anaheim
When planning to attend a game at Angel Stadium of Anaheim, fans will find multiple options for parking, transit and admission. If traveling by car, general parking is $10 and oversized vehicle/bus parking is $20. Parking for special events is subject to change.
Debit/credit cards and Apple/Google Pay are accepted. There are three entrances to the Angel Stadium parking lot: Douglass Road, State College Boulevard and Orangewood Avenue.
Angel Stadium of Anaheim rules are in place to provide a safe and enjoyable experience for all guests. Prohibited items are in accordance with MLB policy, and all fans are required to walk through metal detectors while entering the stadium. Gates open 90 minutes before first pitch.
Angel Stadium also recommends fans do not bring any bags, but bags that do not exceed 16″ x 16″ x 8″ are allowed. Possible exceptions include:
Diaper bags
Single-compartment drawstring bags
Other bags used for medical reasons
All items are subject to search.
Angel Stadium of Anaheim Capacity & Seating Options
When you visit Angel Stadium of Anaheim, you have plenty of seating options to enjoy the game: field level, terrace level, view level, and the outfield. The stadium's capacity is 45,517. When Angel Stadium originally opened in 1966, capacity was 43,250. It expanded to 64,593 in 1980 when the Los Angeles Rams became a joint tenant. The attendance record for baseball is 64,406 in Game 1 of the 1982 ALCS.
Other Angel Stadium of Anaheim seating options include club seats, suites and premium seating. Premium seating options include the Lexus Diamond Club, which is located behind home plate within 20 rows of the field and offers in-seat service, and the Don Julio Club, which offers access to food and non-alcoholic beverages, as well as the Don Julio Club Lounge.
Angel Stadium of Anaheim also offers a variety of suite options such as the Dugout Suites, Legends Suites, Club Level Suites, Triple Play Suites, and Party Suites. For more information about hospitality options, contact the Angels at 888-796-4256.
What are the best seats at Angel Stadium of Anaheim?
The best seats at Angel Stadium of Anaheim vary depending on the event and personal preferences. Check out Angel Stadium of Anaheim seating charts and find your favorite seat today.
Food & Beverage Options at Angel Stadium of Anaheim
View this post on Instagram

When you attend a game at Angel Stadium of Anaheim, you'll find plenty of food options located throughout the stadium. Available concession stands include Chronic Tacos, Big A Burger, La Rotisserie for roasted meats, Spuds for customizable fires, Strike Zone Chicken, and Jersey Mike's Subs.
For guests with dietary restrictions, vegetarian, vegan and gluten-free options can also be found throughout the venue.