Step Inside: Allegiant Stadium – Home of the Las Vegas Raiders

Stadium History | Parking & Admission | Seating & Capacity | Food & Concessions
Located about two miles away from the Las Vegas strip in Paradise, Nevada, Allegiant Stadium is a shimmering oasis full of technological advances, outstanding food options, and premium seating. Home to the NFL's Las Vegas Raiders, this newly constructed stadium is the perfect venue for those wanting to experience a game or event in style while in world famous Las Vegas, Nevada.
Allegiant Stadium History
Opening to the public in the summer of 2020, Allegiant Stadium is home to the Las Vegas Raiders and the University of Nevada, Las Vegas football program. Along with the incredible football field, Allegiant Stadium has also played host to world-renowned performers and events. The dome structure and climate-controlled stadium protects up to 65,000 guests from the brutal desert temperatures. The Allegiant Stadium cost more $1.8 billion to build and boasts technologically advanced features like 2,200 TVs, more than 10 event spaces, 75,000 square feet of video boards, the 92-foot-tall, 3D-printed Al Davis Memorial Torch, super-fast WiFi and a completely cashless experience. Focused on sustainability, this stadium donates an average of 11,000 pounds of food waste per event to be turned into food for livestock, energy efficient lights and air-conditioning.
Additionally, the stadium boasts groundwater dewatering stations to subsidize irrigation, 425 planted trees and has partnered with multiple nonprofits to donate excess food and technology. Even though Allegiant Stadium is a relatively new venue, it has already hosted a number of incredible events and performers. Since opening, the new Las Vegas stadium has seen acts such as The Rolling Stones, Guns N' Roses, Garth Brooks, Metallica, Billy Joel, the Red Hot Chili Peppers, and more. It has also been the home to the 2021 NFL Pro Bowl, Pac-12 Championship games, the Las Vegas Bowl games, WWE SummerSlam, and the 2021 Concacaf Gold Cup Final.
Parking and Admission at Allegiant Stadium
Allegiant Stadium recommends buying parking in advance, either right here on Ticketmaster or another third-party site. With more than 35,000 parking spots within 1 mile of the stadium, guests will be sure to find the perfect spot for themselves. Tailgating is allowed for football games at Allegiant Stadium, but make sure you are parking in the specific 6,000 spots dedicated to tailgating; the onsite tailgating lots are A, B, C, E, F, G, H, and J and the offsite tailgating lots are T, V, U, X, W, S, Z, and N. Tailgating will be allowed 4 hours before the start of the game and must end by kickoff. Gates are open four hours prior to football games and three hours before other events.
There are also multiple pick-up and drop-off locations for rideshares. For fans taking public transit, the RTC Deuce bus runs 24/7 every 15 minutes and can be purchased on the RTC app.
When entering Allegiant Stadium, bags can't be bigger than 12″ x 6″ x 12″ and must be clear plastic, vinyl or PVC. There are exceptions for medical bags. No other bags are allowed besides clutches smaller than 4.5″ x 6.5″ x 2″ and clear plastic fanny packs. Backpacks, diaper bags, purses, and camera bags are not allowed. Banners and signs are allowed as long as they do not block existing signage, patrons views, or are commercial in nature. Small cameras with lenses smaller than 6″ are allowed. Weapons of any kind are not allowed. Other prohibited items include, but are not limited to aerosol cans, recording devices, balloons, drones, fireworks, outside food and beverages, non-service animals, strollers, laptops, inappropriate attire, noisemakers, hard-sided containers, laser lights or flashlights, and projectiles. Permitted items include binoculars, blankets, breast pumps/feeding supplies, and small handheld TVs and radios.
Allegiant Stadium Capacity & Seating Options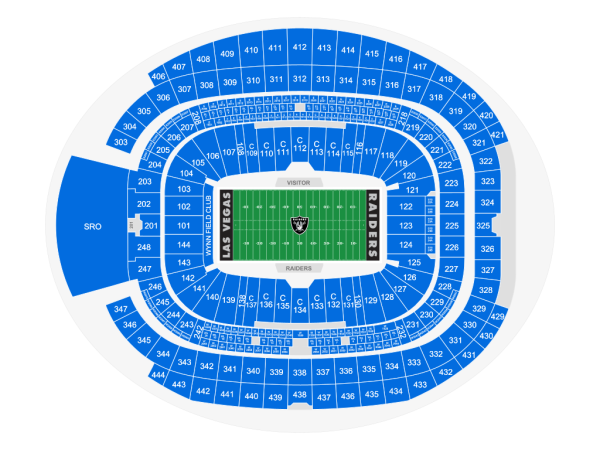 With a 65,000 seat capacity and more than 100 suite options, guests will be able to find the perfect seat for them and their group. Along with the thousands of general seating options, Allegiant Stadium is proud to feature a number of premium seating options, including luxury suites and premium Loge seating. The luxury suites can host between 18–26 guests and feature VIP parking, early stadium access, in-suite restrooms, VIP entrances, catering, and premium beverage options and access to the all 200-level clubs. The Loge is for a maximum of four guests and features four luxury recliners and spectacular sitelines, as well as all the amenities as the luxury suites. There are also a number of exclusive clubs and lounges throughout Allegiant Stadium, including the Modelo Cantina Club, the Twitch Lounge and the Wynn Field Club. The Wynn Field Club is on the ground floor of the entire north end zone. Equipped with a DJ, 5-star food options, bottle service, four private bars, and 42 TVs, fans can enjoy the game while experiencing the luxury of a private club.
Food & Beverage Options at Allegiant Stadium
Allegiant Stadium hosts a wide array of food and beverage options. When hungry, be sure to check out some of the diverse and exciting food options like Neon Dog, Pizza Rock, Clyde's Hot Chicken, Pacha Mamas, BBQ Mexicana, Capriotti's, Picanha Steak, and Boomtown Burgers. If you're looking for a specific drink, odds are you will find it at one of the numerous bars and drink venues throughout the stadium. Notable drink options at Allegiant Stadium include the Modelo Bar, Jack Daniels Bar, 1800 Bar, Blue Moon Bar, 1960 Bar, Torch Bar, and Coors Light Bar.