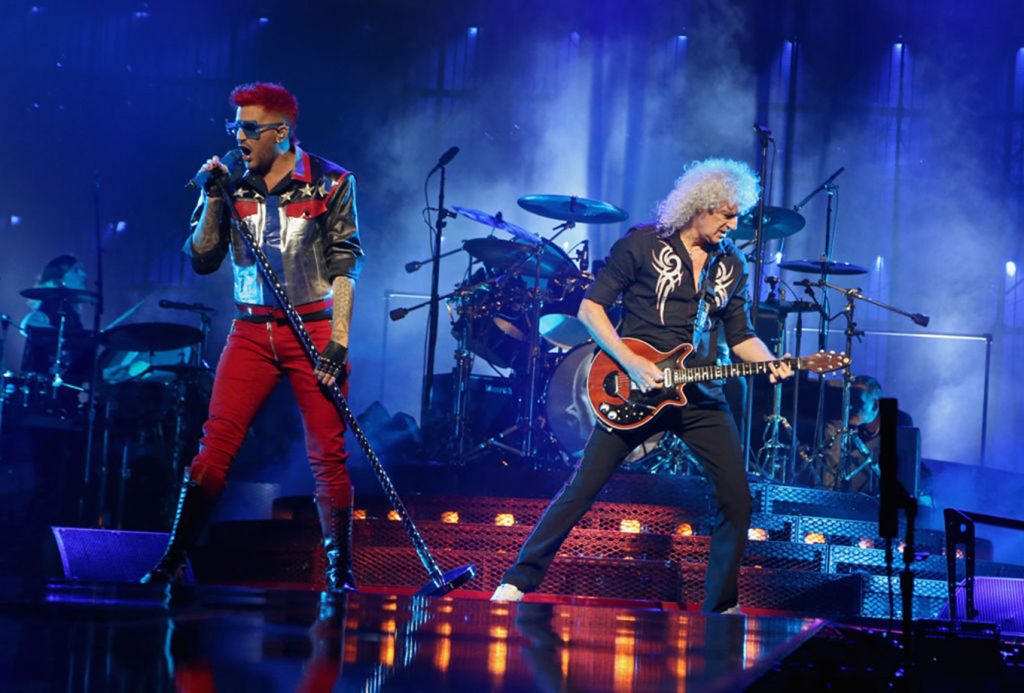 The touring sensation of Queen + Adam Lambert wasn't necessarily what anyone immediately predicted when guitarist Brian May and drummer Roger Taylor turned up on the 2009 American Idol finale to perform "We Are the Champions" with Lambert, Kris Allen and a chorus of fellow contestants. Queen were undisputed rock icons, a band with more than 35 years of recording experience, millions upon millions of records sold, and a jukebox musical that had played on five continents. But it quickly became clear that teaming with the 27-year-old Idol performer was — to quote the band's 1986 hit — a kind of magic. Though sticking (mostly) to the vintage Queen songbook, the six-member Q+AL have had a heap of unique successes all their own. A Q+AL show is not just an opportunity to hear Brian May rip the "Bohemian Rhapsody" solo live, it's a chance to see a seasoned collaboration that's generated its own set of amazing cultural moments. Here are a few of the highlights.
2009: The American Idol finale
The original meeting of May, Taylor, and Lambert was watched by an estimated 28 million people. Lambert had auditioned for American Idol with "Bohemian Rhapsody." Though he didn't walk off with the Idol title that season, he did beat Kris Allen for the Nickelodeon Teen Choice Award. By the end of the month, May was telling Rolling Stone he would "certainly like to work with Adam. That is one amazing instrument he has there," he said, referring to Lambert's voice.
2011: The MTV Europe Music Awards
At the 18th annual ceremony, Queen became the third recipients of the Global Icon Award, and they closed the ceremony with Lambert singing "The Show Must Go On," "We Will Rock You," and "We Are the Champions." A reported 39 million people viewed the ceremony and, at the time, Viacom said that this was the highest-rated EMAs in the UK.
2012: The Kiev show
Queen + Adam Lambert's very first full set — more than 20 songs that spanned the band's career — was in front of an estimated 300,000 people in Kiev, Ukraine. Part of a free AIDS-awareness concert alongside Elton John, it was a sort of trial by fire for the partnership. It aired on TV and was shared on YouTube, and the group commanded the performance with aplomb. "And the incredible thing [was] for a new member of a group to step on stage and do that. I took my hat off to him," Brian May said in the ABC special The Show Must Go On: The Queen + Adam Lambert Story. "Of course, the rest was easy after that."
2014–2015: The Queen + Adam Lambert Tour
The group's first full tour started as an announcement of 19 North American shows, and ended up a yearlong juggernaut that grossed over $68 million, stretching into arenas across Japan, Australia, Europe, South America, and South Korea (a first for Queen). On their first leg they went as big as a Queen show demands: Madison Square Garden, The Forum, Meadowlands, the Mohegan Sun Arena, and elsewhere. When they hit Europe they did two nights at London's O2. In both 2014 and 2015, Q+AL were cited as one of the world's 50 top-grossing tours.
2017: Television Hits
Queen + Adam Lambert started hitting the late-night TV circuit just like any touring band. They did a friendly "Front Man Battle" with James Corden, a performance that currently has more than 16 million views on YouTube. They also staged a small concert on 'Jimmy Kimmel Live' that featured "Two Fux" — the first Lambert song to get the Queen treatment, establishing the band's ability to continue evolving their catalog.
2017-2018: Queen + Adam Lambert Tour
Another tour, 88 shows, another one of the year's top-grossing tickets. This run concluded with 10-date Las Vegas residency called The Crown Jewels.
2018: The Bohemian Rhapsody bump
Queenmania found new fuel in 2018 with the release of the Freddie Mercury biopic Bohemian Rhapsody. (Lambert has a brief but notable cameo in the film as a trucker.) The film was a wild success — the highest-grossing non-Disney musical in history, taking in more than $900 million. In turn, there has been a thirst for Queen's music: The song "Bohemian Rhapsody," released more than 40 years ago, even re-entered the Billboard charts. In February 2019 Queen + Adam Lambert became the first rock band to open the Academy Awards.
2019: The Rhapsody Tour
Nearly 50 years after playing their first show, Queen are still selling out stadiums. In December 2018, they announced the initial shows of The Rhapsody Tour, starting in summer 2019; multiple dates have already sold out. Said Brian May in a press release, "Our last tour featured our most ambitious production ever, and got us our best notices ever. So we decided to rip it apart and get even more ambitious! Watch out, America!" Get your tickets now.
—Chris Weingarten